The Products Light UP Your Beauty and Health, Beauty Supplements Market Is Growing Remarkably
Beauty from the Inside Out, Not Only for the Effects, But Also for the SOURCE of Beauty
Along with the change of consumers' lifestyles and the growing sense of health care and cosmetic science, more and more consumers are looking for a permanent and non-invasive solution to embellish the beauty they have. This phenomenon facilitates the variety of the beauty market. Mintel, the market survey company, announced six new trends shaping the global consumer landscape and identified that consumers are treating their bodies like an ecosystem and seeking a comprehensive solution for their personal health and evolving needs. Beauty supplements not only focus on the effects, but also the source of beauty. The idea is to improve health conditions and skin conditions through the supplement of dietary supplement products or functional products, and this idea grabs more and more consumers' attention gradually. Some nutritional ingredients can remarkably improve skin health such as collagen peptides. Nowadays, the word "beauty" has become the holistic concept covers the inner status and the outer appearance.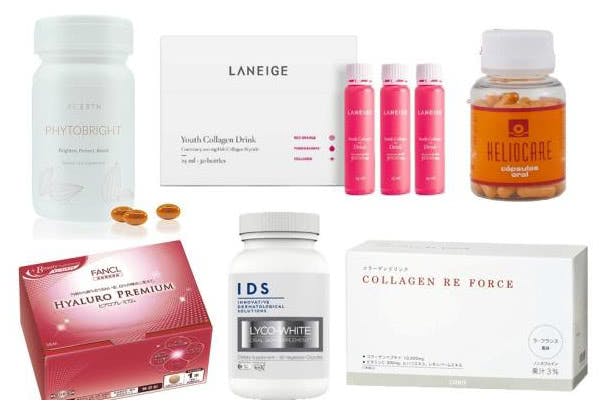 Beauty Supplements Are All the Rage in Global Market
According to the survey report provided by Credence Research, the market size of the global beauty supplements market was US$4.12 billion in 2017, and it is anticipated to reach US$9.32 billion in 2026. The compound annual growth rate is 9.5% per year. The insights provided by Euromonitor have shown that the top 3 regional beauty supplements markets are Japan, China, and Italy, and their market sizes were US$1.54 billion, US$0.87 billion, and US$0.16 billion respectively in 2018. The market size of the US was smaller (US$0.14 billion), but its annual growth rate is tremendous (61%).In terms of application, skin care products account for more than 30% of the global beauty supplements market, and the 2nd to the 4th categories are hair care products, nail care products, and others respectively.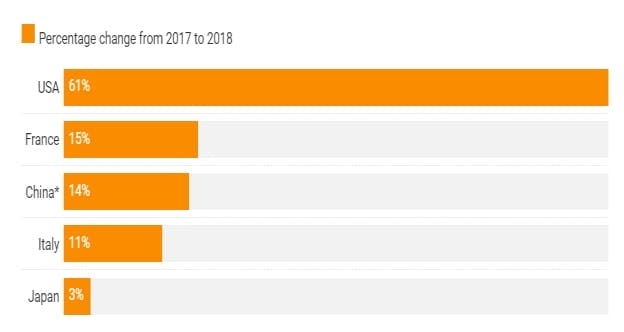 The 2018 annual growth rate of beauty supplements market was 61% in US, Data source: Euromonitor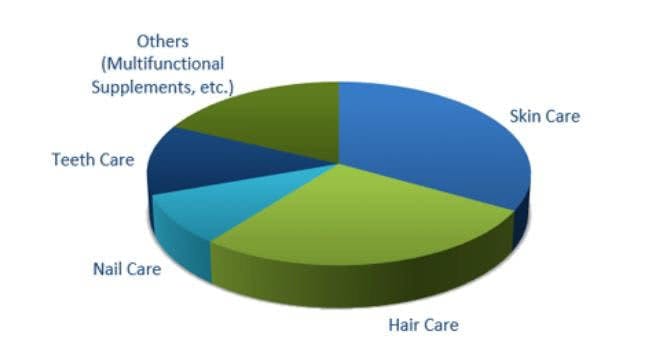 The major applications of beauty supplements in 2017 in the globe, Data source: Credence Research
Collagen: the Unchallengeable King of Beauty Supplements
High-Profile Recognition of Collagen as an Effective Ingredient
Among numerous raw materials for beauty supplements, collagen is one the most influent materials for the development of beauty supplements industry, and it is honored as"the rising star"for dietary supplements by many research institutes. Collagen takes an active role in beauty supplements industry by its effects of anti-aging, strengthening nails, and providing nutrition for hairs. A research report provided by SenseReach has shown that more than 70% of consumers in the UK recognize collagen as an effective ingredient for beauty supplements. The percentage is much higher than vitamin C and vitamin D. According to the data provided by Innova Market Insights, from 2007 to 2016, collagen was used as an effective ingredient in more and more beverage and food products. The number of new products is also growing by the annual growth rate of 33%.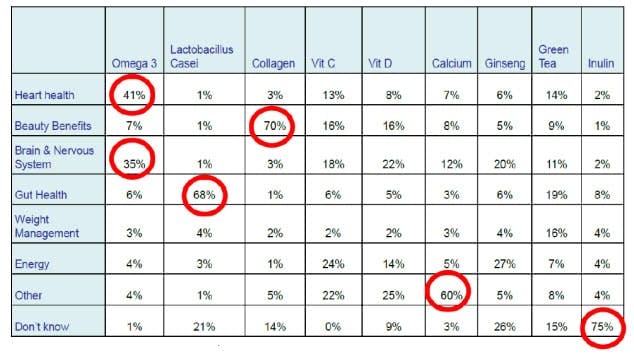 More than 70% of consumars in UK recognize collagen as an effective ingredient for beauty supplements, Data source: SenseReach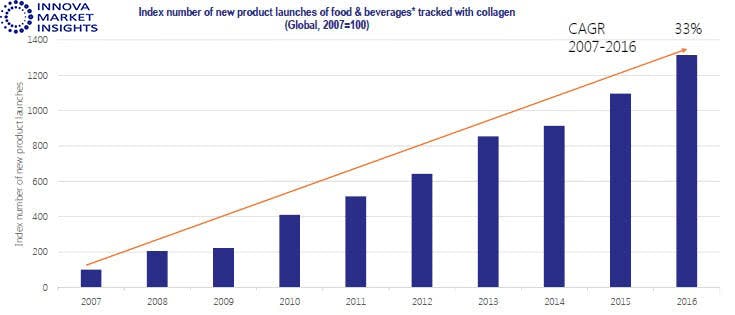 The number of new products is also growing by the annual growth rate of 33%
A"Superfood"from an Ingredient
In recent years, collagen is not only the ingredients for beauty supplements; it has also become an effective ingredient for food and beverage products. Its powerful functionalities in repair of tissues make it become a popular "superfood". Among the categories functional collagen has been applied, functional collagen has been used for dietary supplements most comprehensively. The percentages of collagen in sports supplements, candies, beverages, and cereals are gradually increasing. In 2017, 26% of dietary supplements contained collagen, and 25% of candies/snacks contained collagen in North America. In Europe, 28% of sports supplements contained collagen, and in South America, 26% of cereal products contained collagen. In Asia, about 7%-11% products contained collagen, and the percentage is steadily increasing.

Keyword Research: Collagen Benefits Have Become the Focus for Consumers
The Search Volume of Collagen Exceeded 1,000,000 per Month
Behind the frenzy over collagen, a growing number of studies have demonstrated that taking collagen orally is beneficial for our skin health. It helps your skin become elastic, dewy, with less wrinkles and fine lines and grasps the main point of consumer demand. According to the statistical data provided by Keyword Tool, the search volume of collagen and collagen- related keywords exceeded 1,000,000 per month in the past 12 months. More and more consumers are curious about collagen benefits, and the search volume of collagen benefits was increased by 83% over the previous year.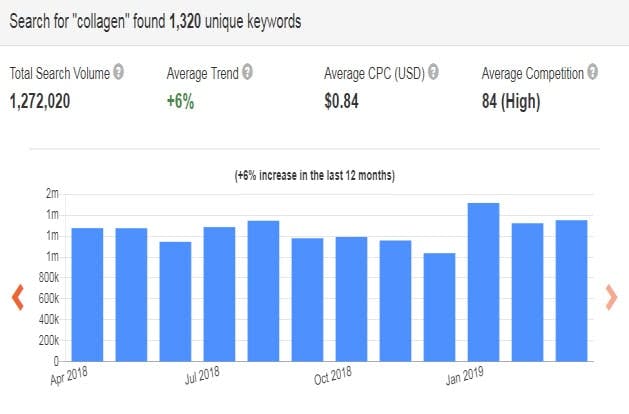 The search volume of collagen and collagen-related keywords, Data source: Keyword Tool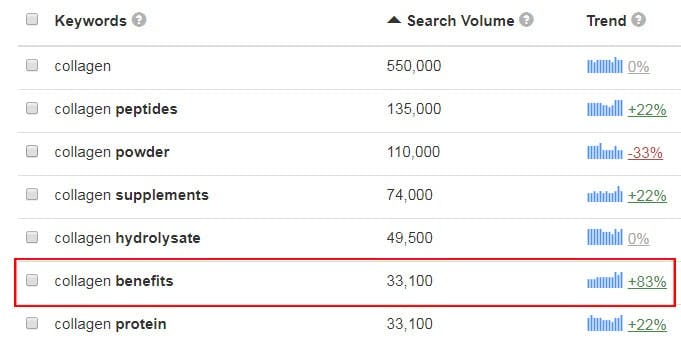 The most popular keywords related to collagen in April, 2019, Data source: Keyword Tool
Manufacturers Are Discovering New Collagen Benefits
Collagen is not only beneficial to skin health, but also provides great performance in slimming body, improving muscle atrophy, maintaining bone and joint health, diminishing lipids, and strengthening connective tissues. The target customer groups and the major application for each group are shown as below:
Females: The improvement provided by collagen for female skin, nails, and hairs is generally-recognized as effective. The new focus of development is to diminish cellulite (common in pregnant women) or smoothen scars/wounds.
The elderly: Besides of skin care, osteoporosis treatment is a huge market. The collagen network in bone is like a branch. Calcium phosphate salts are attached on it, and the well-structured network can prevent the reduction of bone mineral and improve the density as well.
Gym-goers: Collagen is not only contained in muscle tissues, but also surrounds muscle tissues and provides the connection between connective tissues and muscle tissues...