Annual Sales of Chinese Leading Mask Brands Have Exceeded One Billion RMB One by One. Have You Caught up?
According to statistics of online purchase of cosmetics in China, mask products dominate, accounting for 13.1% of the numbers of products sold and 11.6% of the sales. This reveals that mask products have become one of major cosmetics. The average price for mask/mask powder products is 82 RMB. The profits from masks have drawn great attention in Chinese cosmetic market.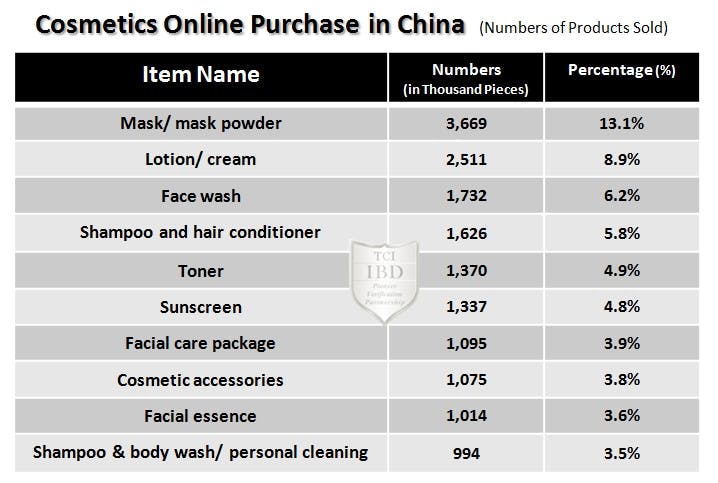 In addition, most of the female mask-consumers in first-tier cities of China are aged 25-35. Furthermore, 67% of the women aged 20-35 consume masks weekly. From 2013 to 2015, the number of people buying masks was remarkably increasing.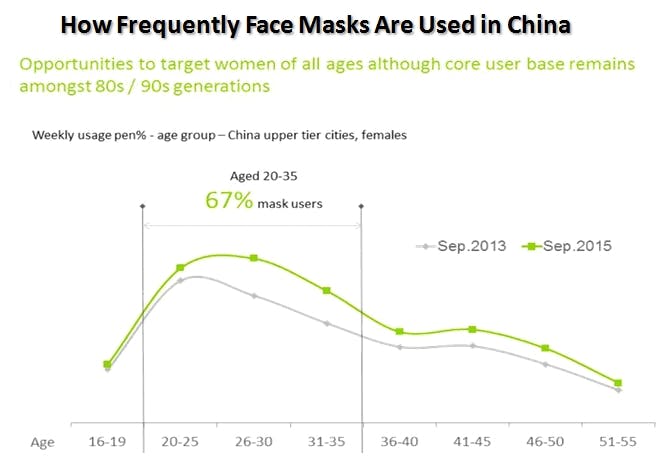 To take the huge business opportunities for masks, each brand is constantly launching its new mask products with multiple functions, including moisturizing, whitening, anti-wrinkle, anti-aging, etc. According to the registration list of new products in China, most of newly developed mask products are moisturizing masks and the number is still growing. Anti-wrinkle masks are also very popular, indicating moisturizing and anti-wrinkle claims are welcome to consumers.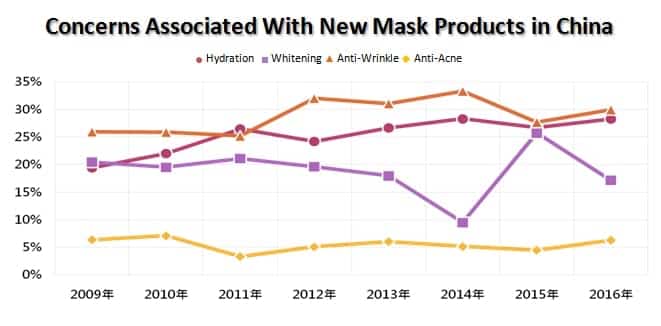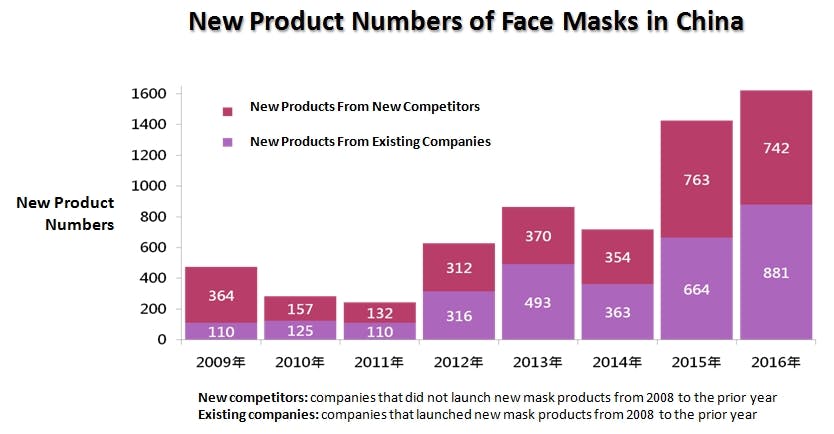 International Trends of Mask Products Rapidly Rising Searches and Demand for Mask Products in Europe and the US
Except for China, France, Japan and US will be the next markets driven for mask products. Prominent search volume increases, especially in US, show consumers' attempts and probability to go on to take action on purchase. Classified by concerns and types, top search trends in US are towards charcoal and mud masks, and top trending concerns are cleaning and oil control. Peel-off gel masks are the top trending in France, while in Japan, sheet masks are most common and the major concerns are about hydration and anti-acne.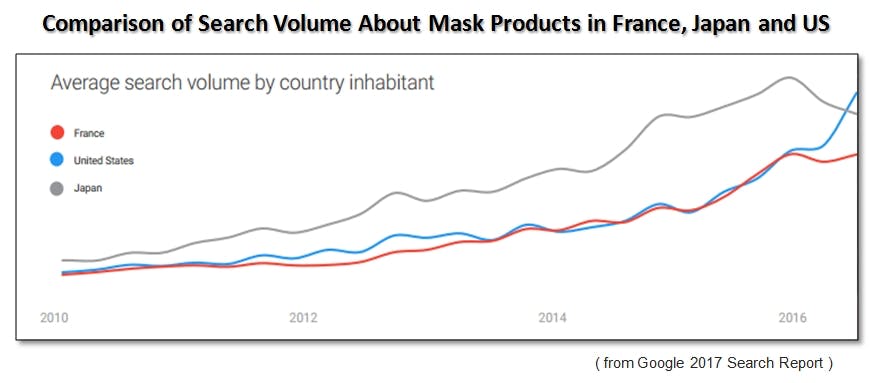 Innovative Techniques for Masks LipoMask™ Liposomal Masks and Cell Young Plant Stem Cells Are Highlighted in Skin-care Market
With the increasing growth of mask market, the innovative techniques also progress, e.g., "LipoMask™ microsomal mask" that just won the gold medal of 2017 Geneva Invention Exhibition and the silver medal of the French Invention Exhibition. The prize-winning technology is the application of microsomal and bilayer phospholipid structure, exceeding the existing penetration technique for masks. Through the micronization of skin-care essences by microsomes, the very tiny particles can get into the skin deeply to release active ingredients. As a result, TCI's LipoMask™ technique can carry out the 5-minute rapid penetration, making the efficacy of essences increase by 18% and the moisturizing effect last 8 hours.
Regarding the effect of masks, the active ingredients are more important than the innovative carrier
TCI's discovered a numbers of calluses, also known as "plant stem cells", from peach, camellia and so on. After extraction and concentration, these plant stem cells in skin-care products or masks can regulate gene transduction signals to enhance cellular repairing mechanism of action, e.g., DNA repairing, melanin inhibition, moisture increase, etc. Recently, these materials and products are recognized by international awards in the US, Switzerland, France, China and so on. It is illustrated that masks have been stars with big sales. Besides, the combination of plant stem cells and microsomes applied in masks and skin-care products can resulted in instant and perfect nourishing effects. These products are becoming more competitive in the market and presenting the innovation of integrated biotechnology and market trends.
If You Are Interested in Masks and Skin-care Products, We Can Help You Expand the Market.
TCI is GMP-, Ecocert- and ISO22716-certified. We have the solar powered mask-manufacturing factory based on the concern about ecological green energy. The 5 laboratories in TCI are set to generate highly effective products from R&D and innovation to formulation design, clinical evidences, quality validation, and genetic study. We are involved in international market for couple of years and familiar with regulations and market circumstances of Asia, Europe, America, Southeast Asia, etc.
for any further question, please feel free to contact us
Email:TCIUS@tci-bio.com