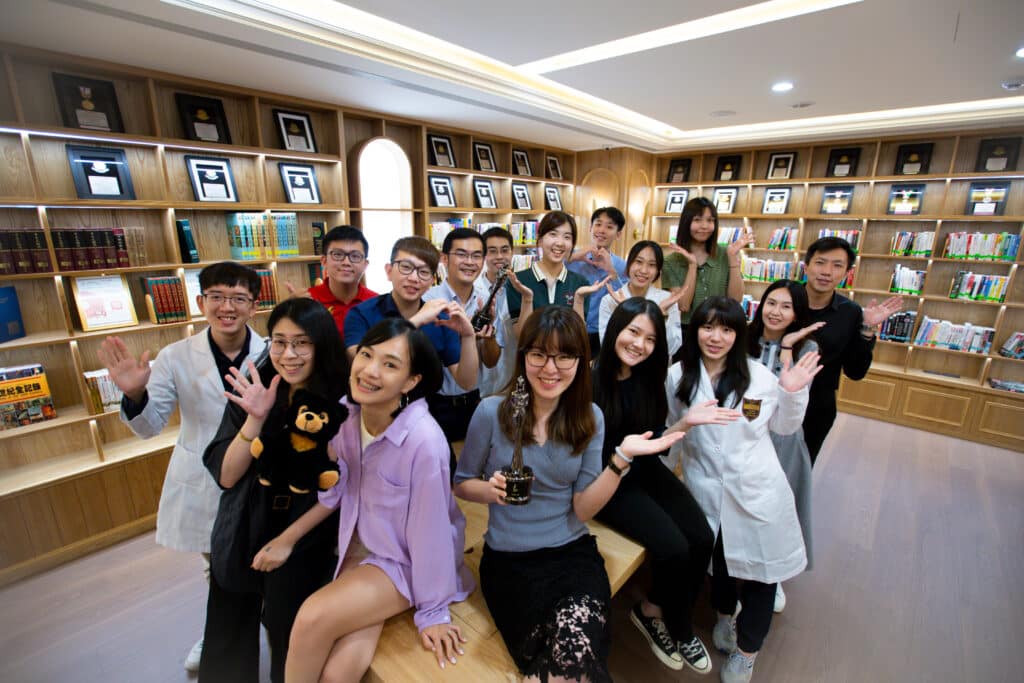 People are the company's greatest asset. TCI is committed to abiding by international principles of corporate social responsibility and national laws and regulations on labor and gender equality. We uphold the principle of respecting human rights and employing talented professionals without regard for gender, age, ethnic group, religion, marital status, or political views. We regularly review, adjust, and introduce effective reward systems and strive to create a trustworthy, healthy, safe work environment that complies with international occupational health and safety standards.
To ensure labor rights, we have introduced concepts and policies related to human rights into our training courses and materials for new employees. We also conduct investigations into and review possible cases of child or underage labor, forced labor, or sexual harassment and ensure labor-management communication and freedom of expression.
2021 Stakeholder Communication
Reported to the Board of Directors on 12/29/2021
To maintain the employee's basic human rights, the company abides by the related labor laws and the International Bill of Human Rights. To protect the rights and interests of the employees, the company respects the internationally recognized principles and objectives of labor laws including the "Universal Declaration of Human Rights," "International Labor Organization Convention," and "The UN Global Compact." The company prohibits any form of discrimination, forced labor, child labor, or hinder the rights of employees disclosed in the international human rights conventions. In addition, the company eliminates discrimination towards women and protects the rights of mentally and physically handicapped. The company should be diversified, tolerant, and give equal opportunities. TCI uses "Trust," "Creation," and "Intelligence" as its core principles to attract partners with the same ideals and strive to provide high-quality products and competitive career development. 
As of end of 2021, the total employee number in TCI Taiwan was 602. Male employees weight 58.5% and female employees weight 41.5% among total employees. Male employees weight 39.7% among managerial positions, while female employees weight 60.3%. TCI committed that gender will not limit our employees'  career development.
TCI dedicated itself to leverage all employees' opinion, and provide different pathway for employees to submit the opinion in their different phase of the career. We increased the scheduled pathway, and open the timely platform to collect opinion, as below:
New employees'welcome luncheon in the 1st The Head of Human Resources will collect the new comers' opinion.
TCI provide a 6-month mentor program to assist new employees on the overall on boarding resources and consultancy. The mentor will have gatherings once per month with the mentee.
The representative of each Department will collect the topic to be negotiated and bring to discussions in the regular meeting of the Rewards and Disciplinary 
The Chairman delivers speech and discussions with all the employees once per month, who encourage our employees to provide suggestions to the Company.
The "TCI Service"hotline provides instant support to all of our employees, including responding the opinions from the employees.
TCI firmly believes that employee health is the responsibility of the company. Therefore, the company offers annual health checkups, including routine physicals, special examinations, and culinary staff physicals. Professional hospital physicians are invited to consult with and follow-up on workers with health issues. TCI values the physical, mental, and emotional well-being of its employees. Therefore, it regularly hosts concerts and provides library and fitness facilities, allowing its employees to engage in a variety of recreational and travel activities. Funding for such events is provided by the TCI Welfare Committee.
Employee rewards and benefits in detail
1.Labor insurance: In accordance with the Labor Insurance Act.
2. National Health: In accordance with the National Health Insurance Act.
3. Employee bonuses: Annual surpluses are used to pay taxes or make up for losses in previous years. A portion of the remaining surplus is allocated as employee bonuses. The amount is submitted to the board of directors for review and approval in the General Meeting.
4. Employee stock options: To attract outstanding talent, retain promising workers, and co-create company and shareholder benefits, stock option certificates are issued to workers in accordance with the Regulations for the Issuance of Employee Stock Options and with the approval of the board of directors.
5. Holiday allowance: A fixed allowance is issued to all employees during the Mid-Autumn Festival, Dragon Boat Festival, and Chinese New Year. The amount of the allowance is based on the current business performance of the company.
6. TCI Dream Come True Program: TCI provides qualified employees with interest-free loans to support them in realizing their dreams.
7. TCI Coins and employee discounts: Every month, TCI issues TCI Coins to its workers based on rank and monthly performance. TCI Coins can be used to make employee purchases or participate in Administrative Service Center activities (Michelin Star restaurants and VIP movie tickets).
8. Group insurance and occupational injury insurance: TCI provides group life insurance, accident and injury insurance, hospital insurance, cancer insurance, and occupational injury insurance for workers and their families.
9.TCI Star: TCI selects TCI Stars on a quarterly basis, presenting them with awards, certificates, trophies, airline tickets, or iPhone Xs as encouragement. Eight TCI Stars Among Stars are selected quarterly to participate in the all-expenses-paid annual Global Excellent 8 Program, which fully subsidizes advanced education courses overseas.
10.Clubs: As a measure to support employee health, the TCI Committee for Employee Welfare provides funding for the management of various clubs, such as basketball clubs, to offer activities for workers to participate in and relax after work.
11.Juice bar: The TCI General Service Department purchases fresh fruit and vegetables daily and blends them into fresh juice for workers to enjoy.
12.TCI bar: TCI provides free nutritional blends, snacks, and instant noodles to busy workers.
13.Massage station: To fulfill its CSR, TCI employs visually impaired masseuses to provide massage services to its employees, thus helping the masseuses and melting away stress for the company's employees.
14.Aerobics classes: TCI offers professional aerobics classes to its hard working employees.
Retirement system and implementation
TCI handles retirement-related matters in accordance with the Labor Standards Act and the Labor Pension Act. Only a very small number of permanent employees are covered by the old system, while most employees are covered by the new Labor Pension Act. The company reports monthly contributions of 6% of each employee's monthly salary to the employee's personal pension account to comply with the statutory retirement protection.
1. Pensions are issued in accordance with Article 84-2 and Article 55 of the Labor Standards Act and based on the number of years in service as stipulated in the Labor Standards Act.
2. According to the Labor Pension Act, employees who meet the pension standards stipulated in the Labor Standards Act and who gained seniority prior to the passage of the Labor Pension Act may opt for their pension status to be governed in accordance with the previous act.
3. Workers who meet the pension standards stipulated in the Labor Standards Act, who meet the standards for forced retirement stipulated in Item 1, Paragraph 2, Article 35 of the Labor Standards Act, and who suffer from mental or physical impairments shall receive an additional 20% of their eligible pension.
4. TCI shall contribute 6% of the salary of employees who meet the pension regulations stipulated in the Labor Pension Act to a personal pension account.
The TCI Environmental Protection and Labor Safety and Health Committee is the highest authority in the management of employees' health and safety. The director of the Administration and Service Center serves as the convener and chairman of the committee. Members of the Environmental Protection and Labor Safety and Health Committee include the Labor Safety Management Department, Human Resource Department, Administrative Services Department, supervisors and executives, occupational health and safety technicians, and 1/3 of the total number of labor representatives. TCI holds quarterly Environmental Protection and Labor Safety and Health Committee Meetings to formulate, coordinate, and manage matters concerning health and safety in order to ensure environmental protection and the health and safety of its employees.
Specific Measures
Work Safety Measures and Policies at the Neihu Headquarters
1. To ensure office safety, flammable and dangerous items are prohibited in the offices. Smoking is prohibited in indoor workplaces and public spaces in accordance with the Tobacco Hazards Prevention Act.
2.Parking spaces and office keys must be returned after use. Access cards and keys may not be lent to non-company employees.
3. Water dispensers that meet drinking water standards are available in the workplace and are periodically cleaned and maintained.
4. Workplace sanitation, cleaning, and maintenance are outsourced to a professional cleaning company to ensure the hygiene and quality of the workplace.
5. Access is restricted. Company employees and visitors must use authorized keycards to gain access to elevators and offices.
6. Headquarters is located in Neihu Technology Park. The building is fitted with a fire prevention system that meets regulations, including a warning system, fire prevention system, and evacuation system.
7. First aid kits are available in the company and employees are provided with annual checkups and health consultations. In addition, health seminars are held to increase health awareness and encourage employees to lead healthy lifestyles and manage their own health. The company also has film appreciation and hiking clubs that periodically host events to encourage its employees to relax and exercise.
Work Safety Measures and Policies at the Precision Manufacturing Center
1. External environmental auditors are commissioned every six months.
2.Fire and first aid drills are conducted every six months and fire prevention inspection reports are prepared in accordance with regulations.
3. An online occupational safety hazards report is completed every month.
4. Employee safety and health and work rules are regularly updated.
5. Employee health and safety education and training are provided at intervals of at least once every six months.
6. Sexual harassment prevention measures are formulated and disclosed publicly.
7. Ongoing health and safety education and training are conducted for contractors.
8. Safety inspections are conducted at the factory from time to time.
Employee Assessment and Career Development Assistance
In principle, TCI evaluates the performance of each worker once a year in an annual performance evaluation. The outcome serves as a reference for issuing rewards and penalties, promotions, and job transfers. Performance evaluations are carried out using a two-way communication mode whereby workers provide a report in writing, discuss items with their supervisors, and receive feedback and suggestions. This process allows supervisors to acknowledge the views, feelings, work attitudes, and potential of their subordinates and thus boost morale. Outcomes also serve as a reference for training and career development planning.
Continued in-service education criteria:
Continued in-service education criteria: To promote lifelong learning and strengthen workers' professional knowledge, skills, and humanitarianism, and consequently improve service quality and performance, TCI provides its employees with on-the-job continued education and training programs. Workers can submit a request in writing to explain the specialization of interest, professional relevance, and benefits for future work performance. Once the request is approved, TCI pays for the program.
In accordance with the succession plan for key senior management, TCI also arranges on-the-job training for its employees in management-related courses.
The senior management succession plan and its implementation were reported to the Board of Directors on December 29, 2021.