The new cosmetic raw material declared by TCI – Chenopodium formosanum extract has been filed and announced.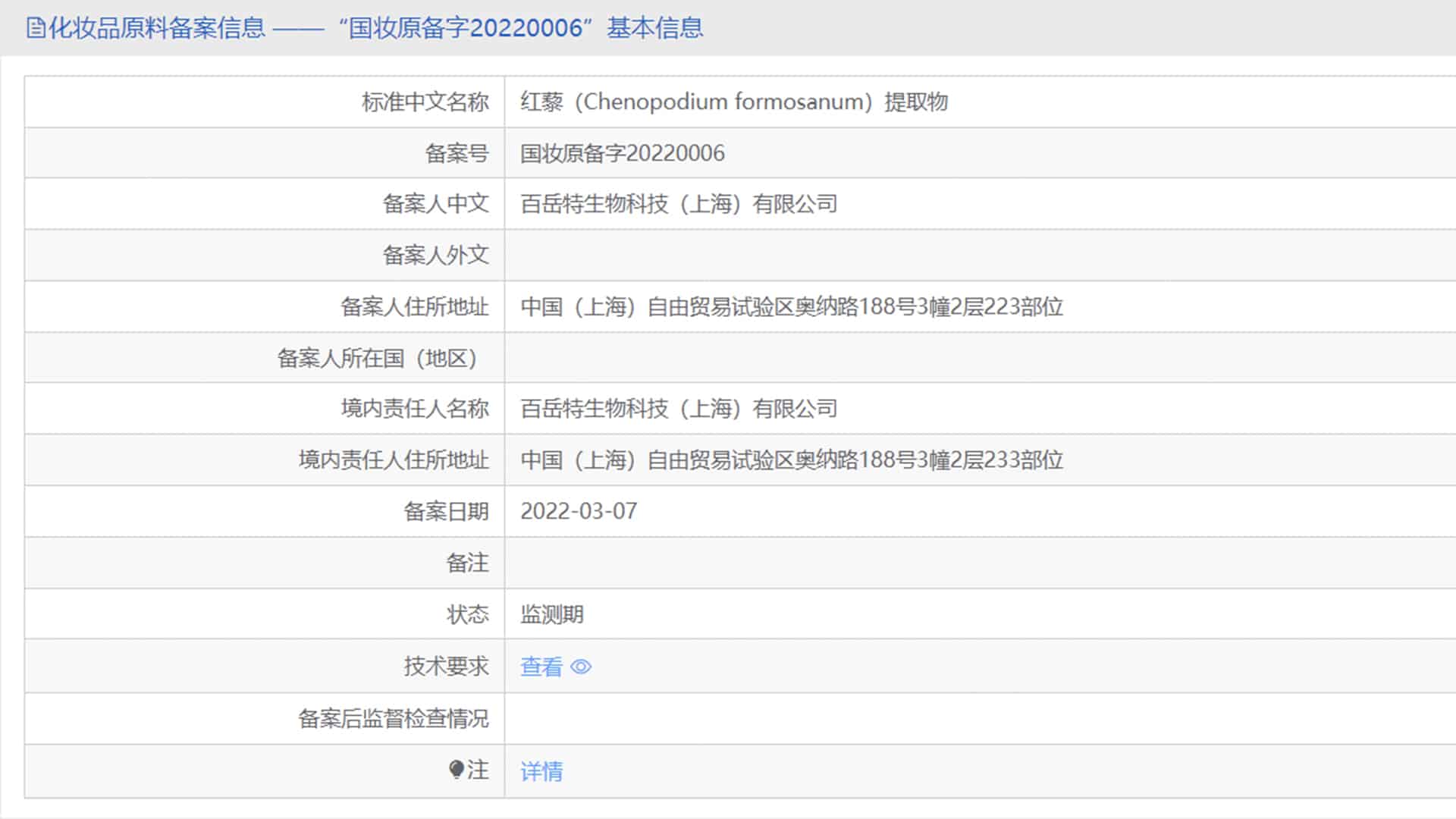 Since the implementation of the "Regulations on the Registration and Filing of New Cosmetic Raw Materials" on May 1, 2021, up until now, the Food and Drug Administration has announced a total of 12 new raw materials for filing. Among the many applications, TCI's Chenopodium formosanum extract is the 6th new cosmetic raw material filed and it can be used as a skin protectant in various cosmetic products[1].
Differentiated Anti-Aging
Anti-aging is gradually becoming a major trend in the domestic cosmetics market. Statistics show that the global anti-aging market is on the rise and will reach $216 billion USD in 2021. It is expected to become the most engaging skin care topic in addition to basic moisturizing skin care[2].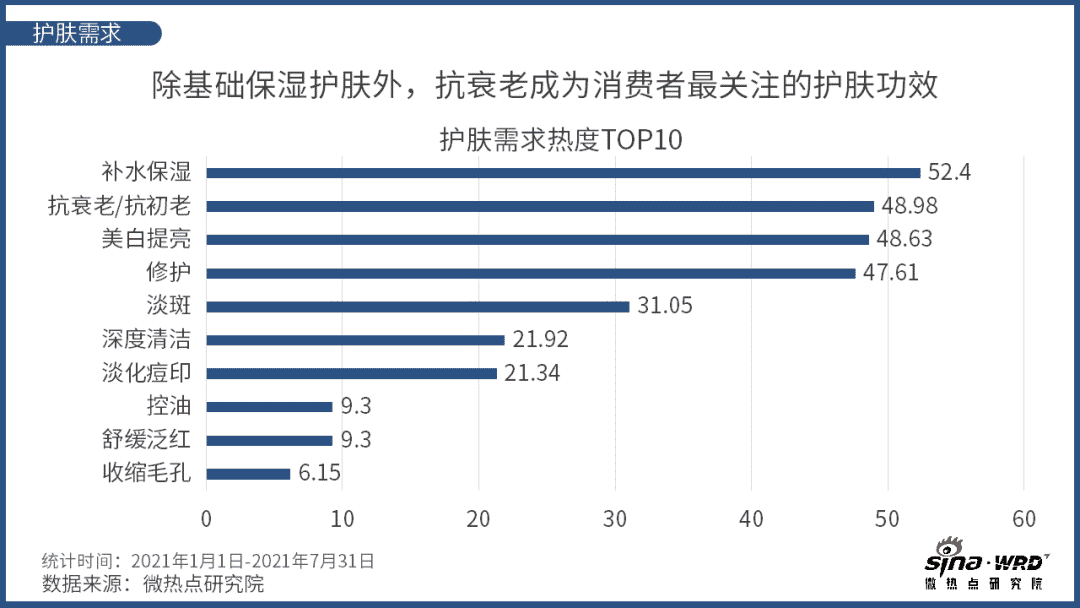 Influenced by the concept of "Morning C and Evening A," vitamin C and vitamin A have become the 2 major anti-aging ingredients that consumers are most interested in. Creating differentiation will be one of the keys to skin care and anti-aging[2].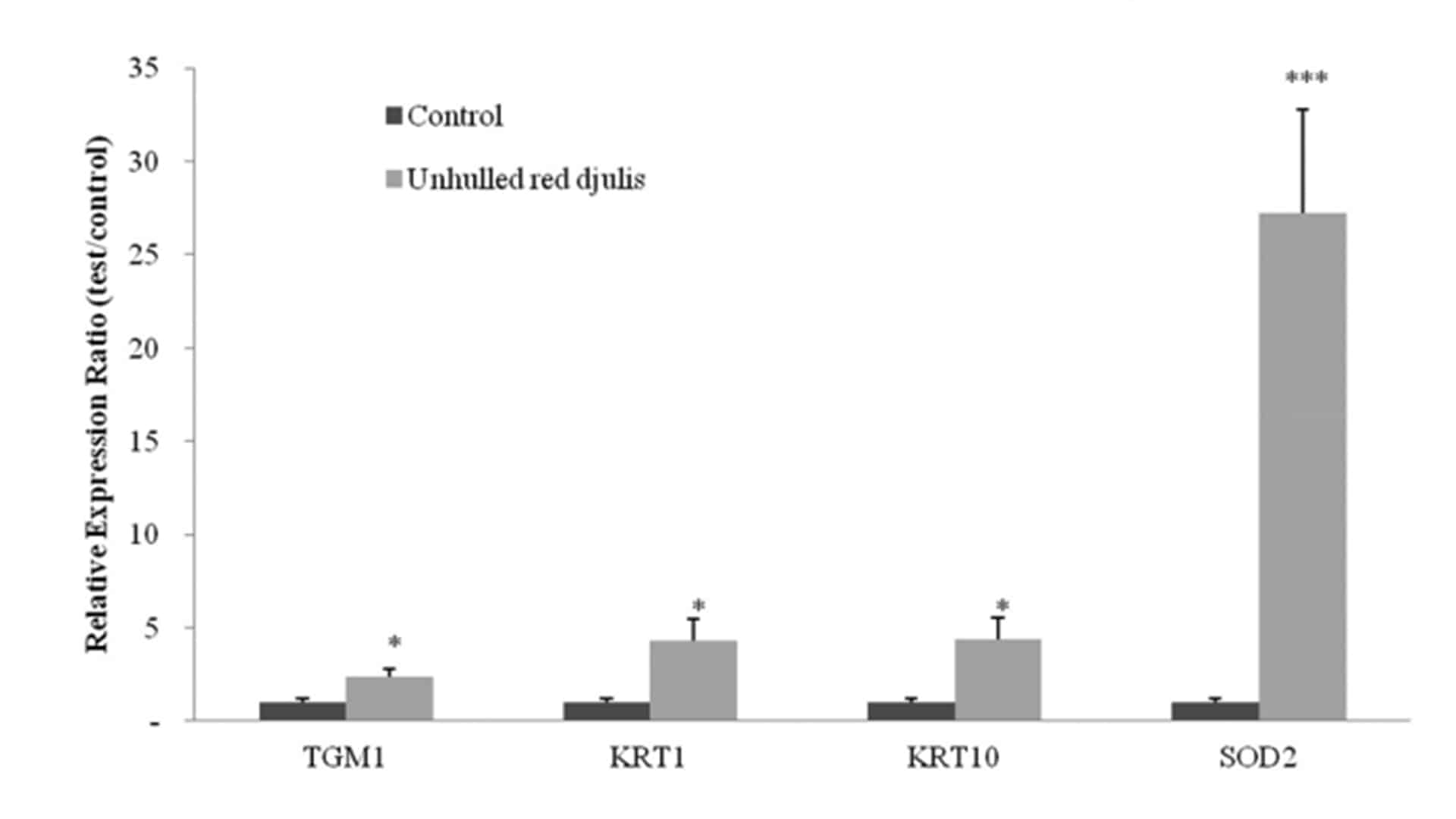 (Effects of TCI Chenopodium formosanum extract on the expression of skin-related genes TGM1, KRT1, KRT10, and antioxidant related gene SOD2[3])
International journals have confirmed that Chenopodium formosanum has excellent antioxidant ability and can achieve anti-aging effects [3]. With the success of filing Chenopodium formosanum extract, TCI brings you new skin care and anti-aging ingredients to help you start creating business opportunities in the cosmetics industry.
Excellent research and development ability to assist in the filing of new raw materials
TCI invests $600 million NTD in research and development and production every year just to meet your various needs. We have explored the world's mineral resources and searched for raw materials from all over the world. Finally, in the beautiful "Formosa" Taiwan, we found the Chenopodium formosanum with local characteristics, which can effectively resist oxidation and inhibit the formation of glycated proteins in the human skin [3].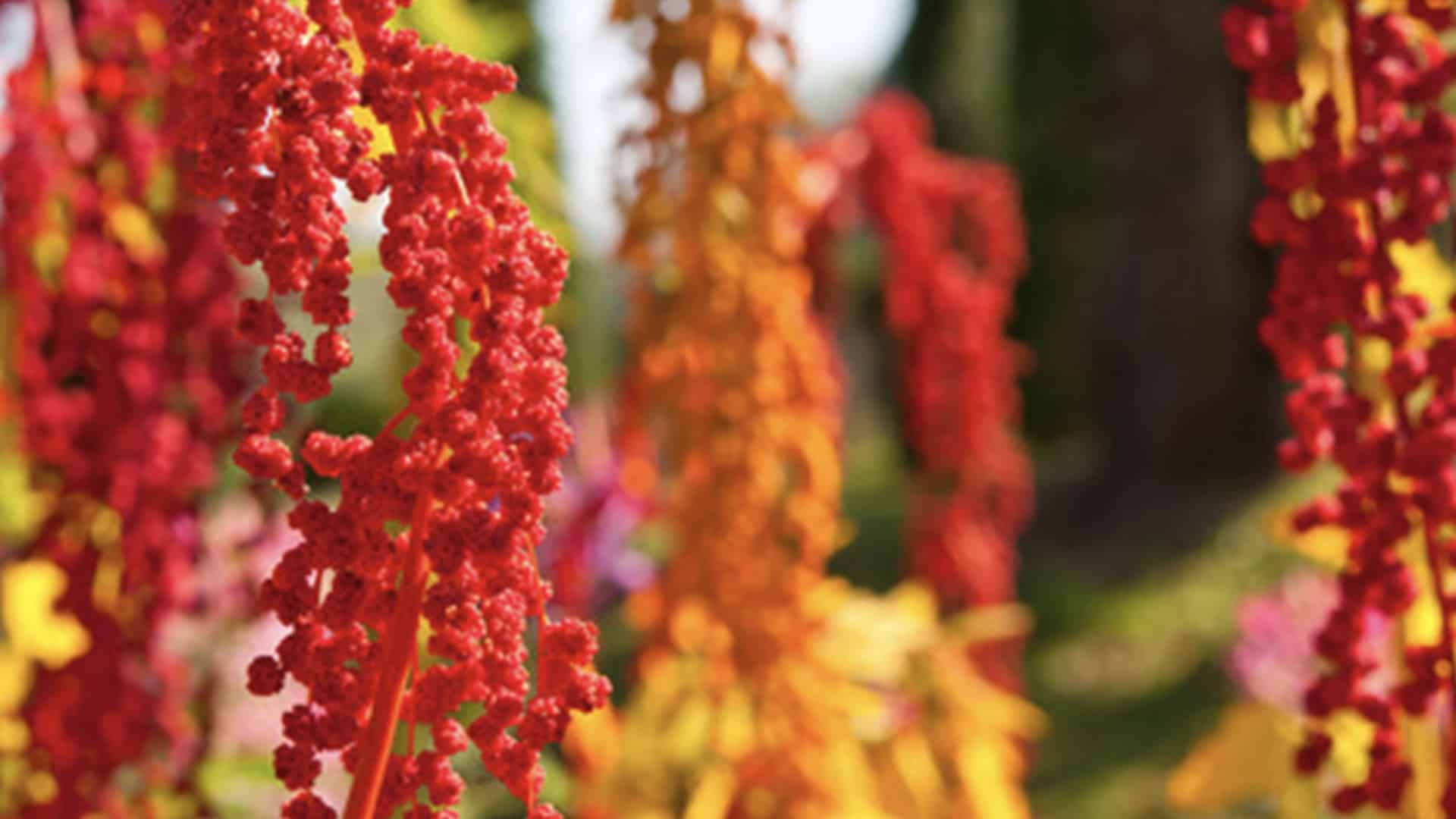 TCI utilizes modern science and technology to implement automated bio-resource data mining modules [4], which greatly improves our research and development speed [5]. It can complete about 7 extractions and biotransformation processes, 100 types of cell efficacy evaluations, 200 types of gene regulation mechanisms, and 15 types of natural ingredient component analysis within 6 hours [6]. This accelerates our analysis of the efficacy of Chenopodium formosanum, which greatly assists in the filing of new cosmetic raw materials!
International certification, product value-added
In addition, TCI's research and development results will be published in international journals to provide customers with more marketing support. The Chenopodium formosanum raw material has a number of international journal literatures to prove its efficacy [3][7][8].
Among them, the literature pointed out that Chenopodium formosanum can greatly reduce the formation of advanced glycation endproducts (AGEs) and can promote the proliferation of collagen by about 2 times, providing strong support for skin anti-aging [3].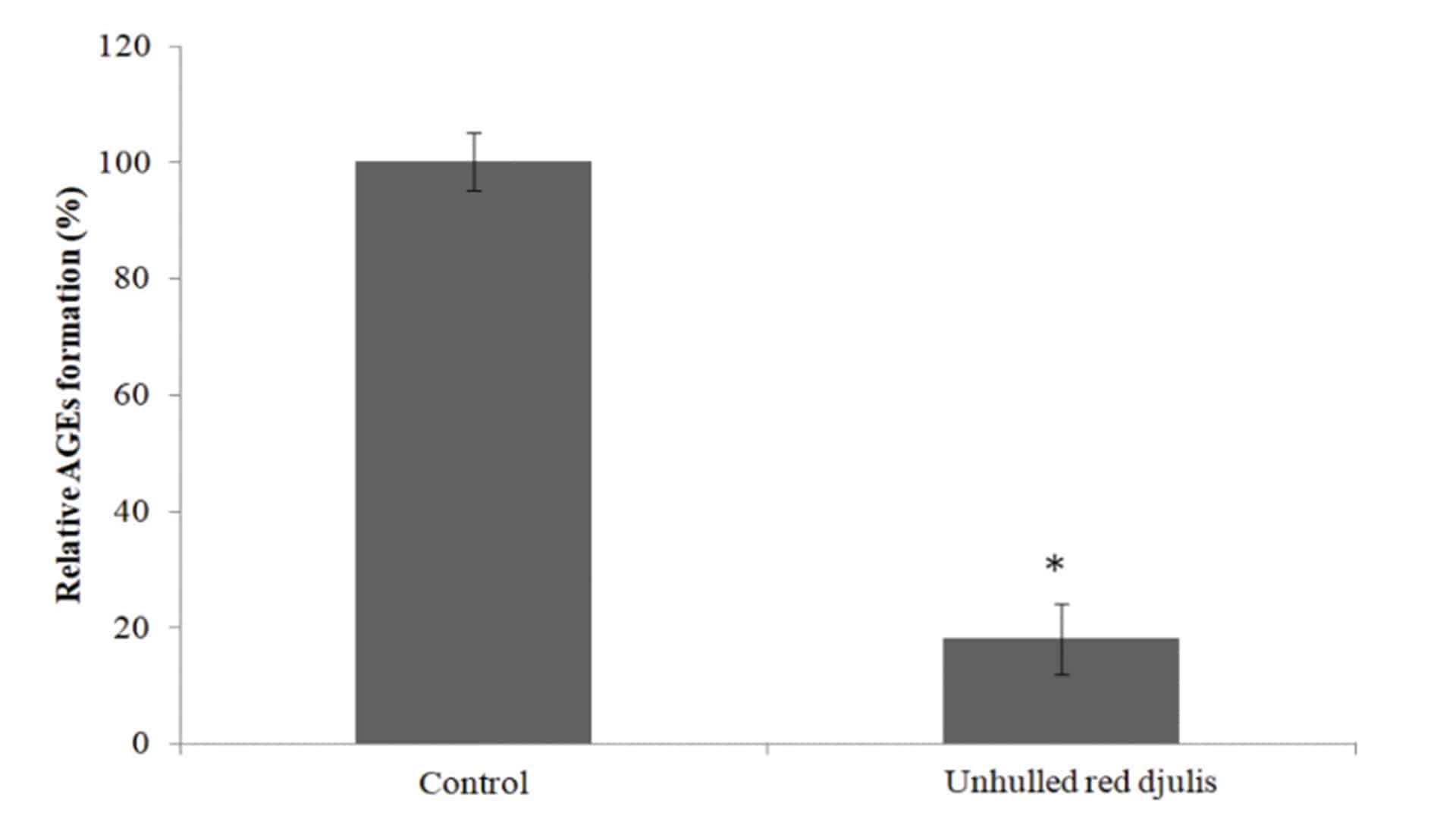 (Effects of TCI Chenopodium formosanum extract on the formation of advanced glycation endproducts [3].)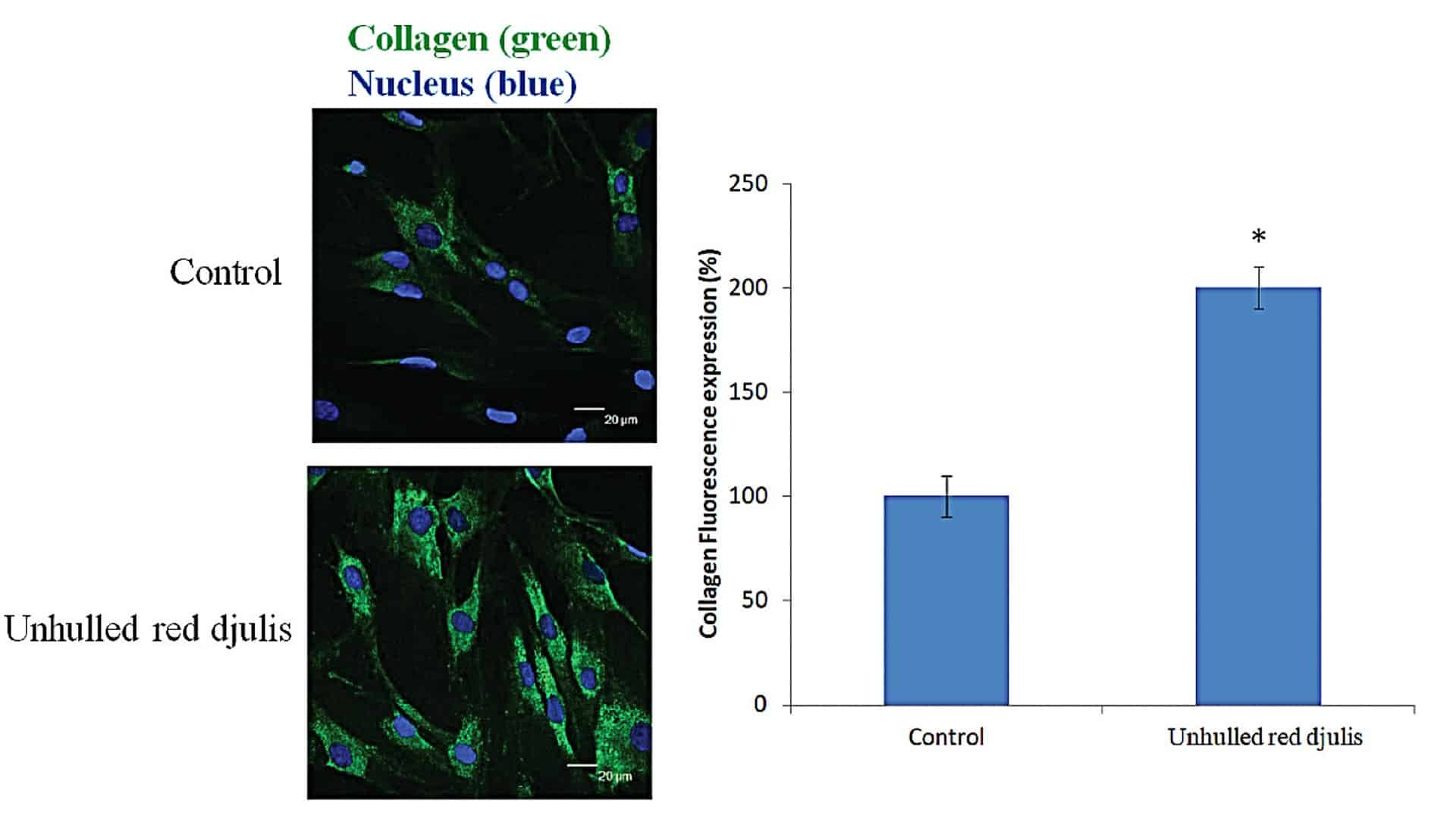 (Effects of TCI Chenopodium formosanum extract on collagen composition [3].)
TCI's Chenopodium formosanum extract also won the gold medal and special award at the 2014 Geneva International Exhibition of Inventions and invention patents in China, Taiwan, and the United States [9], adding value to your products!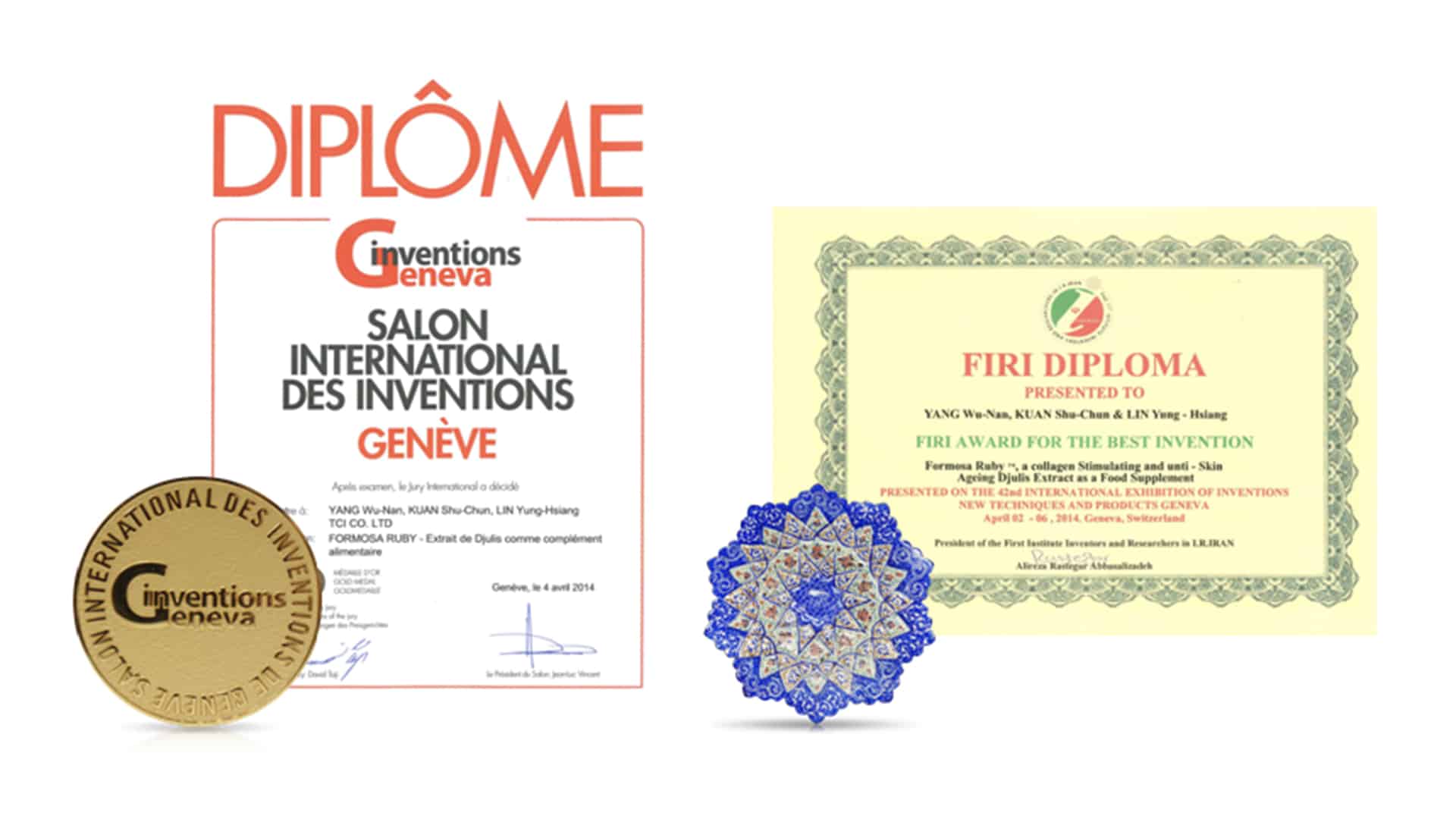 (Gold medal and Special award at the 2014 Geneva International Exhibition of Inventions: Chenopodium formosanum extract promotes collagen proliferation and anti-glycation)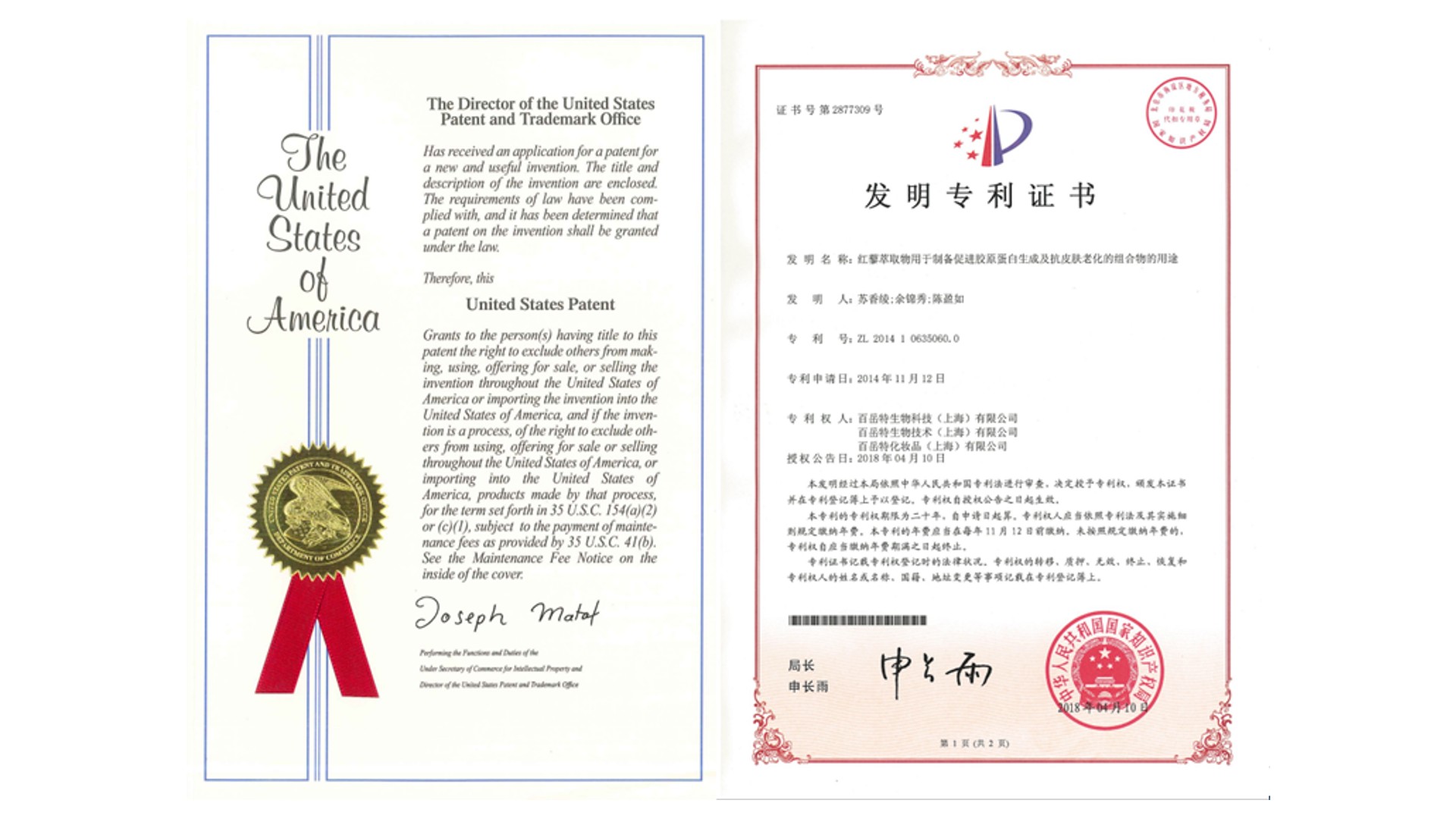 (China invention patent ZL201410635060.0, US invention patent US9687438B2: The use of Chenopodium formosanum extract for the preparation of a composition for promoting collagen production and anti-aging [9].)
In the future, TCI will continue to explore the world's potential natural resources, combine traditional and advantageous items with characteristic plant raw materials to develop cosmetic products with market potential and provide you with natural and green cosmetic raw materials to make your products "stand out."
Reference:
[1]:國家藥品監督管理局:化妝品原料備案資訊-技術要求
[2]:微熱點研究院:抗衰老護膚品行業網路關注度分析報告
[3]:Yung-Kai Lin, et.al. Health functional properties of unhulled red djulis (Chenopodium formosanum) in anti-aging. International Journal of Food Properties. 2021, VOL.24, NO.1, 833–844.
[4]:生物挖礦模組:TCI原料探索、開發、分析儀器名稱
[5]:資料來源:TCI內部使用生物挖礦模組前與使用後平均研發一個原料的時間對比
[6]:資料來源:TCI內部生物挖礦模組平均每6小時工作資料
[7]:Tsung-Yi Tsai B.S, et.al. Djulis supplementation against oxidative stress and ultraviolet radiation-induced cell damage: The influence of antioxidant status and aging of skin in healthy subjects. J Cosmet Dermatol. 2021;00:1–9.
[8]:Ping Lin MS, et.al. Collagen formula with Djulis for improvement of skin hydration, brightness, texture, cow's feet, and collagen content: A double-blind, randomized, placebo-controlled trial. J Cosmet Dermatol. 2020;00:1–7.
[9]:中國發明專利 ZL201410635060.0:紅藜提取物用於製備促進膠原蛋白生成及抗皮膚老化的組合物的用途;中國臺灣發明專利 第I516280號:紅藜提取物用於製備促進膠原蛋白生成及抗皮膚老化的組合物的用途;美國發明專利 US9687438B2:紅藜提取物用於製備促進膠原蛋白生成及抗皮膚老化的組合物的用途。