According to Innova Market Insights, by 2050, all the Asian countries will be classified as "super aged society," and the top three most aged countries will be Japan, South Korea, and China. Besides, low fertility rates have become increasingly common across the globe.
The World is Aging, Get Prepared!
The global total fertility rate in 2019 is presumed to drop to 2.5 births per woman, and is likely to continue falling in the future. UN statistics have shown that the global population of elderly people aged 60 or over is expected to have surpassed that of children under 15 by 2050. Given the figures mentioned above, global aging is irresistible; as the world's older population is expected to grow dramatically, supplements for seniors are guaranteed to offer significant potential in the elderly care market.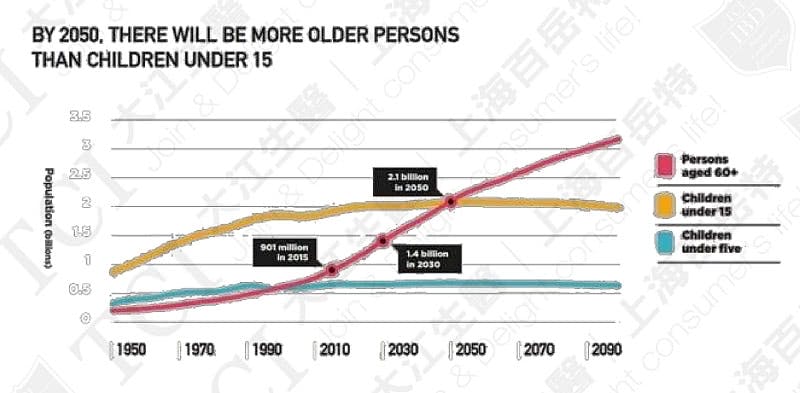 Prediction of Global Population of Persons Aged 60+ and Children, Data Source: UN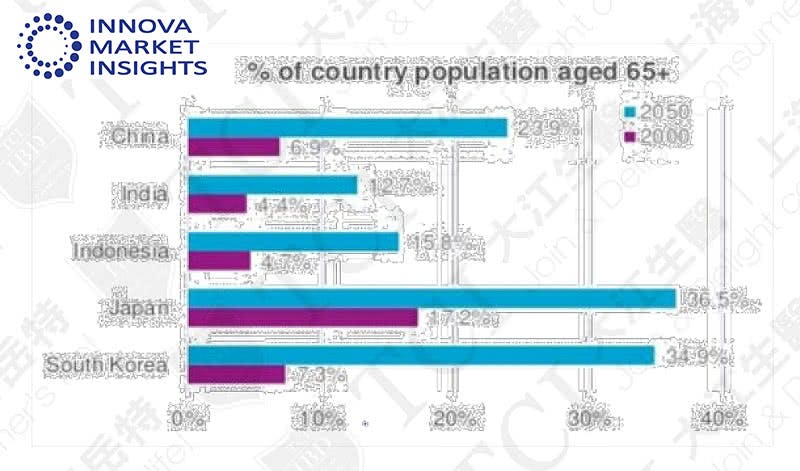 The Proportions of Asian Country Population aged 65+, Data Source: Innova Market Insights
The elderly show concerns about health issues varying between countries. The major issues the consumers aged over 55 in the United States care about are bone health (31%), heart health (29%) and joint health (23%) according to a CRN survey. In China, however, a survey by Innova Market Insights indicates that the top 3 health issues that consumers are extremely concerned about are digestive problems (70%), heart disease (68%), bone health (66%), and joint health problems (57%). The Chinese and American consumers' care and concerns for different senior health problems present the diversified elderly's needs for dietary supplements and provide promising business opportunities.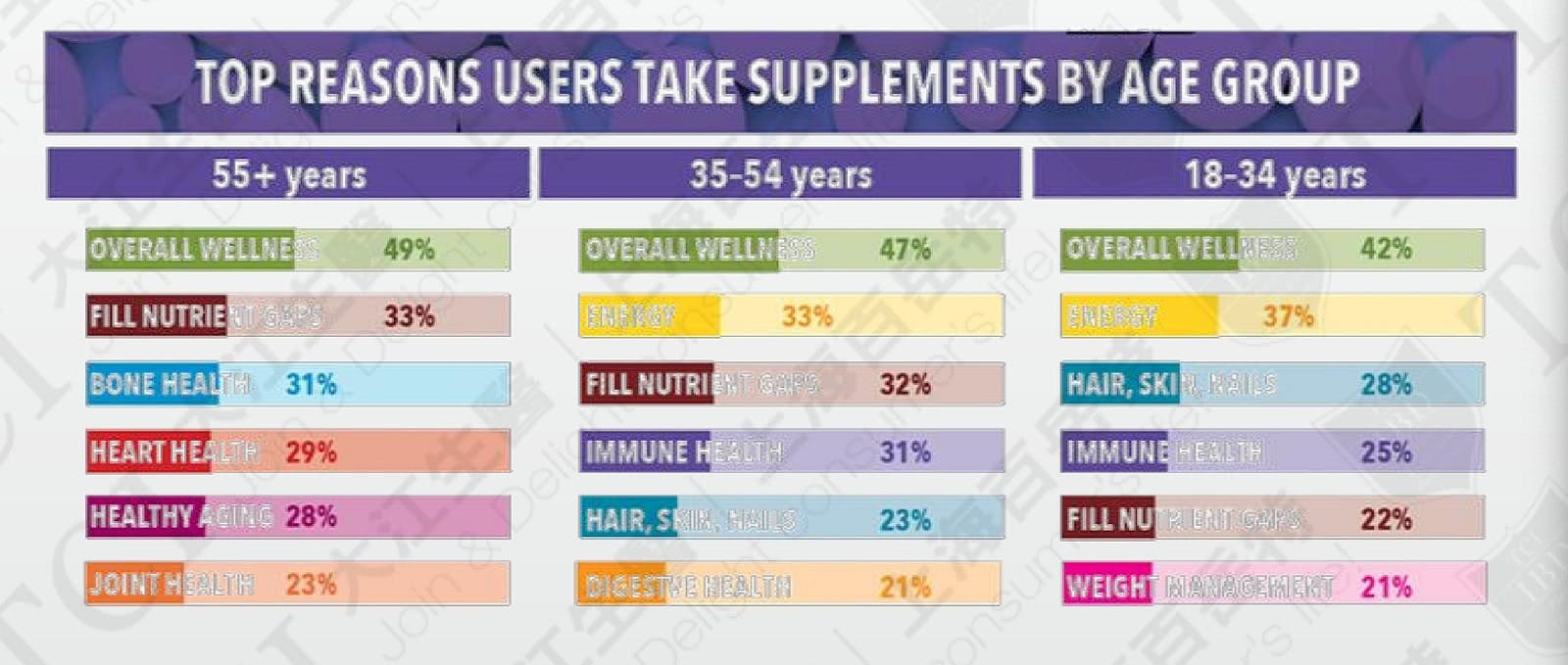 Digestive Healthcare Markets around the World
According to Grand View Research, the global market for digestive health supplements is expected to reach USD 37.7 billion in 2019 and will grow to USD 57.5 billion by 2025 with a CAGR of 7.3%. In terms of regions, North America, which accounts for 29.2% of the global demand, is now the largest consumer market for these products while the Asia-Pacific market is still in its nascent stage, accounting for 16.9%. Of all digestive health products, probiotic products hold the biggest market share (94.5%), and the probiotic markets around the world are growing rapidly, especially the China market. Euromonitor has indicated that the China probiotic market size was valued at CNY 45.5 billion in 2017 and that it will soar at 23% CAGR to reach CNY 104 billion by 2021. The Euromonitor statistics also presume that the Chinese probiotic market will achieve a growth rate of 248% for the period 2006 to 2021. Undoubtedly, probiotic products are becoming the trend to drive the digestive product market in China to new heights.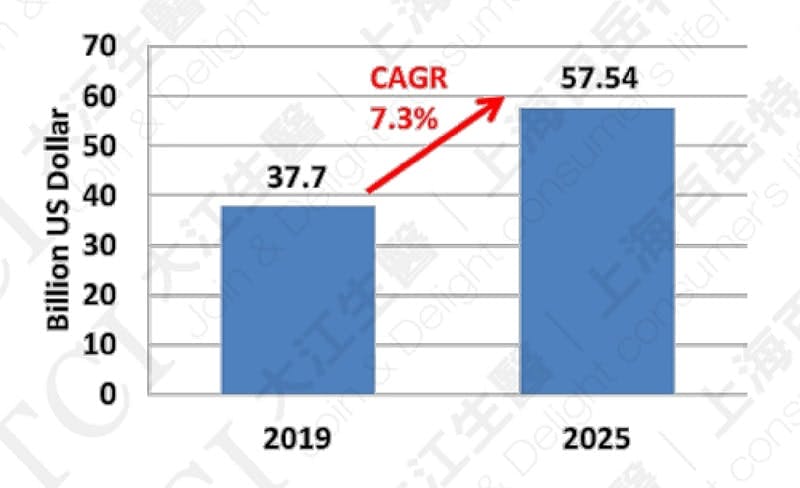 Global Digestive Health Supplement Market, Data Source: Grand view research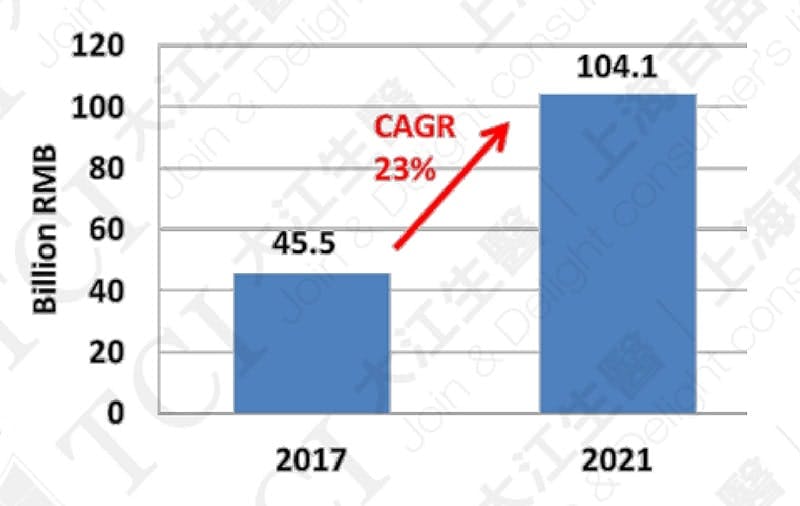 China Probiotic Market, Data Source: Euromonitor
Heart Health Supplement Markets around the World
Do you know what is the leading cause of death in the world? Heart disease. According to the World Health Organization, cardiovascular disease is responsible for roughly 17.7 million deaths each year. The high cardiovascular mortality has drawn consumers' attention to heart health products. The Keyword Tool statistics reveal global consumers' increasing interest in these products based on a search volume growth by 10% in the past year. Moreover, Persistence Market Research shows that the market size of heart health supplements reached USD 15.4 billion in 2018 and that the market is anticipated to attain a size of USD 29 billion by 2026 with a CAGR of 8.2%. Although the European region accounts for the largest market share (32.2%) in the global heart health product market, the Asia-Pacific market is becoming the most fast-growing at 9.4% CAGR due to improved health care awareness and the multiple sales channels in China and India. This suggests consumers' strong interest and a promising potential in the market.
Global Heart Care Supplement Market, Data Source: Persistence Market Research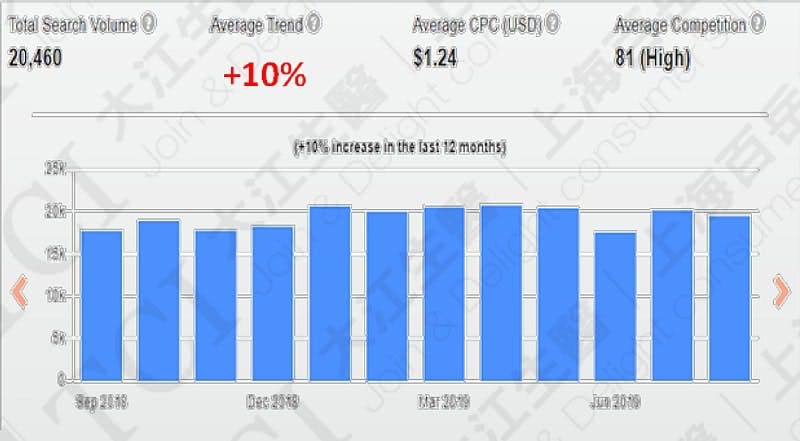 Global Search Volume of Heart Care Supplements, Data Source: Keyword Tool
Global Collagen Market
Collagen has certainly become a dark horse in the global supplement market, especially among the elderly. Many may think collagen is only good for skin, but it is also beneficial to bones and joints. According to Mordor Intelligence, the global collagen market size was valued at USD 3 billion in 2016 and is anticipated to reach USD 4.3 billion by 2024 with a CAGR of 4.71%. A Market and Market research shows that supplement products account for 35.5% of the global collagen market share. Also, the Innova Market Insights statistics have pointed out that the collagen supplements for bone health and joint health take up the largest proportion among all types of newly launched collagen supplements and that the growth of these products is the fastest. The information mentioned above implies that these products are very likely to make a hit due to consumers' rising demand.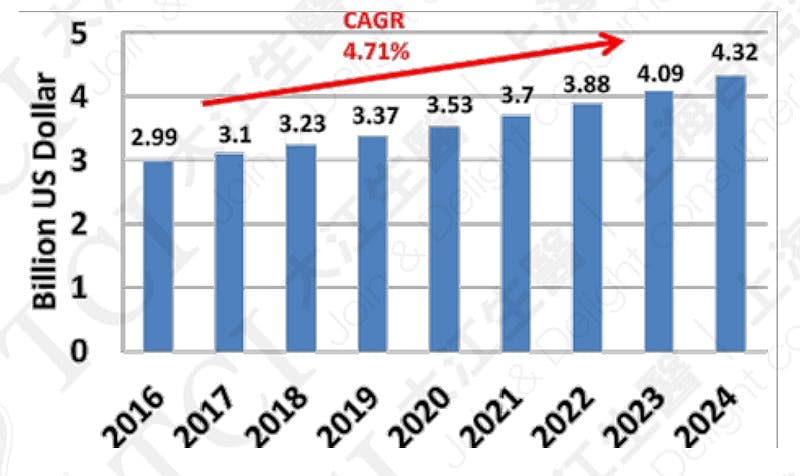 Global Collagen Market, Data Source: Mordor intelligence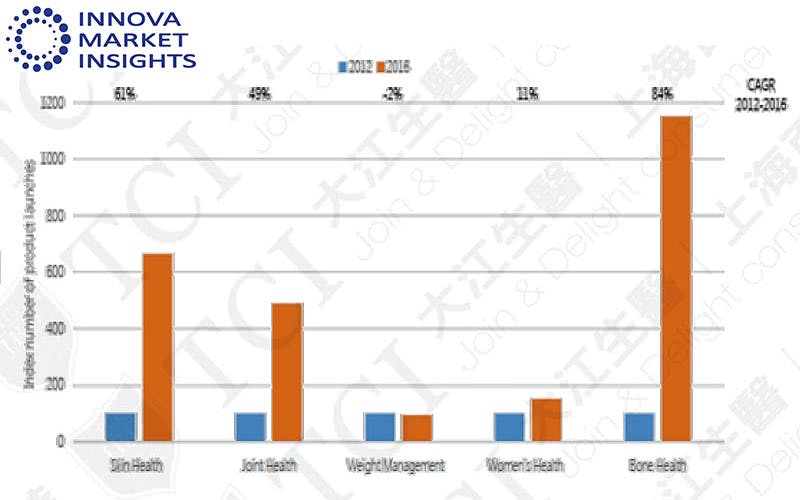 Volume of Each Newly Launched Collagen Product, Data Source: Innova market insights
Asian Collagen Market
In terms of regions, North America accounts for 33% of the global collagen market share while the size of the Asia-Pacific market is comparatively smaller, comprising 22% of the whole market. Nevertheless, according to Innova Market Insights, the Asia-Pacific market's rapid growth by 28% from 2012 to 2018 is second only to that of the South America market. Besides, in the future the China market is expected to witness the fastest growth and become the largest market, reaching USD 108 million by 2023 at a CAGR of 8.5%.On the other hand, according to Baidu Index, the search volume for collagen peptides in China has grown by 24% over the past year; this may imply Chinese consumers' keen interest in these supplements and that a rising demand for them in the near future can be expected.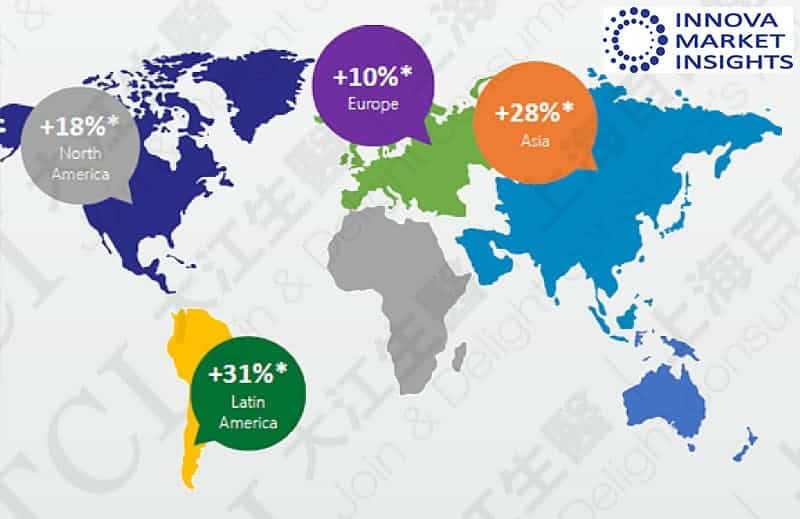 Growth Rate of Collagen Market Worldwide by Region, Data Source: Innova market insights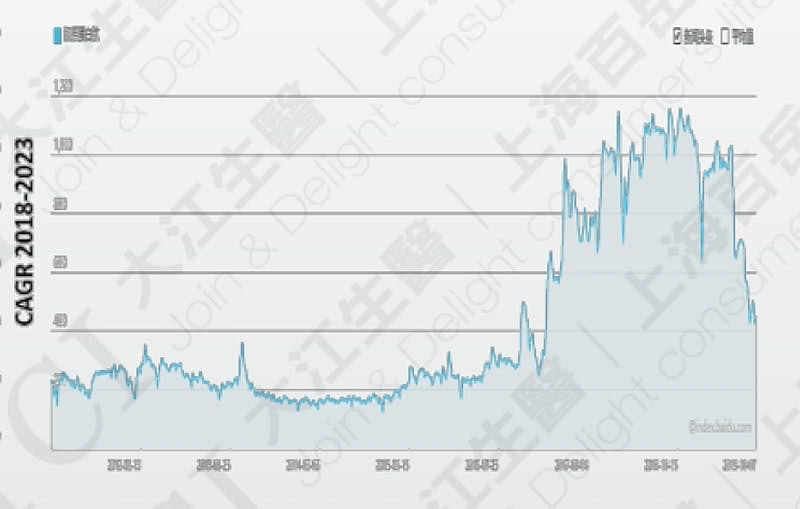 Search Volume for Collagen Peptides, Data Source: Baidu Index
Perfect 10! A Delightful Life with Q10
Coenzyme Q10 (Co-Q10) is one of the dietary supplements beneficial to the heart. It was firstly identified in the mitochondria of bovine cardiomyocytes by Frederick Crane and is a vitamin-like substance. It can boost the synthesis of ATP effectively. Based on the paper by Svend A. Mortense published in JACC Heart Fail, the mitochondria of cardiomyocytes of heart failure patients have low content of Co-Q10. Taking Co-Q10 consistently can reduce the occurrence of major adverse cardiovascular events (MACE) remarkably. For instance, GNC and Swisse have launched their own Co-Q10 products respectively. The search count for Co-Q10 had been increased dramatically by 18% in the past year. The craze for Co-Q10 will rock the world and become a big business!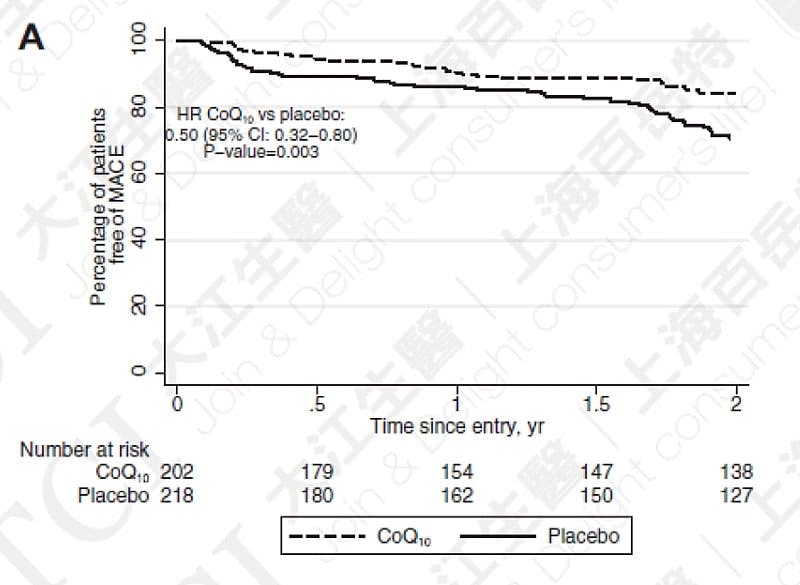 Co-Q10 Can Reduce the Occurrence of MACE, Data Source: JACC Heart Fail. 2014 Dec;2(6):641-9.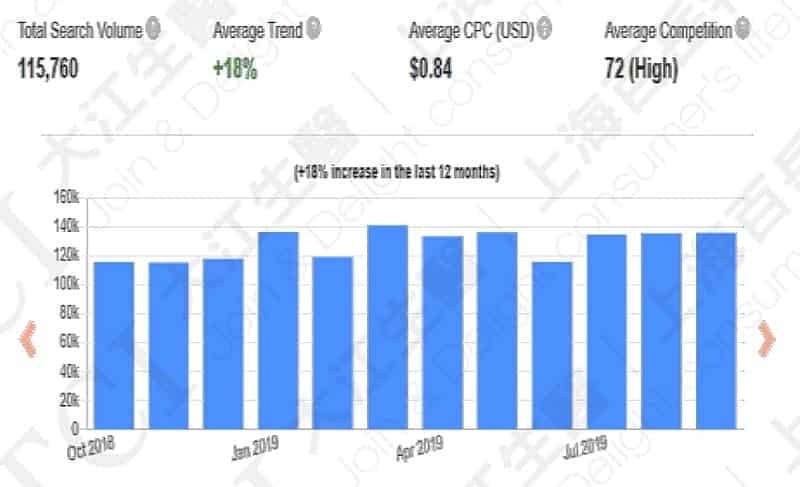 The Search Counts for Co-Q10, Data Source: Keyword Tool
Probiotics Supplements for Elderly Care
Billions of bacteria live in the gut. The balance of gut flora is the pivot for human health. If the proliferation of pathogens is faster than probiotics, constipation, bad digestion, and allergies will occur. Especially for the elderly, their digestive systems are degenerating with time, and therefore they need the supplement of probiotics to keep their guts staying healthy. New products are emerging like rising stars for the elderly. In recent years, Lactobact and Flora have launched their specific probiotic products for the elderly. In addition, according to the statistic data from Baidu Index, the search counts for probiotics have been increasing dramatically. For Chinese consumers, probiotics are moving into the spotlight.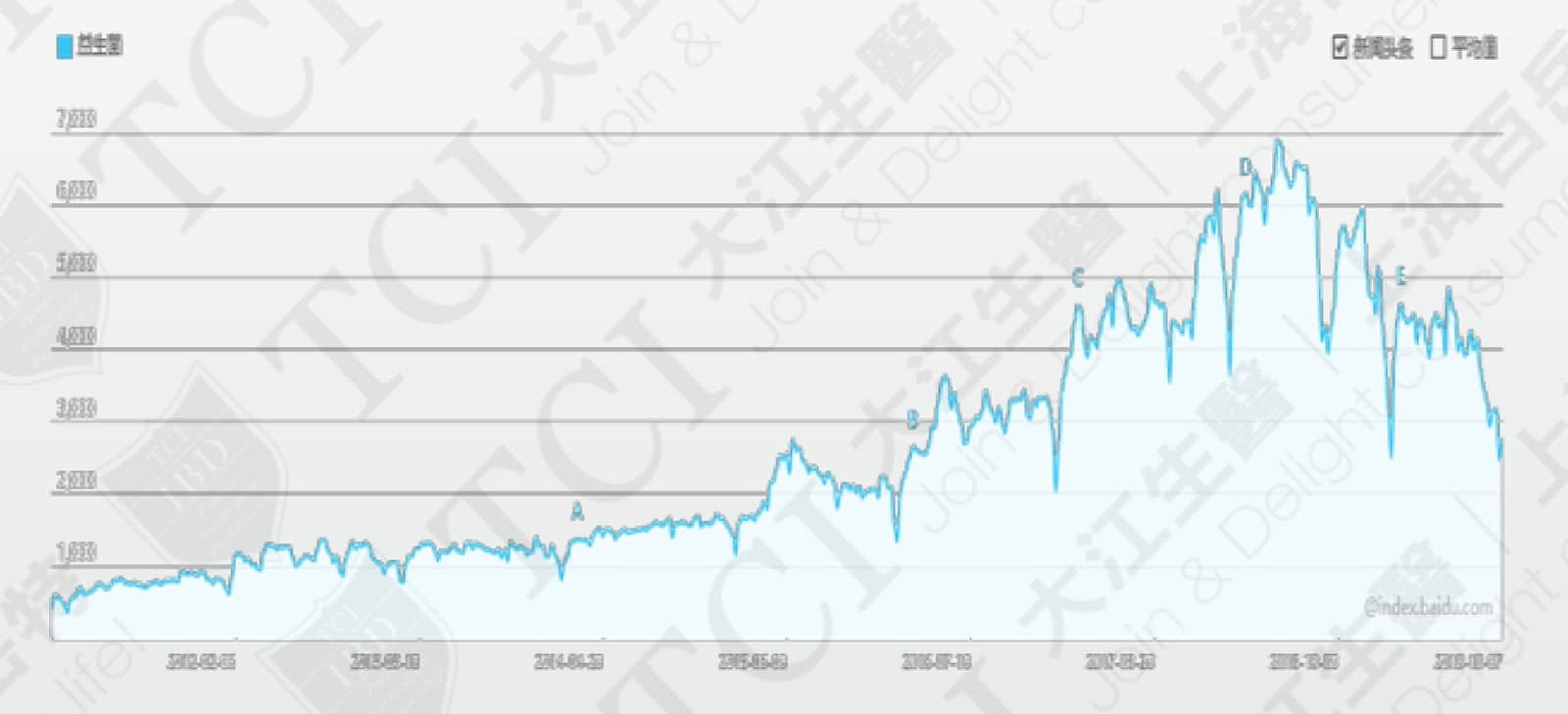 Collagen Drinks
In the past, collagen drinks were regarded as anti-aging and beauty supplements while the bone and joint care collagen products were manufactured in the forms of tablets, capsules or powder. But, recently some collagen drinks for bone and joint care have been launched, such as Glucosamine Collagen by HomeDr. and Collagen MSM Plus by Medicare Europe. According to NMI SORD, digestibility, swallowability and flavor are the main concerns of many consumers when choosing supplements. Since supplement drinks are easy to swallow and digest, and can be flavored with fruit and vegetables good for bones and joints, they are a great option for brands developing bone and joint care products. On the other hand, Keyword Tool statistics have shown that the search volume of collagen drinks has grown by 25% over the past year, which shows a continuous rise in consumers' interest in supplement drinks.