Eyes are complex and fragile organs, vulnerable to a wide variety of diseases, such as myopia, dry eyes, glaucoma, cataracts, and macular degeneration, etc, some of which even cause blindness.
Common Eye Problems
Thus, maintaining eye health is a must for every single person. As the saying goes, "prevention is better than cure." To protect ourselves from eye diseases, it has become particularly important to choose helpful supplements to consume sufficient nutrients for eyes.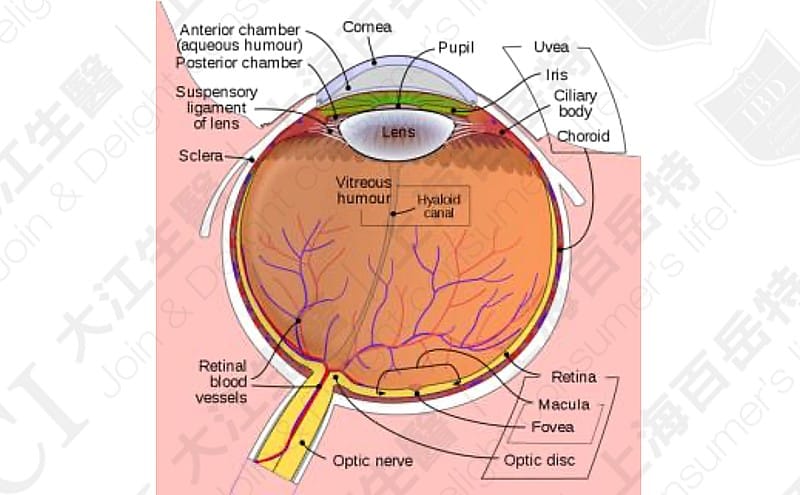 The anatomy and the structure of the eye, Data source: Wikipedia

Common eye diseases
We are in this Game: Fight for Sight
Eye diseases trouble a lot of people globally. Imagine some of them even cause blindness. According to World Health Organization (WHO), cataracts (47%), glaucoma (12.3%), and age- related macular degeneration (8.7%) are the 3 leading causes of blindness. The worldwide prevalence of cataracts in adults over 50 years of age is estimated at 60%, and the global prevalence rates of glaucoma and aged-related macular degeneration are 3.54% and 11.1%, respectively. On the other hand, as indicated in a 2017 Lancet article by Rupert R.A. Bourne and his team, more than 36M people around the world suffered from blindness, and more than 216M people agonized moderate or severe vision disorders. Due to population aging and frequent use of electronics such as smartphones, eye diseases and blindness will affect more and more people in the future. Fortunately, people's awareness of eye health has been raised owing to increasing access to information through Internet and the progress in patient education. Therefore, the demands for eye care products are definitely growing. It is a potential market worth looking forward to.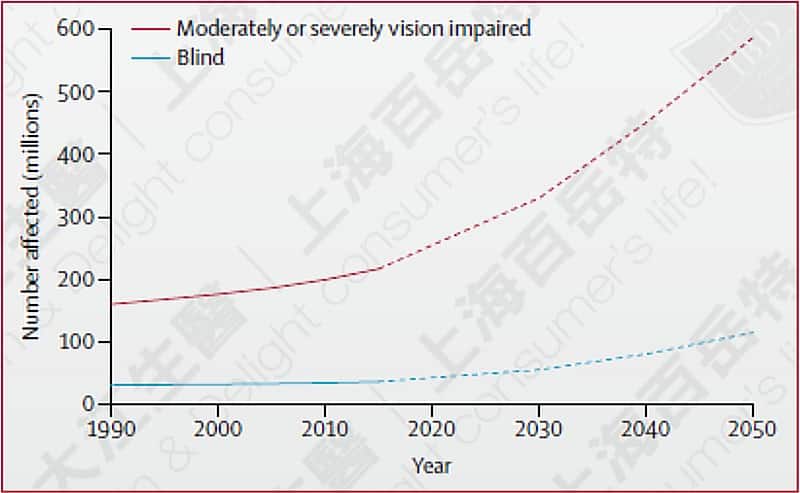 The number of blind people, now and the future, Data source: Lancet Glob Health. 2017 Sep;5(9)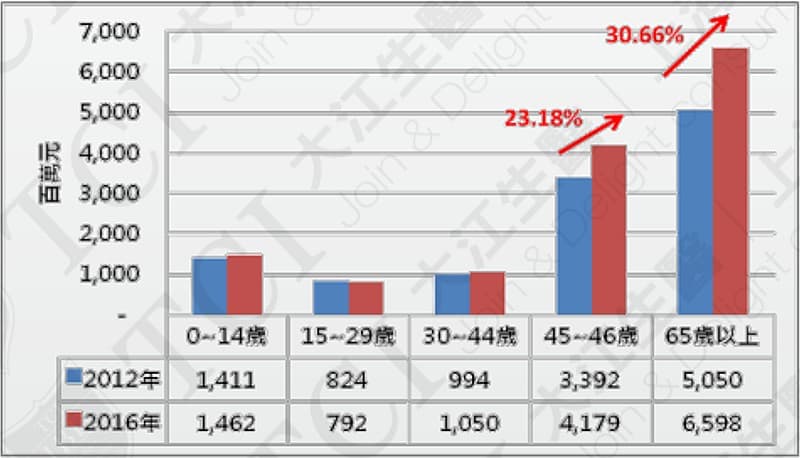 The growing trend of average registration fee charged by an ophthalmology clinic, Data source: National Health Insurance Research Database
Oceanic Treasure for Eye Care
Global Omega-3 Market
Omega-3 fatty acids are critical for eye health. Driven by a rising customer demand for eye care products, the market demand for DHA and EPA is booming prosperously. According to Verified Market Research, the global omega-3 market size reached US$3.3 billion in 2017 and that it will grow by 3 times to US$9.8 billion by 2025 at a CAGR of 14.6%. The two largest consumer markets for omega-3 products are North America and Asia-Pacific. The market in China, on the other hand, is now in its initial phase and accounts for nearly 20% of the world's total. A promising future of China's Omega-3 market is guaranteed by its increasingly wealthy and health-conscious population and emerging e-commerce trends. With this prospect, NOW is the best time to enter and take over the omega-3 market in China. Just enter, and you will be two steps ahead of the game.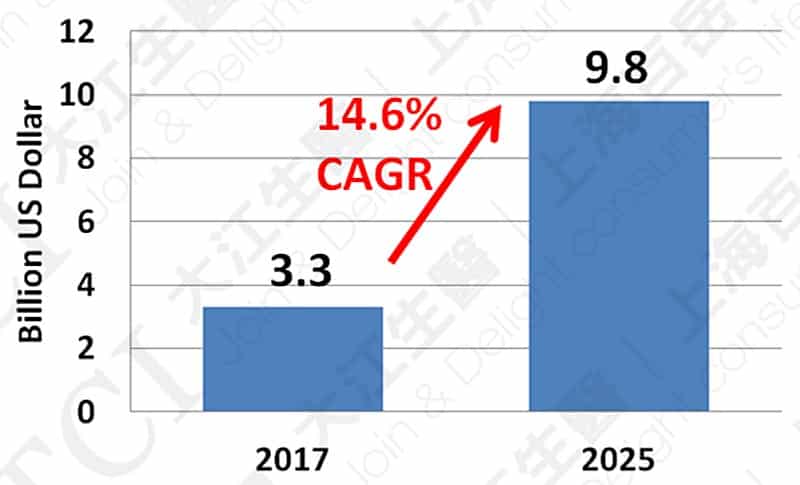 The size of global omega-3 market, Data source: Verified Market Research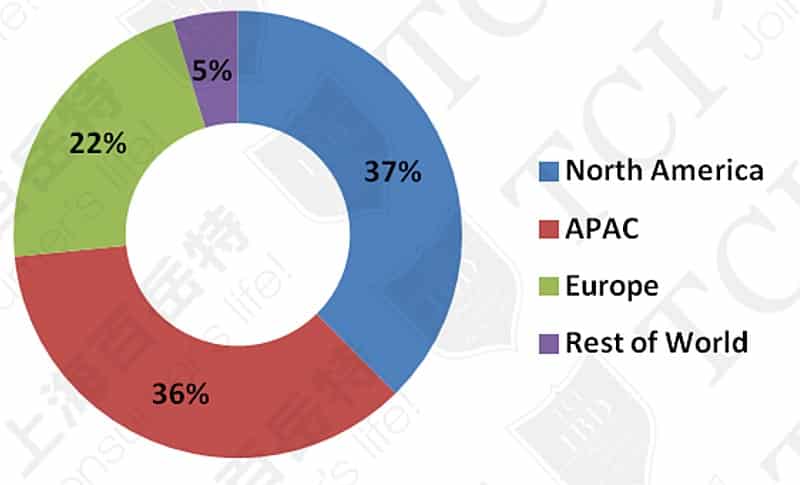 The sales of omega-3 products (by region), Data source: Packaged Facts
Global Astaxanthin Market
Astaxanthin, commonly found in seafood such as salmons and shrimps, has become a sought-after supplement over past few years due to its anti-oxidant capacity 10 times better than lutein. According to Research and Markets, the global astaxanthin market size was valued at US$320 million in 2017, and it will grow by nearly 2.5 times to US$770 million by 2024 at a CAGR of 13.3%. The statistics from Innova Market Insights show that most astaxanthin products were launched in North America from 2014 to 2019. The Astaxanthin market is now in its infancy, but as astaxanthin has gained a lot of attention in recent years, it surely has a promising future, especially in Europe and Asia. Be the foregurad: the sooner, the better.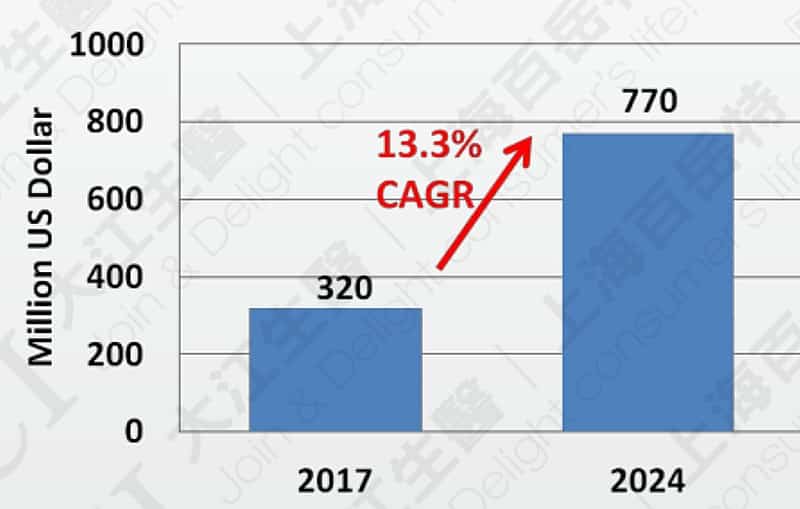 The size of global astaxanthin market, Data source: Verified Market Research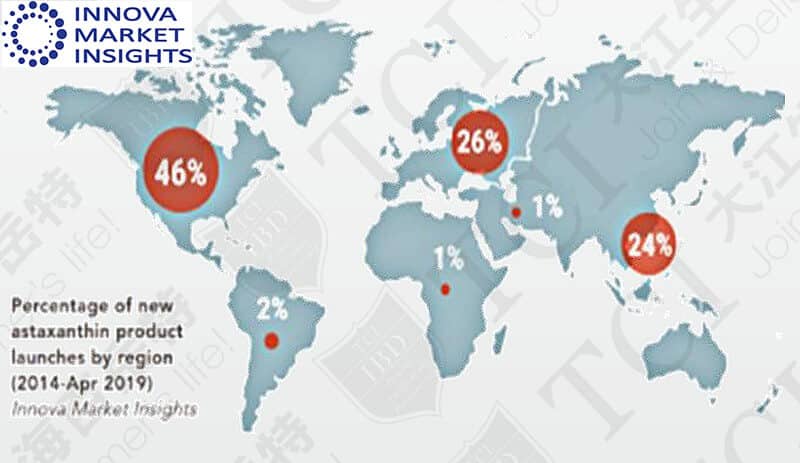 The percentage of newly-launched astaxanthin products (by region), Data source: Innova Market Insight
Everyone, Be a Plant-fessional!
Global Lutein Market
Lutein keeps its throne of being a trending search. The data from Keyword Tool and Baidu Index show that the number of searches on lutein products has been steadily stunning. According to Data Bridge Market Research, the global lutein market reached US$365 million in 2017, and it will rise to US$433 million by 2025 at a CAGR of 6.5%. The market will soar by 20% in the following 8 years. Europe and North America are now the two largest consumer markets for lutein products while the Asia-Pacific market is still in its nascent stage, but has a great growth potential. Over the past 3 months, more than 448,700 lutein products have flown out from the shelves on Tmall – the gold mine for your thriving enterprise.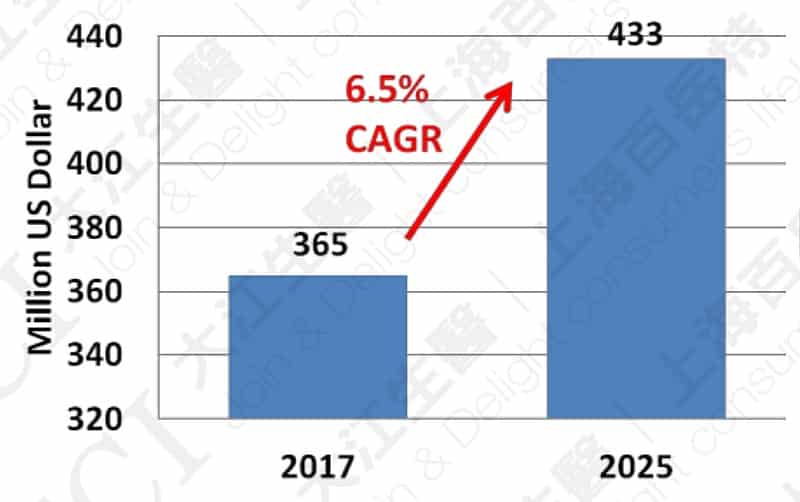 The size of global lutein market, Data source: Data Bridge Market Research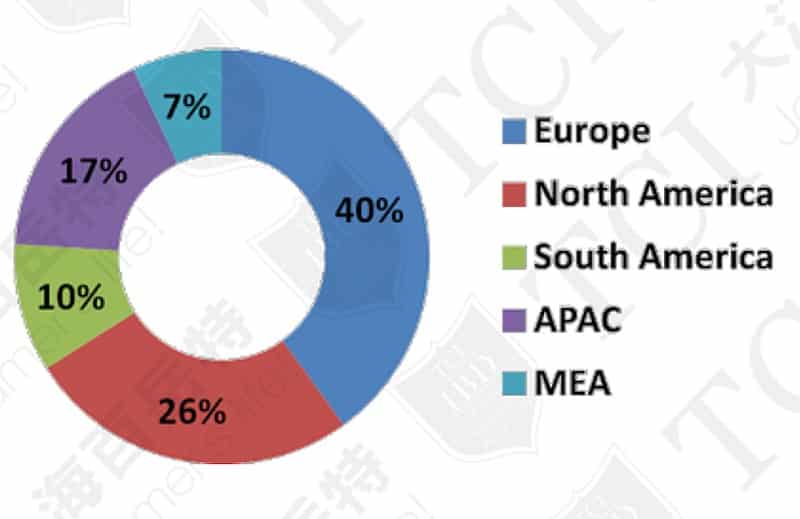 The sales of lutein products (by region), Data source: TechSci Research
Global Anthocyanin Market
Commonly found in purple fruits and vegetables such as grape and blueberry, Anthocyanins are known for their powerful anti-oxidant capacity. Anthocyanins successfully attract consumers because they have proved to help prevent high myopia and retinal detachment. Furthermore, Transparency Market Research pointed out the global anthocyanin market was valued at US$515 million in 2018 and will reach US$740 million by 2026 at a CAGR of 4.6%. Also, the statistics from Keyword Tool and Baidu Index show that anthocyanins have gone viral in the last year. Chinese consumers' increasing interest in anthocyanin-derived products, undoubtedly, shows a novel route for pioneers in this market.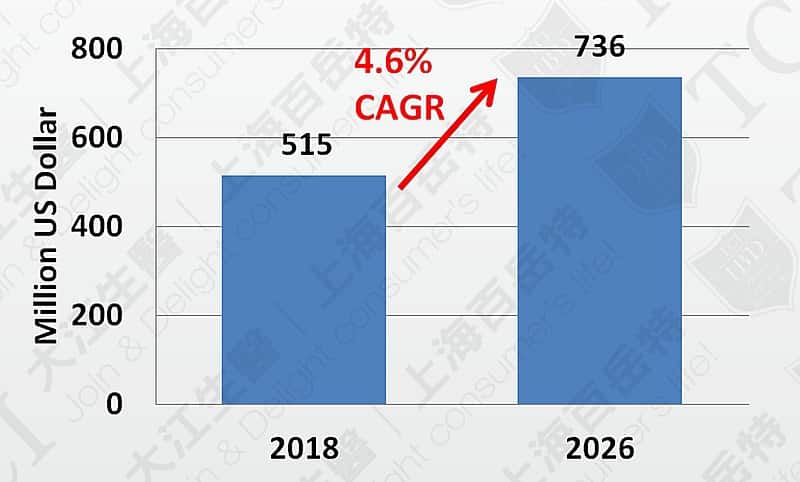 The size of global anthocyanin market, Data source: Transparency Market Research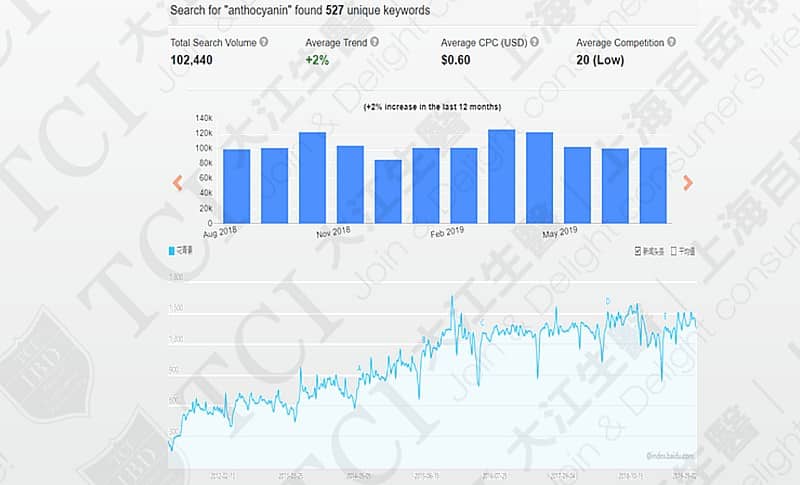 The search counts for anthocyanins in the world (upper) and in China (bottom), Data source: Keyword Tool and Baidu Index
The New "Guardian" for Your Eyes
The New Trend of Omega-3 Products
In the past, fish oil was the major source of omega-3s. Recently more and more materials, like vegetables, seaweed, and krill, have been used to produce omega-3 products. Thus consumers will be given a variety of options in the future. Launched by Aker BioMarine, the supplement Superba Boost Krill Oil offers abundant phospholipids, choline, and omega-3s, two pills of which contain recommended daily intake of EPA and DHA. Moreover, Nordic Naturals has also launched their DHA product extracted from seaweed. This product is not only vegan-friendly but cost-friendly. Apart from new supplement products, omega-3 dressings and sauces have been developed by manufacturers. For example, Rhode Island Organics has launched a series of salad dressings with omega-3s added, which help people consume omega-3s from their diets easily. This indicates the future trend of combining a dietary supplement with daily diets.
Small in Size, Large in Contribution-Probiotics "Shine Your Eyes"
Do you know that probiotics are very helpful for eye health? Scientists have discovered that a specific bacterium produces proteins similar to the structure of essential proteins in eyes. These proteins activate T cells, which have an impact on eye health. The regulation and control for this enteric bacterium will protect eye health to a degree. A Nutrients article by Yuji Morita and his team in 2018 has demonstrated that probiotics help increase the number of immune regulatory cells and further reduce the synthesis of inflammatory mediators. Now, some probiotic eye care products are available, like those launched by Nature Essence and FTVMall. The unlimited potential in this market is awaiting. The clock is ticking. Don't be left behind.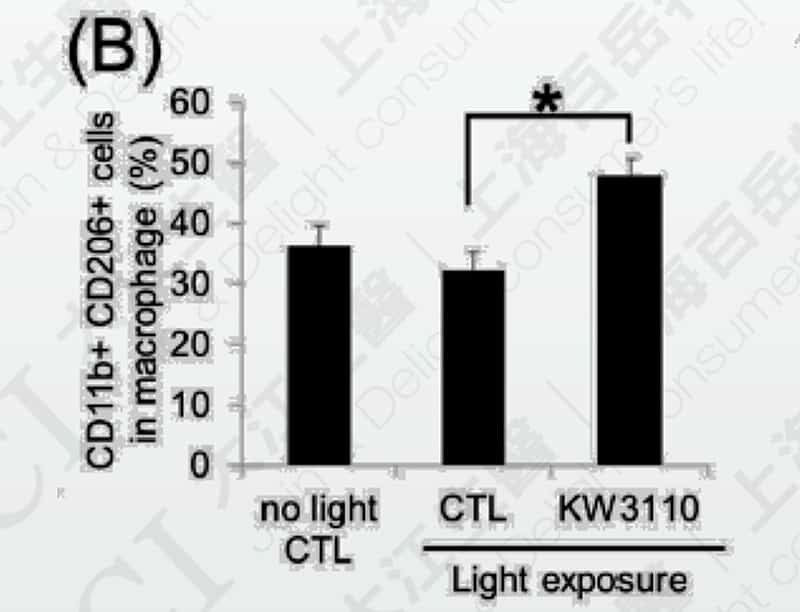 Probiotics can improve the number of immune regulatory cells, Data source: Nutrients. 2018 Dec 15; 10(12)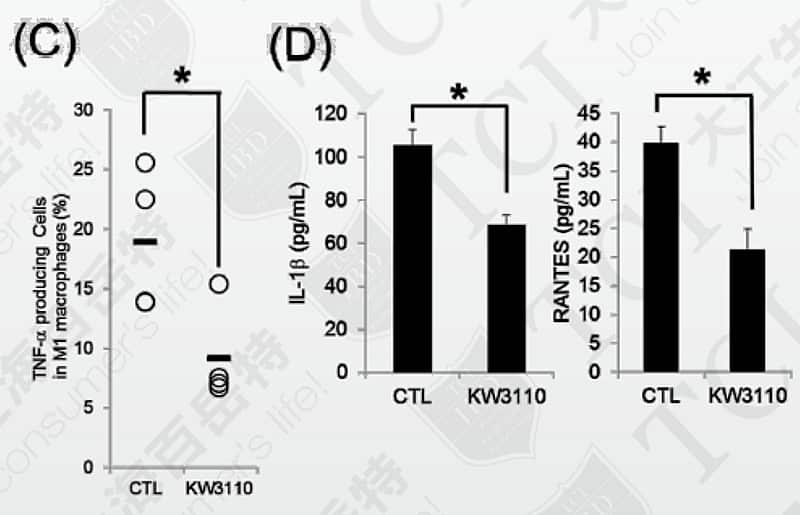 Probiotics can improve the number of immune regulatory cells, Data source: Nutrients. 2018 Dec 15; 10(12)
Diet for "Fresh Vision"
What you should know about eye care
In recent years, more and more eye care products have been launched in a beverage or drink form. Drinks present a different vibe from pills, and are more likely to develop new flavors which make supplements closer to consumers' lives. Furthermore, probiotics can be added into a drink for fermentation, which increases the content of high-performance active ingredients. For example, TDHB Lutein Drink contains additional active ingredients for eye care such as blueberry and lycium. The new flavor also makes its own claim: "zero medicinal taste" that is acceptable for both adults and children. HUEI JIAN also launched its own Black Currant Lutein Drink with additional anthocyanin and black currant exact tasted both acidic and sugary. In addition, its portable and ready-to-drink features bring more convenience to consumers' lives.