So many diseases are accompanied with obesity. They include cardiovascular diseases, type II diabetes, sleep apnea, cancer and osteoarthritis etc. The diseases mentioned above will possibly lead to death.
Obesity-associated morbidity: Obesity increases the morbidity of many diseases. Those diseases can be classified into 2 categories: first, the diseases are caused by the elevated amount of body fat (for instance: osteoarthritis and sleep apnea); second, the diseases are caused by the increased number of fat cells (for example: type II diabetes, cancer, and cardiovascular diseases). Taking type II diabetes for example, it is remarkably related to obesity. More than 64% of male patients and 77% of female patients of diabetes have the same health issue: the over accumulation of body fat. The elevated amount of body fat will affect body's response to insulin to cause the insulin antagonism.
Mortality of obesity: The large-scale research conducted in the West has demonstrated that the non- smoking persons with BMIs in the range of 20 to 25 and the smokers with BMIs in the range of 24 to 27 have the lowest mortality rate (the study separated the smokers from people because smoking is one of the causes of mortality). If your BMI value is higher than the highest values mentioned above (25 and 27), the risk of mortality will increase. For Asians, if the BMI value is higher than the range of 22 to 25, the risk of mortality will increase. In the US, obesity leads to 120,000 to 365,000 deaths every year. In Europe, there are 7.7% of deaths (about one million people) related to obesity.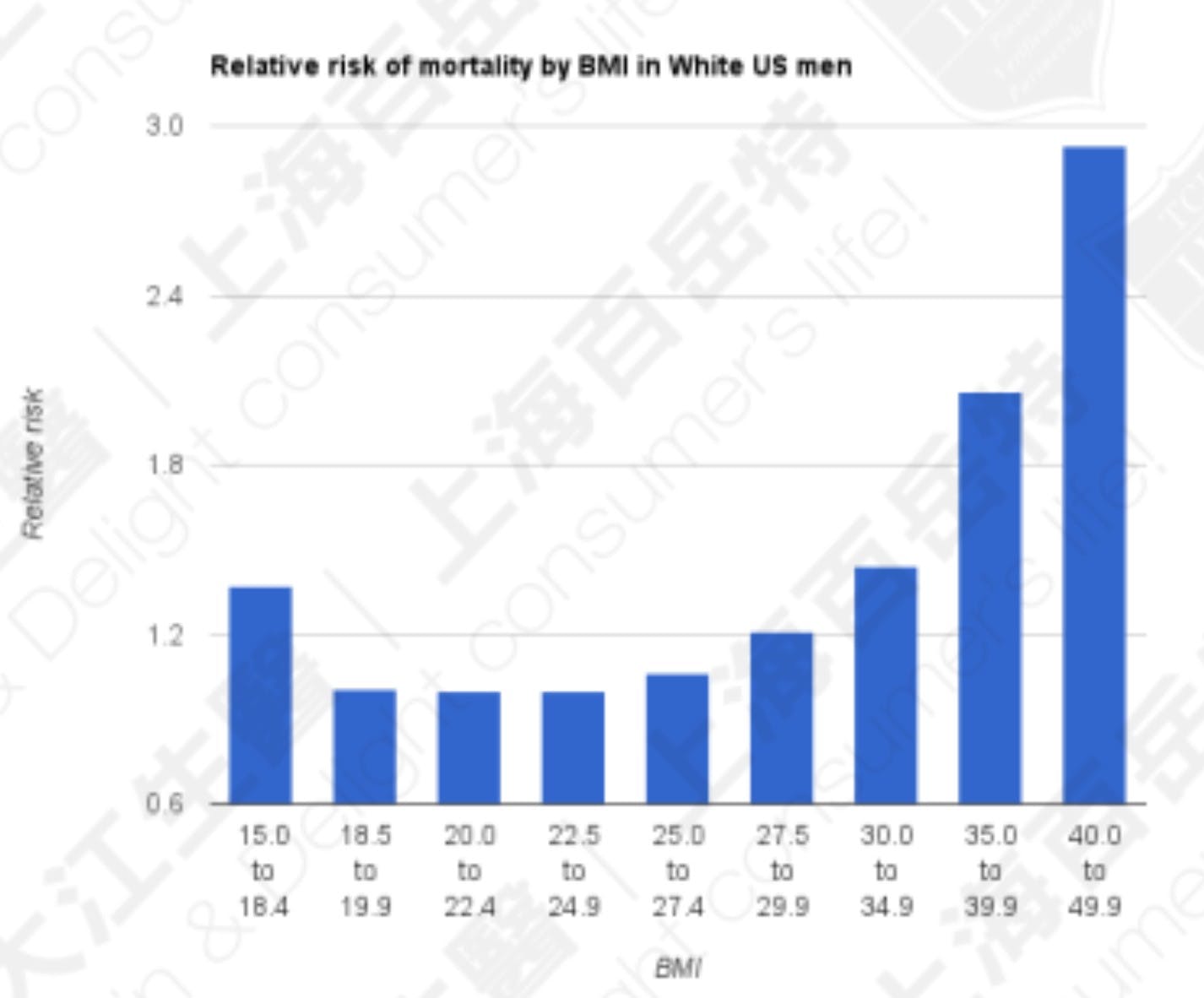 The relative risk of mortality by BMI in non-smoking US men, Data Source: Wikipedia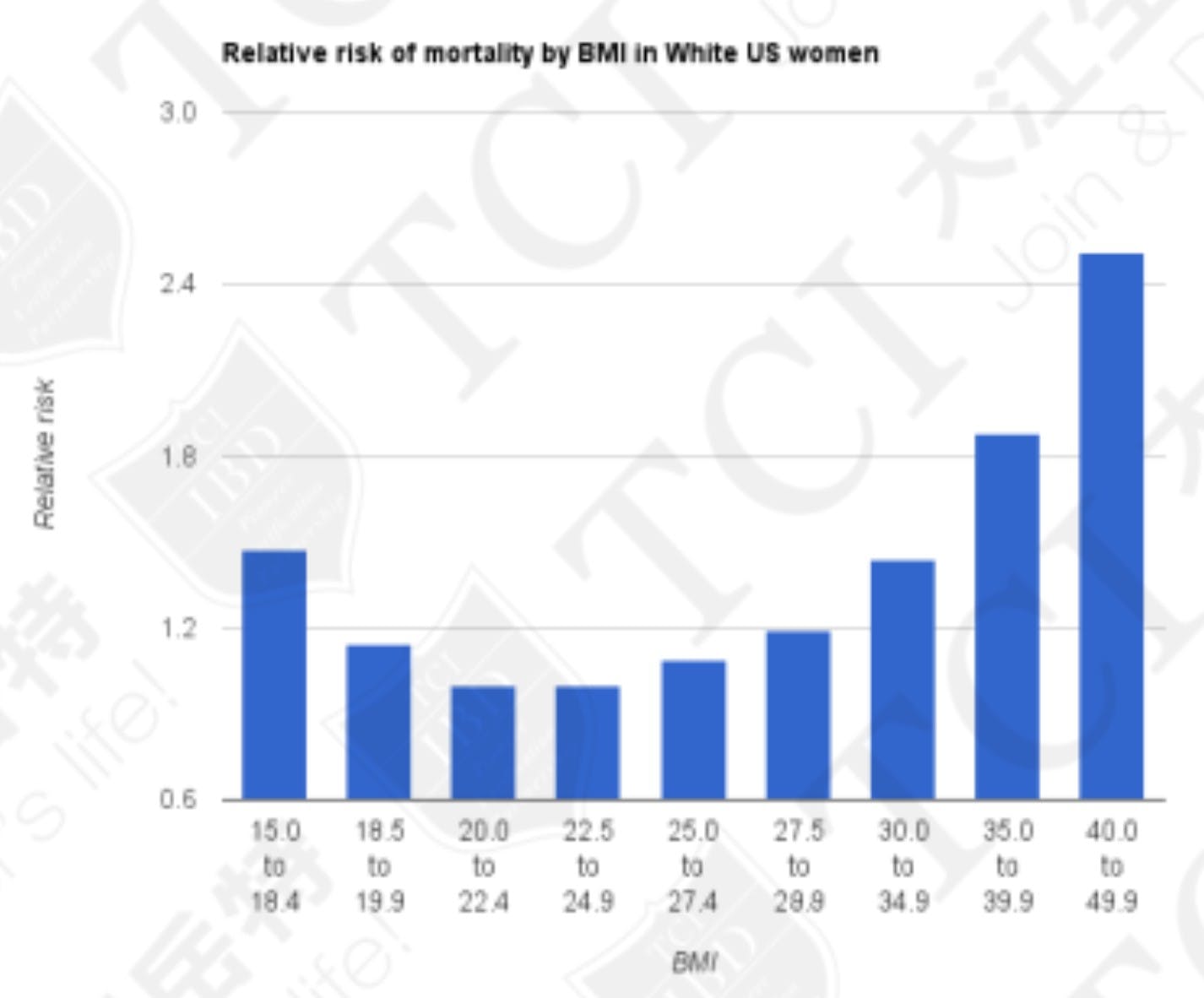 The relative risk of mortality by BMI in non-smoking US women, Data Source: Wikipedia
Obesity Is a Chronic Disorder. Losing Weight Should Be Started from Cultivating a New Lifestyle
Obesity is caused by an excessive intake of calories and a low metabolic rate. These two conditions will result in fat accumulation for further obesity formation. The most crucial elements for the people with obesity are "dietary" and "exercise". If necessary, people with obesity have to follow the dietary plan or even drug-assisted treatments from the physicians. No matter which way you have chosen to lose your weight but changing your lifestyle is always the priority. According to the advice from the Ministry of Health and Welfare (Taiwan), the three steps for losing weight: "eat healthy, exercise happily, and monitor your weight daily" can help you get rid of 3 to 5% of your weight.
(1) Eat Healthy: Three things should be done more frequently: drink water, eat vegetables, and eat grains. Three things should be avoided: oil, salt, and sugar.
(2) Exercise Happily: If you want to lose your weight or improve your physical strength, you have to do more than 300 minutes of moderate-intensity exercise every week. The performance will be further improved if you add high-intensity aerobic exercise or high-intensity interval training (HIIT) into your workout schedule.
(3) Monitor Your Weight Daily: It can remind you about the importance of maintaining a healthy weight at all times.
World War III: Weight War & Fat War
High Demand for Weight Management Products Due to Too Many Obese People
In this wealthy era, people are chasing "palatable foods" instead of "satisfying hunger". But due to bad dietary habits and insufficient exercise, "obesity" has become a general issue in the world! Based on the analysis reports provided by Euromonitor, in 2017, more than 30% of residents are suffering from obesity in North America and Oceania. On the contrary, obese people only account for 6% of Asians. Focusing on the per capita consumption on weight management products, there are lots of obese people who are worrying about their weights in North America and Oceania, so they pay more money for purchasing weight management products as well. But the Asia-Pacific market shows a special character: it has the 3rd highest per capita consumption in the world due to Eastern aesthetic taste: slimness is always beautiful. It indicates the great potential of this area. In 2018, the annual revenue of weight management products in the globe market was about US$170 billion. Moreover the most noticeable growth is from Asia-Pacific recently. In 2017, the annual revenue of weight management products in Asia-Pacific was US$56.8 billion which overtook the annual revenue of North America, US$56.3 billion. Asia-Pacific has taken the lead of North America and become the biggest market of weight management products. It is also the most powerful engine for the growth of this industry.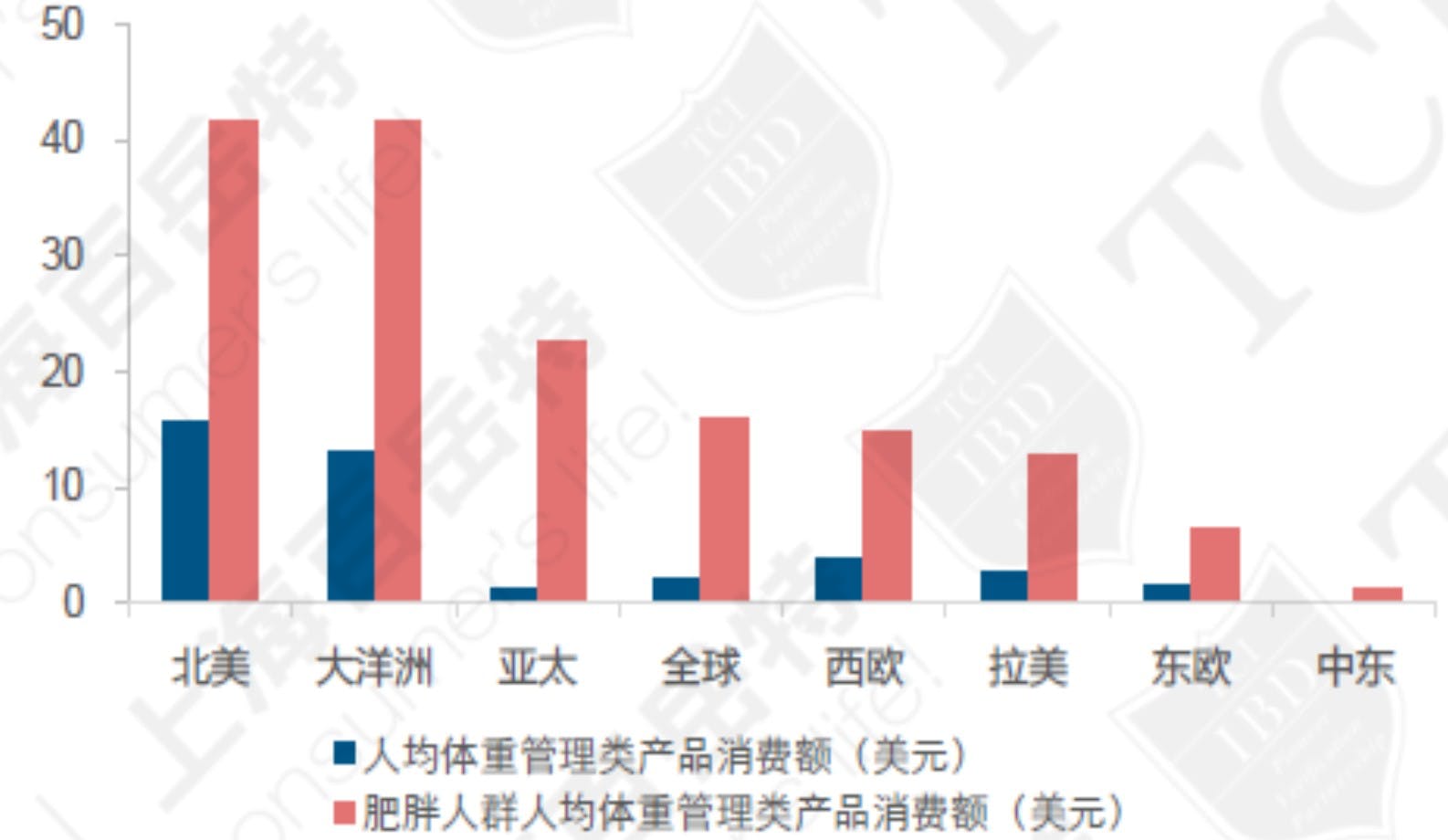 The per capita consumption by regions, Data Source: Euromonitor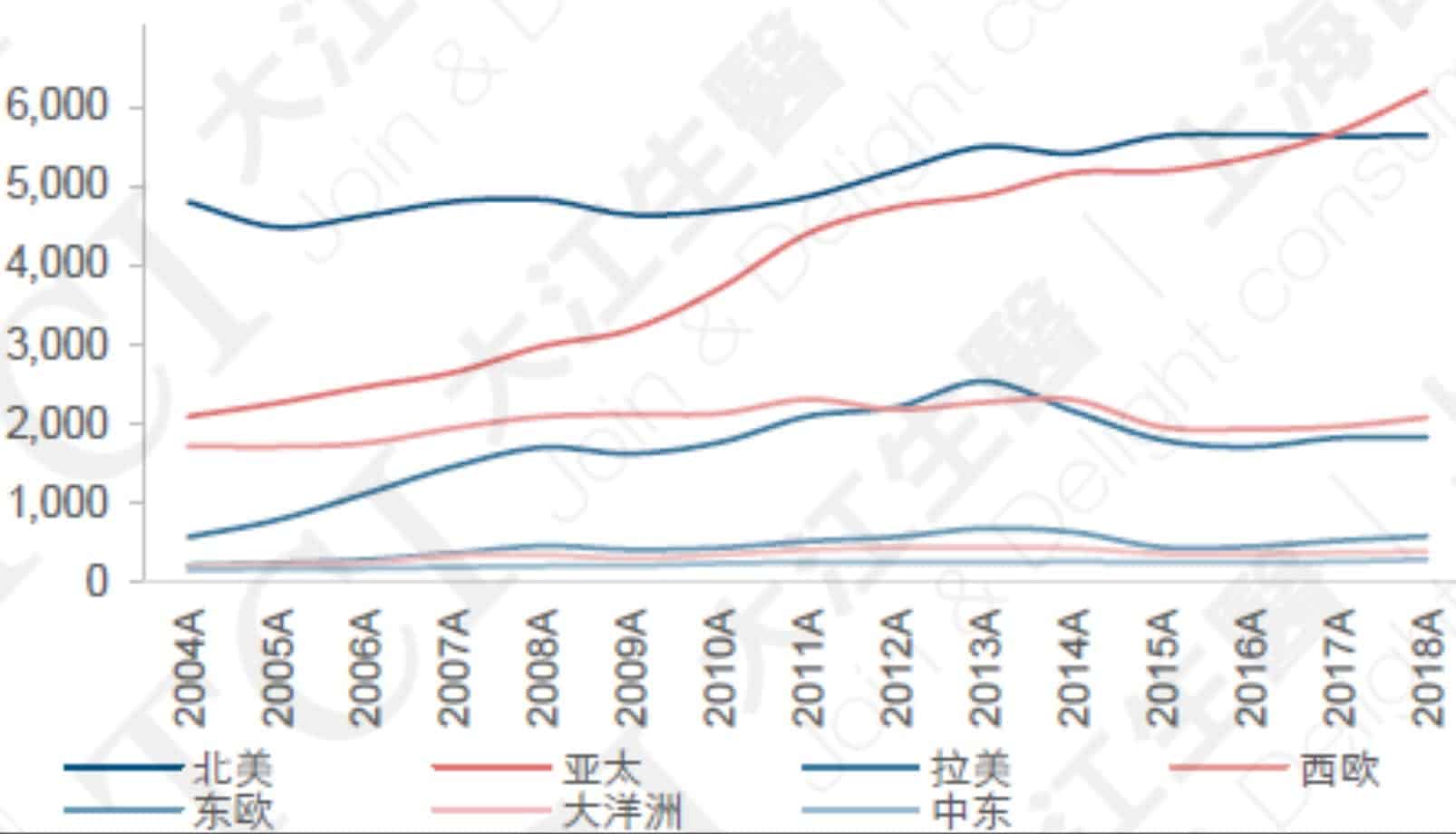 The retail sales of weight management products by regions (unit: US$ million), Datasource: Euromonitor
Elevated Demand for Weight Management Products in China
According to the statistics from People's Daily, obese people already account for one nine of total population in China. Based on the data collected by Euromonitor, in 2017, the annual revenue of weight management products had reached US$13.37 billion. In recent years, weight management products have been grabbing more and more consumer's attention steadily. Online searching is not the only index for its popularity, but also the consumer behavior. In accordance with the statistics, in this July, the portions of weight management products accounted for 34.5% and 25.2% of the monthly revenue of dietary supplements on Tmall and Taobao respectively. Through these data we can realize there is a great demand for weight management products in China. Among all weight management products, meal replacement products are the category of weight management products with a quicker growth speed and a higher demand. Therefore it is worthy to study it more deeply.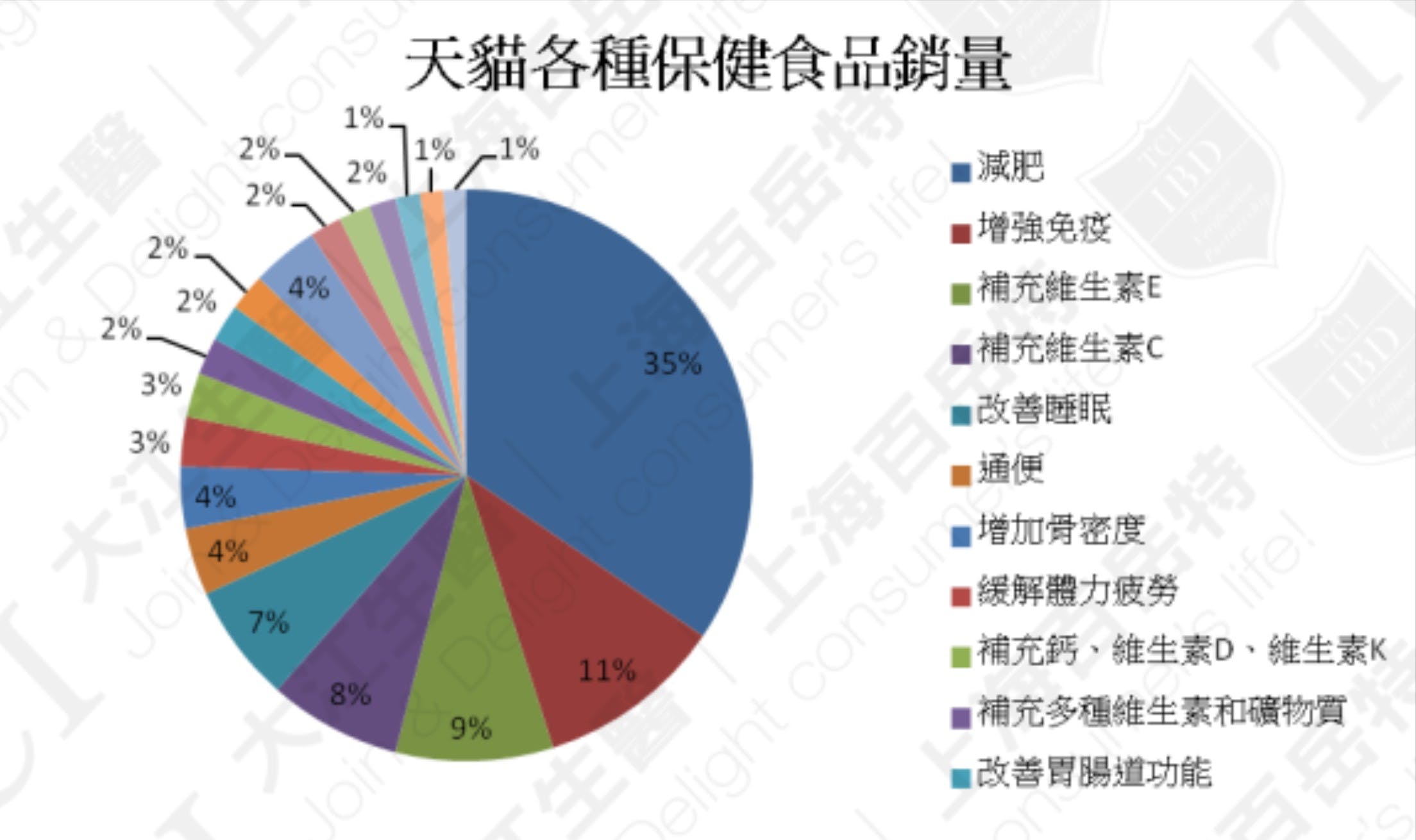 The sales of different categories of dietary supplements on Tmall, Data Source: Tmall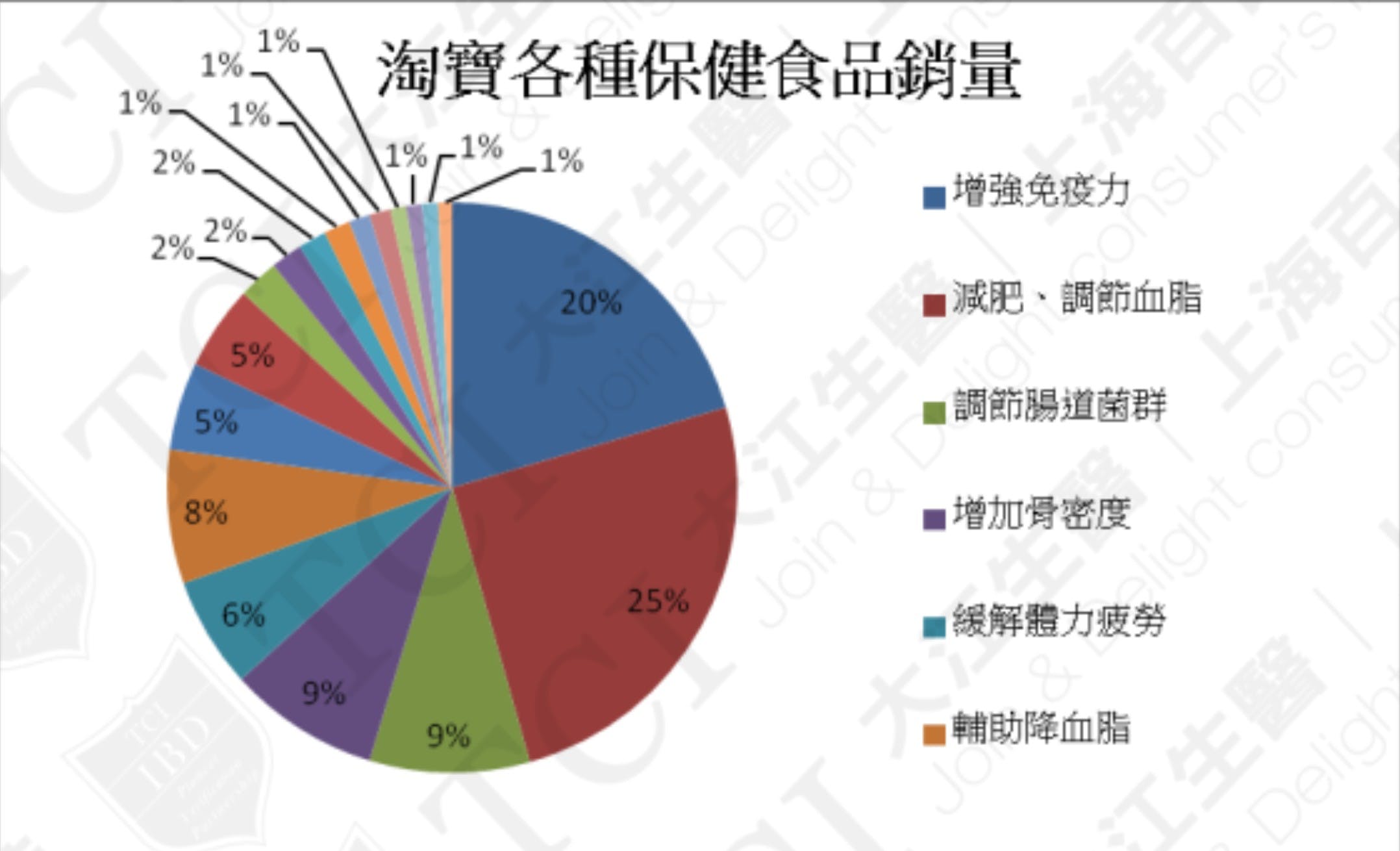 The sales of different categories of dietary supplements on Taobao, Datasource: Taobao
Foods Make the Hit! Manage Your Weight from Here
Healthier Diet, Lighter Burden
Along with the increasing education level and the burgeoning economics, there has been an increase in the number of consumers who are chasing healthier, more convenient and nutritional foods to maintain their shapes or reduce some weights. Therefore, meal replacement has grabbed people's eyes. For example, meal replacement powder, sport drinks, and protein supplements are making a hit. According to the statistical reports from Euromonitor, in 2016, the annual revenue of global meal replacement market was over US$60 billion, and it is expected to reach US$90 billion in 2021. In 2017, the annual revenue of China's meal replacement market was RMB 57.2 billion (US$8.1 billion). It is expected to reach RMB 120 billion (US$17 billion) in 2022. Based on the statistics mentioned above, the future of meal replacement products including energy drinks, protein supplements, and meal replacement is promising. At the same time, consumers are paying more attention on the products featured with "Clean Labeling (non-additive and non-preservative products made by simple ingredients), organic, low-sugar, and probiotics". Based on the survey provided by Innova Market Insights, healthy snacks are taking the lead of light meals, the number of snack products with "healthy indicators" has increased by 17%. CBNData shows that low-sugar products are making a hit and the sales are soaring. The data from I.R.I. indicate that about 40% of consumers would like to have probiotics added in snack products to improve digestion system. Multi-function meal replacement products will become the trend of food industry in the future.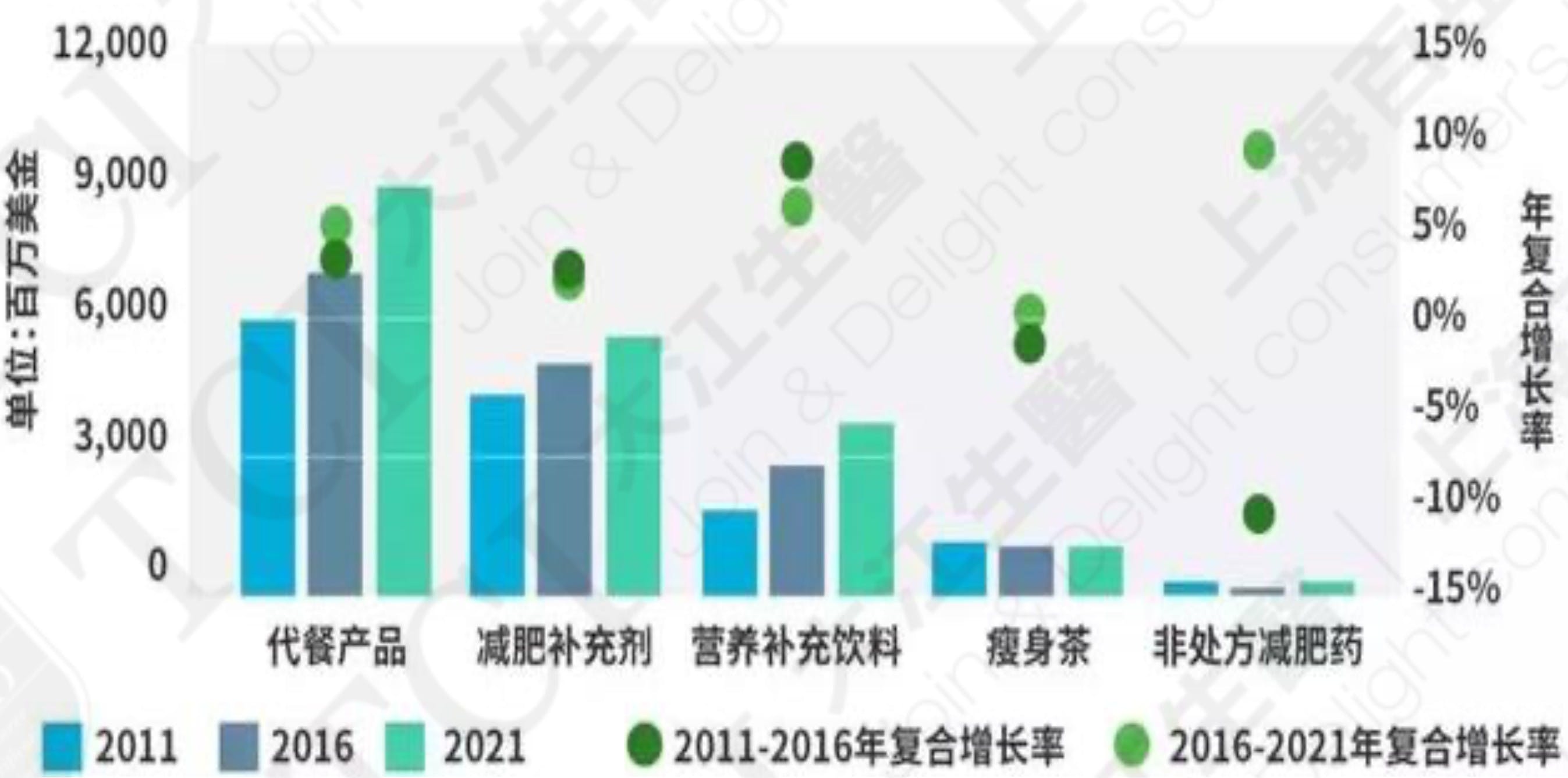 The market sizes and CAGRs of weight management products (2011, 2016, and 2021)資料Data Source: Euromonitor
The market sizes of meal replacement products in China, Data Source: Euromonitor
Growing Attention on Meal Replacement Products
Meal replacement products have been becoming a new trend of dietary style. According to the reports from CBNData, the research department of Tmall, about 50% of meal replacement products are bought by consumers who live in big cities. The overall sales of meal replace products, including the number of consumers and the sale number are steadily growing with an astonishing growth rate (more than 50%). More than 85% of consumers buy meal replacement products due to weight control or fitness plans. Consumers aged from 18 to 30 consist of its majority, about 70% of the overall sales. Therefore the development of "healthy" and "functional" products which meet the requirements of teenagers and gym-goers is becoming the critical issue. Furthermore, based on Baidu Index, the growing attention on the relevant issues of meal replacement products such as "meal replacement powder" and "meal replacement shake" has been observed in Chinese consumers.
The number of meal replacements products sold on Tmall from 2016 to 2018, Data Source: Tmall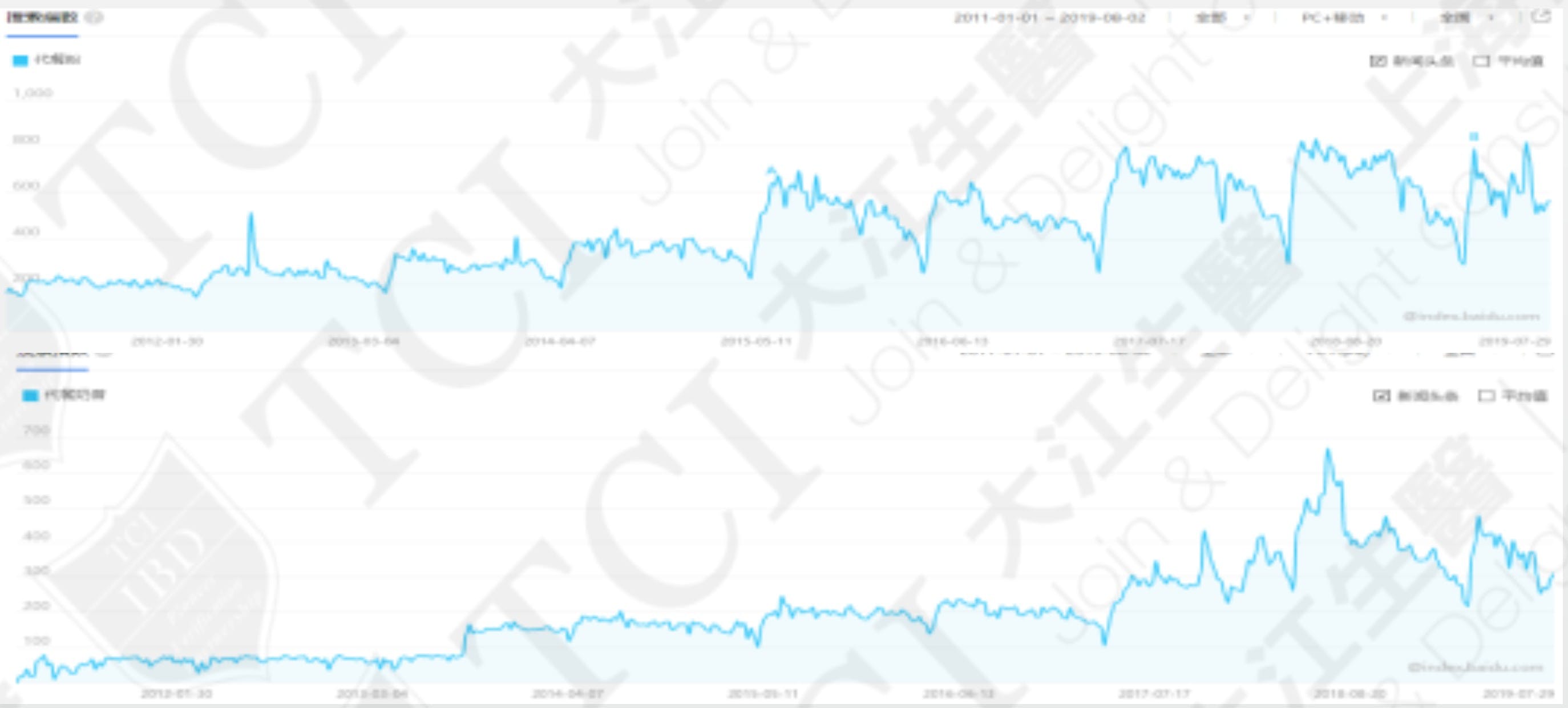 The growing attention on meal replacement powder and meal replacement shake in China, Data Source: Baidu Index
Global Weight Management Market: An Era of Intense Competition
Brand, Brand, Brand, and Heated Competition
The development of weight management products varies by regions and further leads to the diversity of market competitive situation. According to the analysis reports from Changjiang Securities, Herbalife has the top market share: 19% of global weight management market. The following one is Abbott with a market share of 11%. One interesting feature which is worth to be noticed is that small brands account for 63% of the market. Therefore there is great potential for future development in global market. If we look closer at the meal replacement market, the situation is slightly different. Base on the analysis from Euromonitor, most manufacturers are running neck to neck in the US: Atkins (13.4%) and Shakeology (12.6%) take the top 2 thrones of this market. But in China, Herbalife is almost undefeatable and dominates this market with an astonishing share of 90%. This phenomenon is probably caused by the status quo of Chinese weight management market: at its starting phase. For overthrowing this situation, it is more important to have better products which fit consumer's need more closely.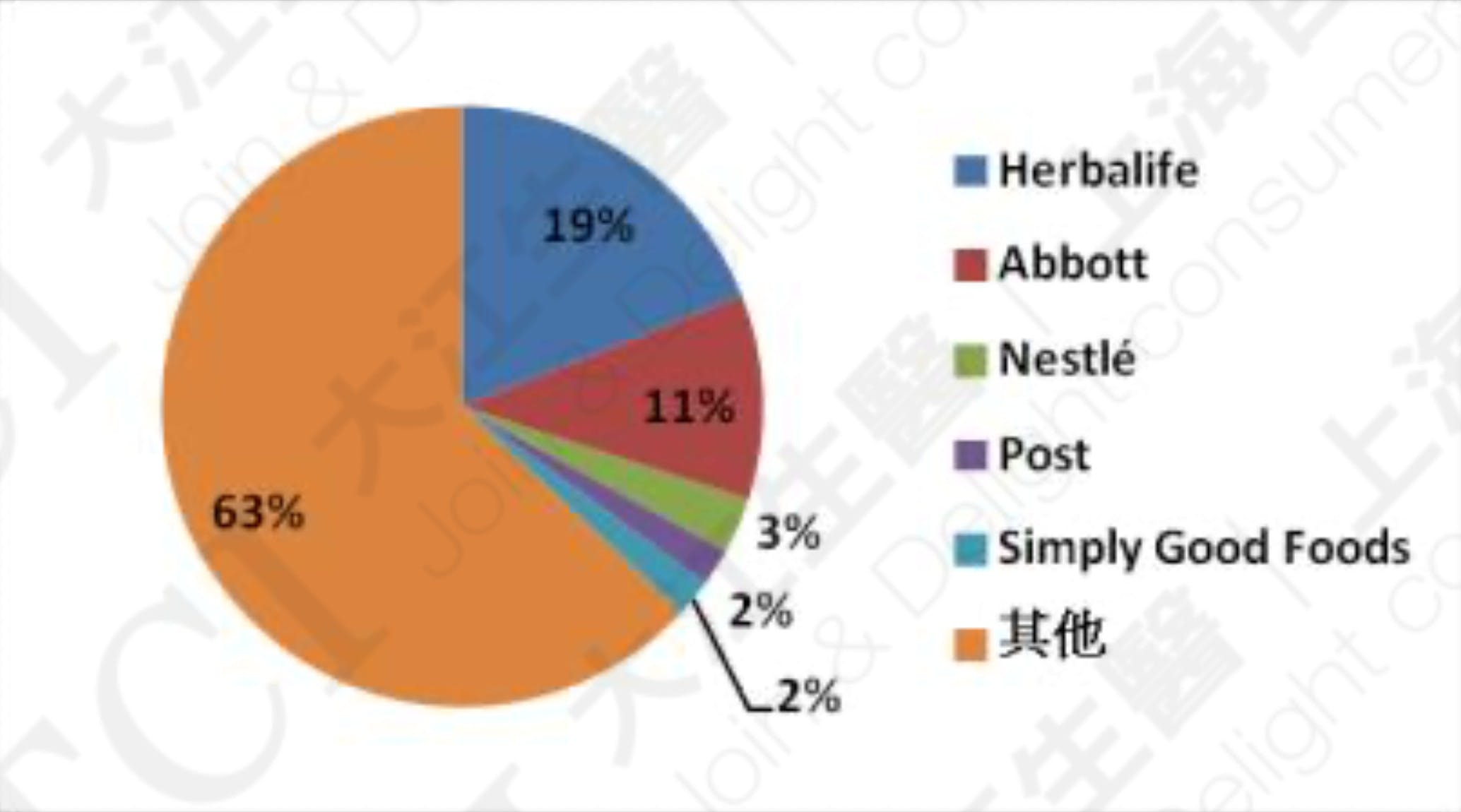 The leaders of global weight management industry (2018), Data Source: Euromonitor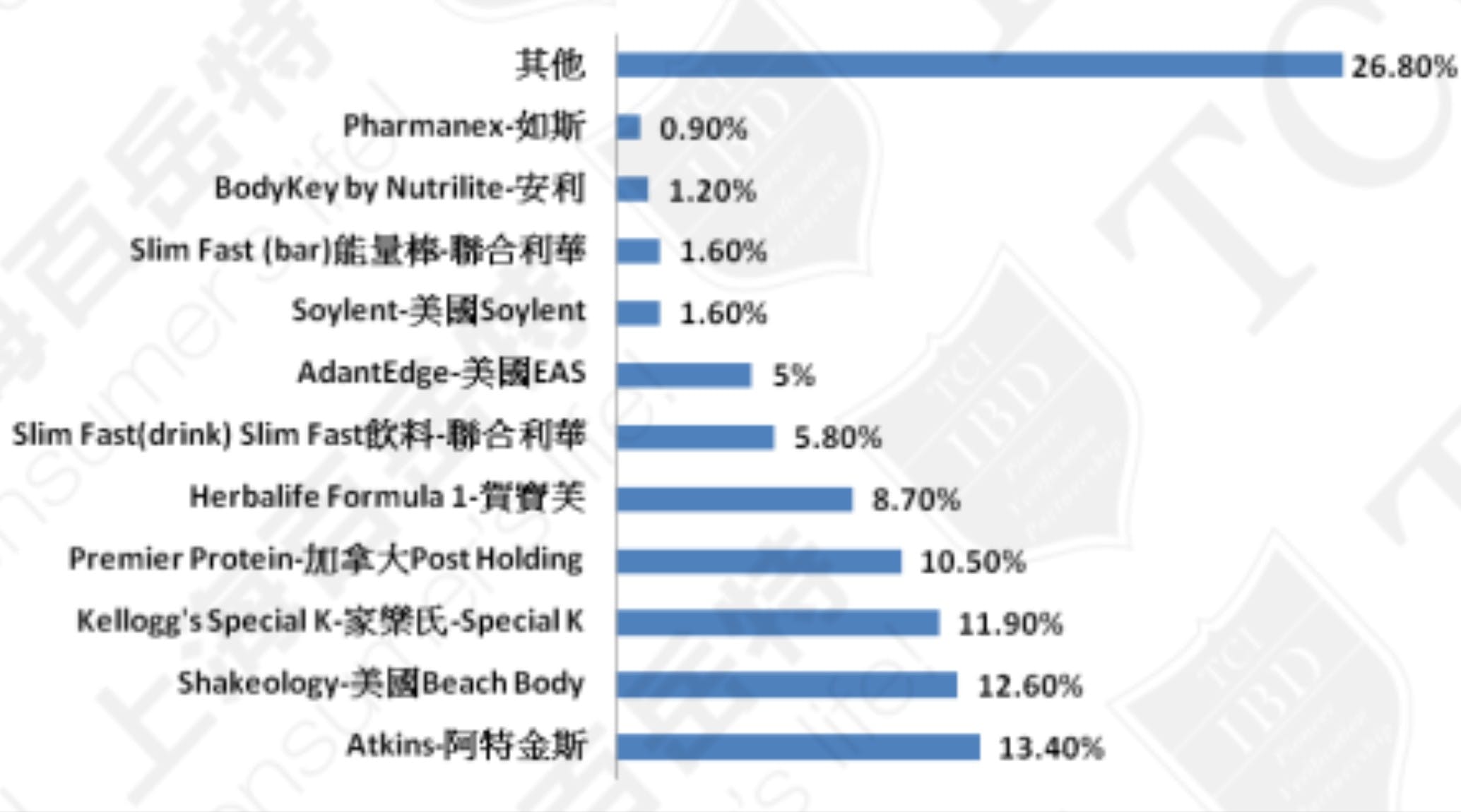 The leaders of weight management industry the US, Data Source: Euromonitor
The New Blue Sea: Better Additional Values
There is panoply of weight management products available on the market. If the related brands want to thrive, they have to make some adjustments on their operation and product strategies. That is the only chance for them to find their own "blue seas". There is nothing else than these three strategies if a brand wants to prosper: "product differentiation", "market expansion", and "customer relationship management". Why TCI is always bringing values for our clients? The answer is "product differentiation". You have to provide more additional values to attract consumers, for example: "convenience" and "health". According to CBNData, the products with small packages have become a hit for the market. Male consumers who like small packages have been increasing year by year, so small packages are not only for women now. According to the top 10 trends published by New Nutrition Business, an authoritative magazine in food industry, the top 1 trend is the issues related to digestive health. Meanwhile, the weight control related issues such as proteins, sugar, carbohydrates, and fat are all in the list. In summary, the products with functionality of weight management and health benefits will become a promising trend in the future.