2019 has been a challenging year. Still, TCI provides all of our partners with timely services at maximum efficiency. October 9th of this year is a new milestone for our group and opens a new chapter for Q4 2019. We are proud to share with each of our partners that we are ready to weigh anchor for a brand new voyage!
October 9th New Office Opening
Apart from the existing headquarters, subsidiary companies, offices and factories, TCI has expanded its global footprint in the second half of the year. With newly opened offices, TCI is well-prepared to offer prompt and highly efficient services to customers of markets around the world. 3 offices were officially opened on October 9th; they are the Beijing Office, the Wuhan Office, and the Jakarta Office, respectively.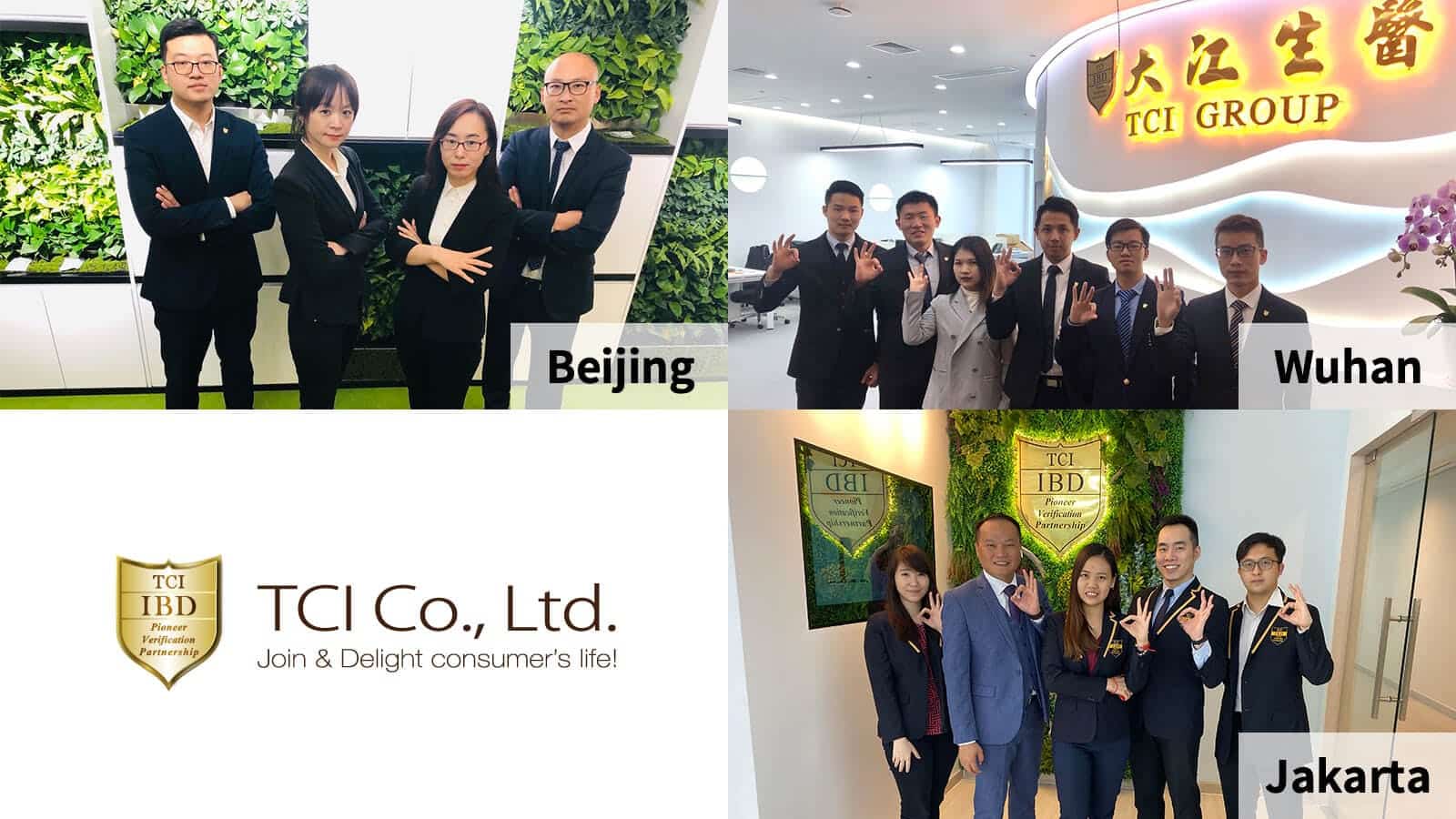 TCI hopes to get closer to you. Based on "Trust, Creation and Intelligence," we constantly provide comprehensive services, including product planning, marketing, research and development, package design, manufacturing, quality control, legal consultation, import/export service through the method of "Integrated Bioscience Design."
TCI Offices across the Globe Offer you Prompt Services
So far, TCI has established 9 offices around the world; they are the Shanghai Office, the Taipei Office, the Guangzhou Office, the Chengdu Office, the Beijing Office, the Wuhan Office, the Osaka Office, the SLC office, and the Jakarta Office. Also TCI will establish a new office in Rotterdam, the Netherlands in 2020. No matter where you are, you can contact us at any time. We will provide you with the most sincere and high-quality service.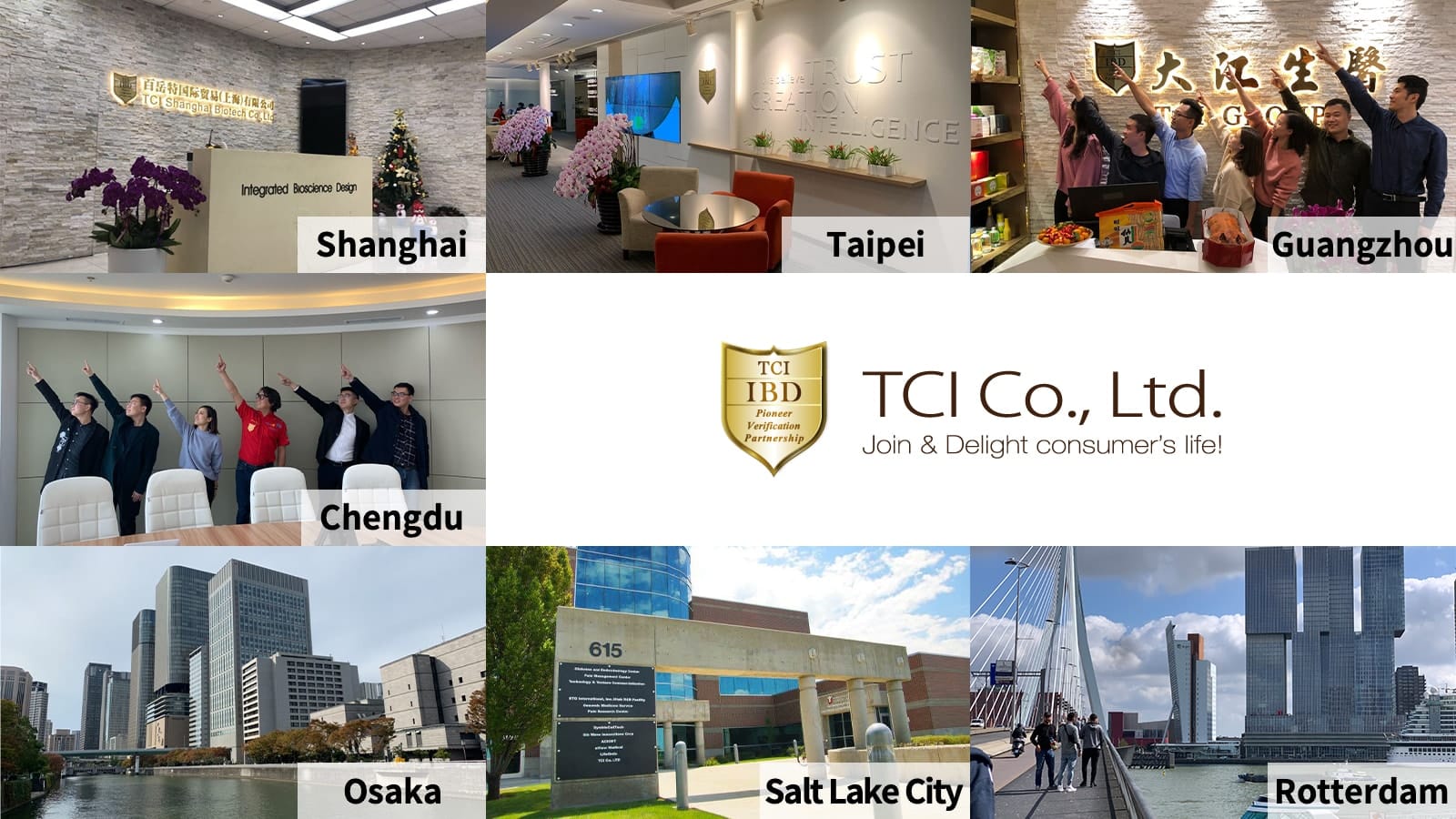 Earning Profits for You is Our Unchangeable Mission
At present, TCI has more than 1150 employees all over the world. All colleagues of the company have always adhered to the principle of integrity, paid attention to innovation, and used wisdom to actively provide customers and consumers with efficient products and services for a long time. We provide more diversified marketing resources for our long-term cooperative customers through the process of "biological integrated design (IBD)"; not only can you get continuous profit opportunities, but also you can provide professional legal protection, so that you will never be disadvantaged.
TCI will set up more offices in more places to get closer to the customers in the future. It is TCI's aim to provide all the partners with timely services at highest efficiency. TCI sincerely hopes to forge ahead with you at the speed of light and prosper our business together!
Taipei•Headquarters
TCI Co., Ltd.
8F, No. 187, Kang Chien Rd., Nei Hu Dist., Taipei 11494, Taiwan
TEL: +886-2-8797-7811
FAX: +886-2-8797-3577
Shanghai
BioScience, Shanghai BioTech Group
Room 801, No. 100, Yutong Rd., Intercontinental Business Center, Shanghai 200070, China
TEL: +86-21-5102-9211
FAX: +86-21-5102-8211
TCI Beijing Office
Room A7303, Junhao Central Park Plaza, Yard 10, Chaoyang Park South Road, Chaoyang District, Beijing City, China
TEL: +86-10-5126-9211
TCI Guangzhou Office
Room 5308, Dongta, Tianying Plaza, No. 222, Xingmin Road, Tianhe District, Guangzhou City, China
TEL: +86-20-8566-0611
TCI Chengdu Office
No. 3602, Floor 36, Building 3, No. 1199, Tianfu Boulevard North Section, Gaoxin District (Wuhou District), Chengdu City, China
TEL: +86-28-6600-9211
TCI Wuhan Office
Room 2502, Tianyue Bund Financial Center, No.8, Sanyang Roa d, Jiangan District, Wuhan City, Hubei Province, China
TEL: +86-27-8296-6211
Indonesia
TCI Jakarta Office
Gold Coast Office, Eiffel Tower Lt. 18 Unit F Jl. Pantai Indah Kapuk, Penjaringan
Jakarta Utara 14470, Indonesia
TEL: +62-21-8065-7839
FAX: +62-21-8065-7888
USA Utah
TCI Biotech, LLC
737 E 1180 S American Fork, Utah 84003, United States
Netherlands
TCI Biotech Netherlands B.V.
Prinses Beatrixlaan 582, 2595BM The Hague, The Netherlands
TEL: +31 (0)70-239-00-30
Japan
大江生医 JAPAN 株式会社
530-0005 大阪府大阪市北区中之島 2-2-7 中之島セントラルタワー19 階
TEL: +81-6-6227-8798
FAX: +81-6-6227-8805