When catching a cold, one is usually told by his or her family or friends to improve the immunity. Exactly what is immunity? The term "immunity" refers to the capacity of the immune system to protect the human body. The immune system is composed of the organs that immune cells are differentiated from , various immune cells, and immune molecules. The immune system identifies pathogens, which are harmful to the human body, such as viruses, bacteria and parasites, and prevents infections or removes the pathogens that infect the human body through immune responses.
When the immune system is weak, a variety of health issues may occur. For instance, one may catch a cold, get a fever or, at worst, get cancer. However, it is also not good for the body when the immune system is "too strong," which may cause allergies or autoimmune diseases.
Immune System Boosters
The immune system is the primary defender of the body against "invaders." Numerous diseases are caused when the pathogens are too powerful for the immune system to defeat, or when the immune system fails to function properly or is out of control. Take SARS for example. Take SARS for example. The large-scale outbreak of severe acute respiratory syndrome in the early 2000s killed hundreds of people. The recent pneumonia outbreak in mainland China, also, has claimed numerous lives. These facts show that the importance of strengthening the immune system should not be undervalued.
On the other hand, allergies are a very common overreaction of the immune system to usually harmless substances. According to WAO, some 20% of the world population is troubled by allergies. Among all the allergic reactions, allergic rhinitis , asthma and some allergic skin conditions occur most often. A study by R. Pawankar et al. indicated that about 10-30% of adults and 40% of children have allergic rhinitis, and that 40% of these people with allergic rhinitis may experience asthma attacks. The study also showed the global population with asthma is increasing year by year. Asthma is not only a great inconvenience but an underlying cause of death; therefore, appropriate care for people with this chronic lung condition is of particular importance and should not be overlooked. Furthermore, the study revealed that atopic dermatitis is rather common among skin allergic conditions, affecting approximately 20% of children and 3% of adults around the world. To improve allergic skin conditions, routine care and the use of appropriate skincare products are necessary while medication can only be used for temporary relief of serious allergic symptoms.
According to research by H. Zhang et al. in 2018, probiotics help reduce the occurrence of colds and ease cold symptoms significantly. Besides probiotics, vitamin C also plays a vital role in regulating the immune system. Anitra and others pointed out that vitamin C helps not merely increase skin resistance but enhance the function of immune cells to defend and defeat pathogens in the Nutrients journal published in 2017. As health awareness is raised among consumers, a growth in demand for immune care products can be expected in the future, which creates enormous business opportunities.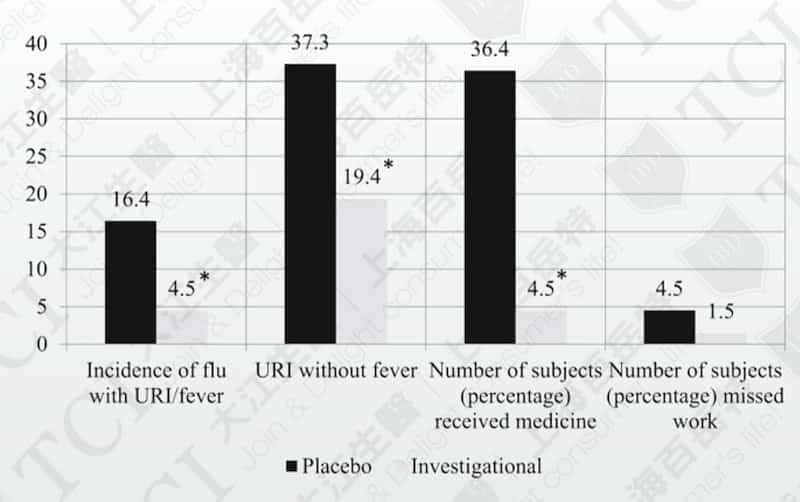 Probiotics Help Reduce the Occurrence of Colds / Data Source: Synth Syst Biotechnol. 2018 Mar 12;3(2):113-120.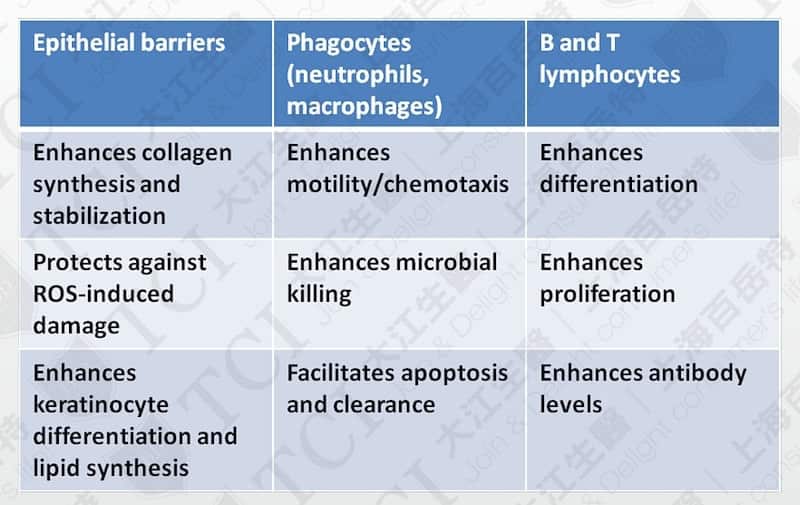 Effects of Vitamin C on the Immune System / Data Source: Nutrient. 2017 Nov 3;9(11). pii: E1211.
Global Probiotics Market
While most probiotic supplements in the market are designed to maintain or improve digestive health, probiotics also play an important part in regulating the immune system. According to Innova Market Insights, supplements for immune health are increasing steadily in the global market and second to those for digestive health in terms of the numbers of launches only. It is demonstrated in one of the diagrams below that from 2013 to 2018, the product launches of probiotic supplements increased by 38.3% globally, considerably higher than the global growth rate of supplement category. This fact suggests that probiotic products are the "rising star" in the supplement industry. Currently, the probiotics market in Asia is relatively well-developed, accounting for an estimated share of 40% of the global market, and China's market is the most promising with its vast and fast-growing market size expected to reach USD 14.8 billion at a CAGR of 23% by 2021.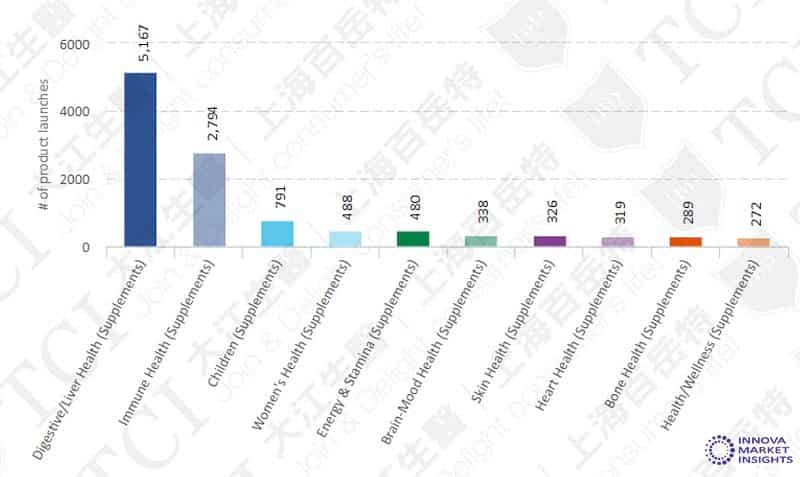 Global Launches of Probiotic Products, by Function (2014-2019) / Data Source: Innova Market Insights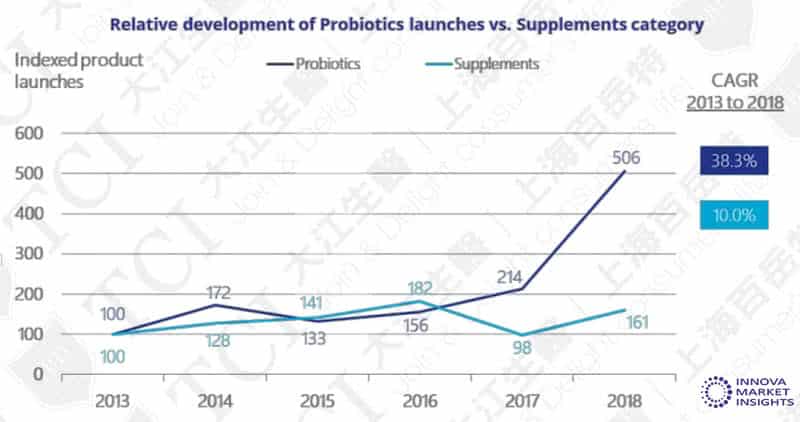 Product Launches of Probiotic Supplements and Supplements (2013-2018) / Data Source: Innova Market Insights
Global Vitamin C Market
Although C dietary supplements are very common to everyone, they are still "hot" in the global supplement market due to the positive effects of vitamin C on immune functions. According to Market Research Future, the global market size of vitamin C supplements was valued at USD 8.8 billion in 2018 and is anticipated to grow to USD 10.2 billion at a CAGR of 2.48% by 2024. In terms of functions, the data from Innova Market Insights show that supplements for immune health rank first among the category launches of supplements containing vitamin C. In addition, the statistics from Keyword Tool show a growth by 44% in the search volume of vitamin C over the past year, which implies that consumers are still interested in the issues concerning vitamin C and that a consistent demand growth in the future can be expected.
Global Launches of Vitamin C Products, by Function / Data Source: Innova Market Insights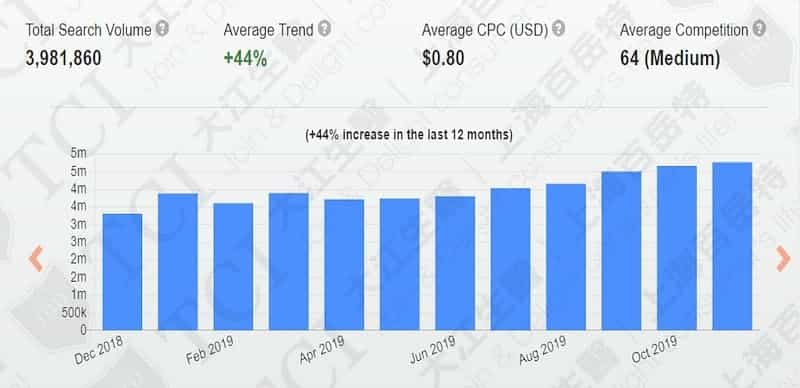 Global Search Volume of "Vitamin C" / Data Source: Keyword Tool
Prebiotics: Good Helpers for Probiotics
It is a well-known fact that probiotics help regulate the immune system, but it is not known to many that prebiotics are as important as probiotics when it comes to immune regulation. According to an article in Nature Reviews published in 2017, prebiotics are substances that are not digested by the host but can be used by the microorganisms in a symbiotic association with the host to improve the health of the host. Although common prebiotics, such as Fructooligosaccharides (FOS), inulin and galacto-oligosaccharides, can be consumed through diets, common diets may not contain enough prebiotics to energize the microorganisms in the gut. Thus, some supplement brands, like Hyperbiotics and Life Extension, have launched prebiotic products that help support the growth of probiotics in the intestinal tract. In terms of consumers, the data from Keyword Tool show that the volume of searches by consumers worldwide related to prebiotics has increased by 29% over the past year; this suggests consumers' attention to prebiotics and that consumers are trying to understand how prebiotics help probiotics in the gut grow better. Therefore, with the development of the global probiotics market, prebiotic products are expected to be a new trend in the supplement industry.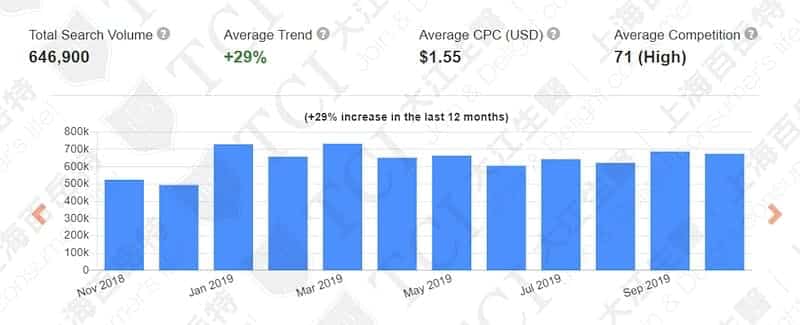 Quercetin: Allergy Fighter in Fruits and Vegetables
Quercetin is a natural flavonoid found abundantly in fruits and vegetables such as apples, onions and cauliflower. According to Jiří Mlček et al., numerous studies in the past indicated qucercetin helps relieve symptoms of allergies by inhibiting mast cells, inhibiting histamine, controlling inflammation, relieving muscle tension and so on. Some supplement brands, like Source Naturals and Solgar, have launched quercetin supplements to help consumers fight against allergies. On the other hand, the data from Keyword Tool reveal that the volume of searches by consumers worldwide related to quercetin has increased by 20% over the past year, which implies consumers' interest in these products and that a consistent growth in demand can be expected.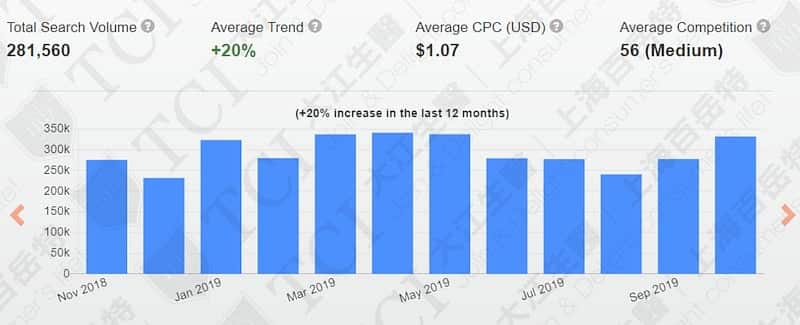 Global Sensitive Skin Care Market
Currently, specialized products for different skin types have become a trend in the skincare industry. Among all kinds of skincare products, the products for sensitive skin take up the largest proportion in the global skin care market as a great number of people are suffering from sensitive skin problems. According to Innova Market Insights, the launches of beauty products for sensitive skin account for 28% of the total launches of those for different skin types. P&S Intelligence also pointed out the global market size of skincare products for sensitive skin was valued at USD 55.7 billion in 2019 and is expected to reach USD 76.3 billion at a CAGR of 6.5% by 2024. On the other hand, consumers worldwide are paying more and more attention to skin care. The data from Keyword Tool demonstrate a growth in the global search volume of issues concerning sensitive skin by 143% in the past year; this shows consumers' concerns about sensitive skin problems, and thus an increase in demand for sensitive skin products can be expected.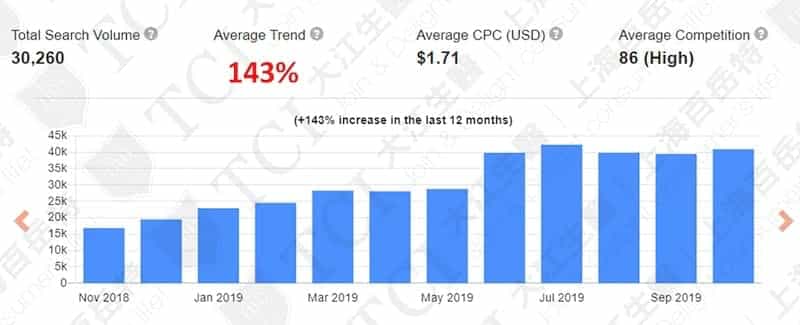 China Sensitive Skin Product Market
According to P&S Intelligence, the sensitive skin care market in the Asia-Pacific region is anticipated to consistently grow at a CAGR of 7.8% in the future, and China will be one of the most promising markets. The data from Measure China indicate that the sales amount of the skincare products on Tmall and Taobao from June 2018 to May 2019 reached about CNY 22.1 billion, and the sales amount of the products for sensitive skin was approximately CNY 270 million; while the sales amount of the products for sensitive skin took up only a small proportion of the sales of skincare products, it grew rather fast at a YOY growth rate of 120% . In terms of product functions, the data from Innova Market Insights point out that the sensitive skin products for moisturizing, repairing and cleansing are the top 3 types of products with largest number of launches. On the other hand, when it comes to internet searches, the data from Baidu Index reveal that the search volume of sensitive skin products has been rising significantly, which implies consumers' strong interest in issues related to sensitive skin care, and thus an increase in demand for sensitive skin products in the China market can be expected.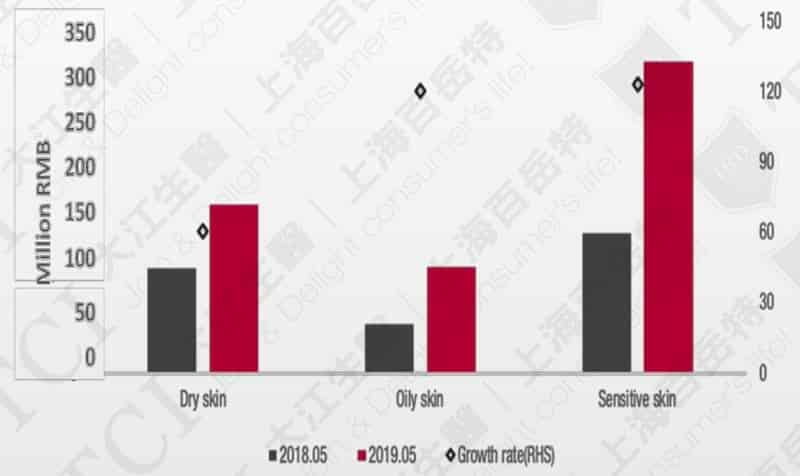 Market Size of Skin Care Products in China, by Skin Type / Data Source: Measure China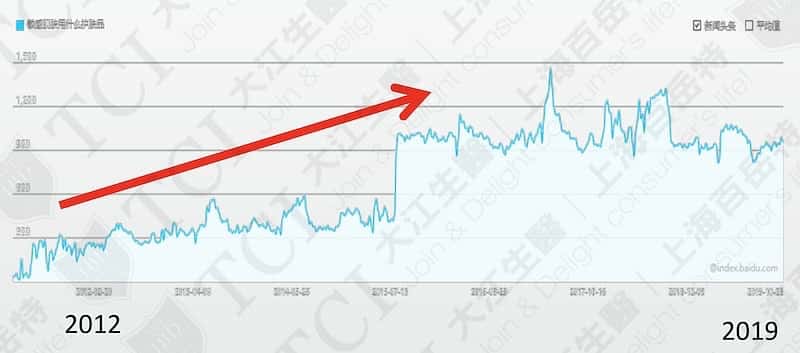 China Search Volume of Sensitive Skin Products / Data Source: Baidu Index
The Rescue for Sensitive Skin
Consumers with fragile and sensitive skin tend to be more cautious with the ingredients in the skincare products they choose. Skincare products for sensitive skin on the market typically have gentle formulas that do not contain alcohol, fragrances, colorants, preservatives and so on and may be infused with certain special ingredients to boost effects, such as ceramides. Ceramides are naturally found in the skin and help restore the skin's barrier. Research has indicated that in patients with atopic dermatitis, the content of ceramides is decreased, which leads to impaired skin barrier function. Therefore, skincare products containing ceramides may be helpful for these patients. CeraVe, a brand of L'Oréal Group known for special skin care, has launched a full line of products free of skin-irritating additives, which feature MultiVesicular Emulsion Technology (MVE) and at least three types of essential ceramides to boost effects. Besides, Chucui, a brand of Mingchen Health Co., Ltd., also launches a series of products featuring ceramides for dry and sensitive skin. As consumers are paying more attention to their skin needs, it can be expected skin products will be more specialized for different skin types to meet various needs of consumers.
Copper Peptides for Twice the Effect
As consumers age, their demand for effective ingredients in skincare products becomes more and more urgent; bioactive peptides, therefore, are what they are coveting. With low molecular weights, bioactive peptides are easily absorbed and thus have a place in effective ingredients for skincare products. Take copper peptides for example. In the study by L. Pickart et al., it was discovered that copper peptides help accelerate the contraction and healing of wounds, improve the acceptance of skin grafts, fight inflammation, promote the growth of blood vessels and neurons, and stimulate the secretion of collagen to delay skin aging. Therefore, copper peptides are an ingredient that nourishes and soothes the skin at the same time, thus is a good option for sensitive skin care. Recently, more and more copper peptide products are released. For example, Dr's Formula has launched the Anti-Aging Copper Peptide Firming Facial Mask , which helps repair the skin and restore skin vitality. Biochem has also launched the hydrating and firming serum featuring copper peptides to help consumers repair the skin and prevent aging. In terms of internet searches, a growth in the search volume by 89% suggests consumers' high interest in copper peptides, and with positive media publicity, an increase in demand for these products in the future is expected.