We have shared a lot of popular market trends and product information in the hope of scaling up your business in the right direction. We collected organized a few topics that were shared this year. These topics are currently still trendy, and we anticipate that they will continue to grab people's attention in the market. We expect to create success with you in the coming year.
Collagen Healthcare Trends
Collagen has a wide variety of applications. Apart from bone care and skin care, collagen can also be used in hair care and eye care. Mordor Intelligence indicated that the global market size of collagen reached about USD 3 billion in 2016, and was expected to reach USD 4.3 billion in 2024 at a CAGR of 4.71%. Collagen is mainly applied in dietary supplements; the application accounts for 35.5% in the whole market. Moreover, according to Innova Market Insights, the quantity of collagen products has increased significantly over the past 2 years with the record-breaking launches of 2,150 new products in 2019. We believe there will be more new products in the market in 2020.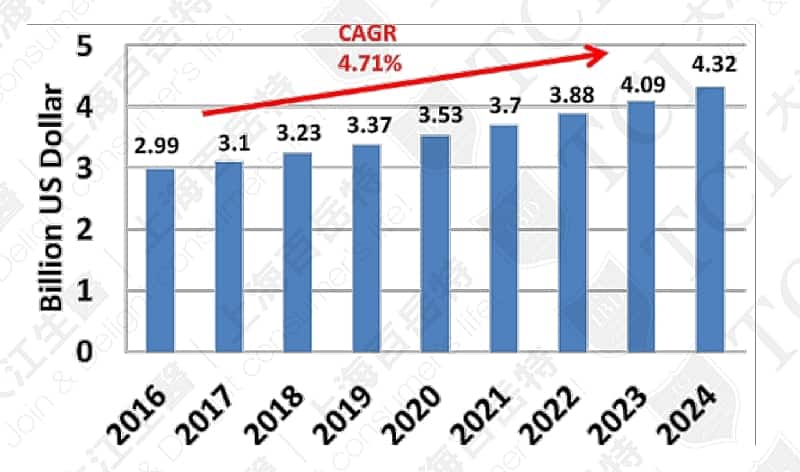 Global Collagen Market, Data source: Mordor intelligence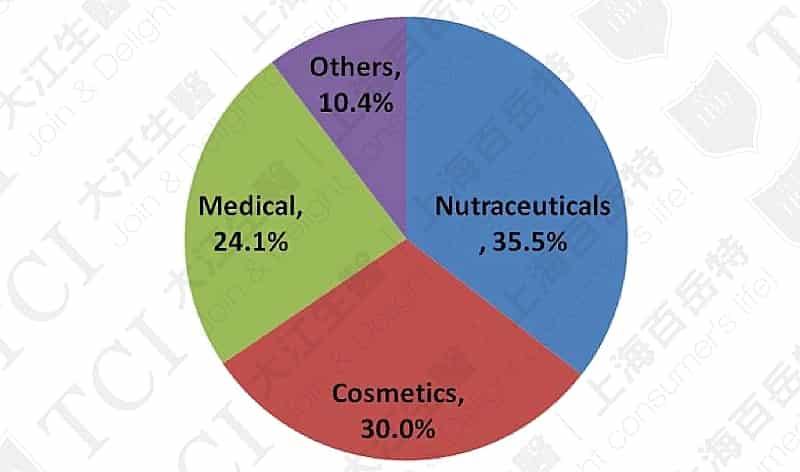 Proportions of Global Collagen Applications, Data source: Market and market
The collagen supplements with skin care and beauty functions are the most popular. From 2016 to 2019, among all collagen supplements, there were 3,413 collagen products launched with skin care and beauty functions, while the numbers of newly launched joint-care and bone-care collagen products were 2,009 and 1,791, respectively. Besides, according to Keyword Tool, the search volume of issues concerning collagen around the world has grown by 24% over the past year; this shows the popularity of these products in the market; A growth in consumer demand in the following year can also be expected.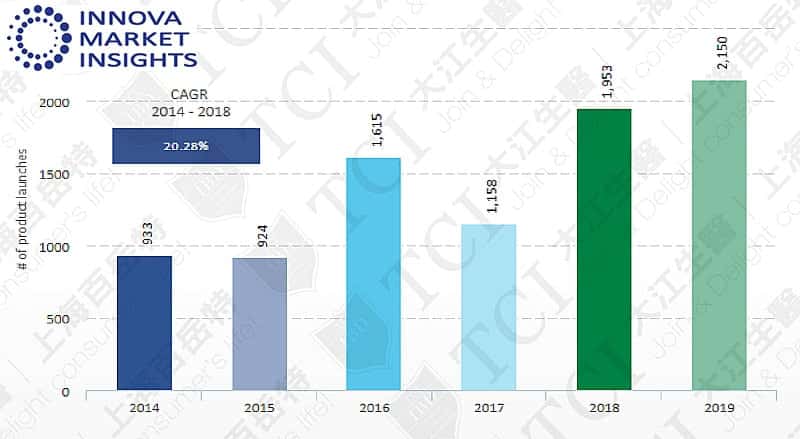 The Numbers of Collagen Product Launches over the Past 5 Years, Data source: Innova market insights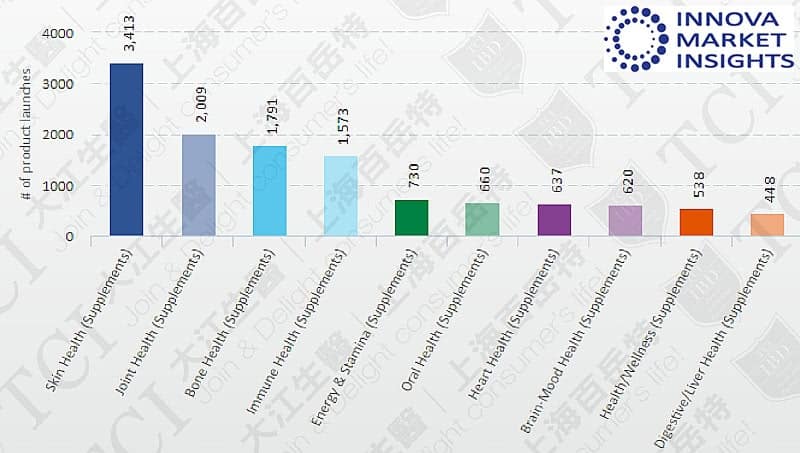 The Number of Collagen Product Launches with Various Functions (2016-2019), Data source: Innova market insights
Probiotic Healthcare Trends
Today, Probiotics are a sensation in the supplement market. The broad applications of probiotics, including food products, beverages, supplements and so on, will continue to expand in the future. The statistics from Statista indicated that the global probiotics market size was valued at USD 45.6 billion in 2017, and was expected to reach USD 64 billion in 2022 at a CAGR of 7%. Of all the probiotics markets in different regions, the Asia market accounts for the largest share of 40%. On the other hand, in terms of countries, the markets in New Zealand/Australia (13.3%), South Korea (12.1%) and China (8.5%) are the top 3 countries with fastest growth in the future.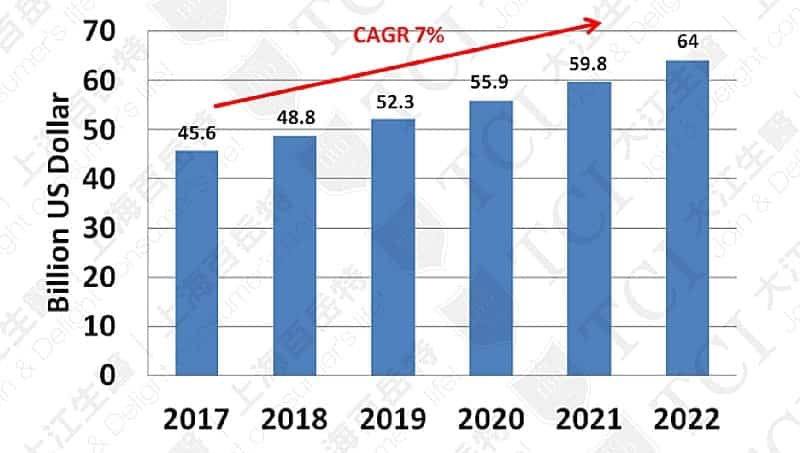 Global Probiotics Market, Data source: Statista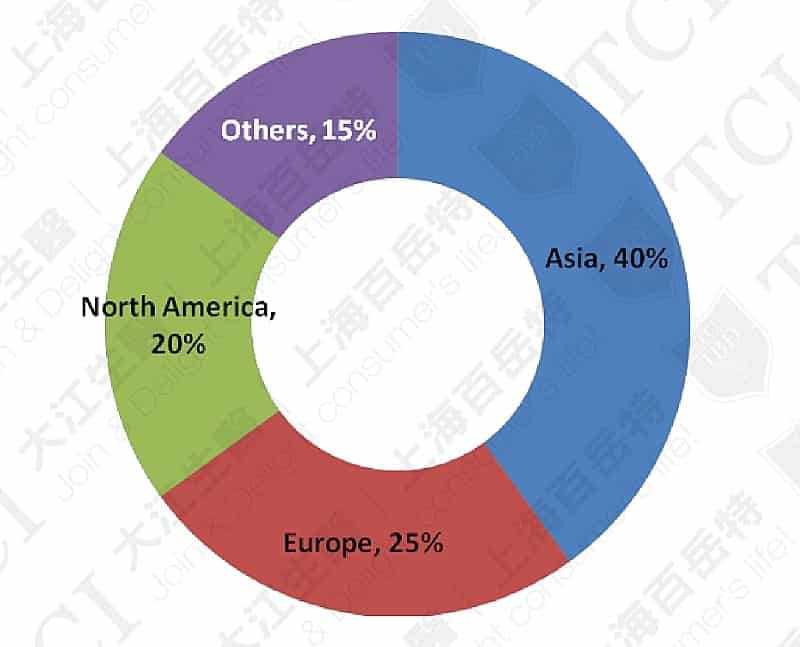 Global Probiotic Market Share by Region, Data source: Market and market
Recently, global consumers are also highly interested in issues concerning probiotics. According to Innova Market Insights, the number of probiotic product launches is a record high this year, which corresponds to our prediction, and it is very likely that new probiotic product releases will keep increasing in 2020. On the other hand, in terms of internet popularity, it can be found in the data from Keyword Tool that the search volume of issues concerning probiotics did not drop a bit in the past year but grew by 9%. A stronger demand for related products, thus, can be anticipated.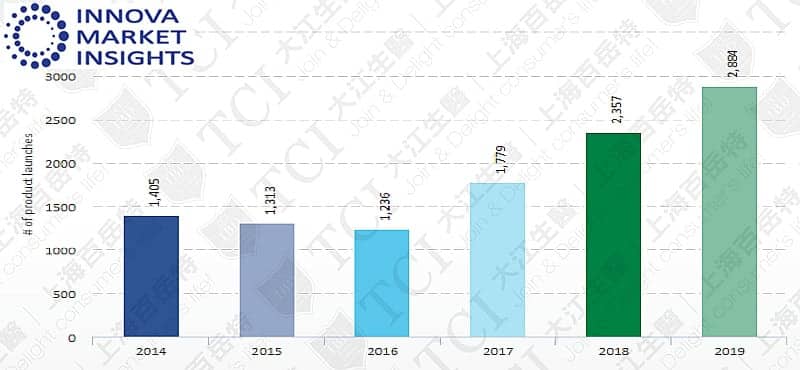 Launches of Probiotic Food and Beverage Products over the Past 5 Years, Data source: Innova market insights

Search Volume of Probiotics related topics, Data source: Keyword tool
Probiotic Skincare Trends
Currently, the hottest topic in the beauty industry is definitely "probiotic skincare." Research data has shown that skin inflammation would cause a decrease in the microbiota diversity and further lead to numerous skin conditions. Therefore, using probiotics to restore the balance of skin microbiota and solve skin issues has become a trend in the future development of skincare products. According to Hexa Research, the global market size of probiotic skincare products was valued at roughly USD 21 million in 2017 and was expected to reach USD 37.8 million at a CAGR of 7.6% by 2025. Furthermore, statistics provided by Innova Market Insights indicated a growth rate of 71.58% in releases of probiotic skincare products from 2014 to 2018, when the number of product launches hit a record high every year. In terms of countries, according to the research conducted by Verified Markets, several leading markets were expected to witness considerably high growth rates, such as the U.S. market, which was anticipated to grow by 24.8% from 2018 to 2023.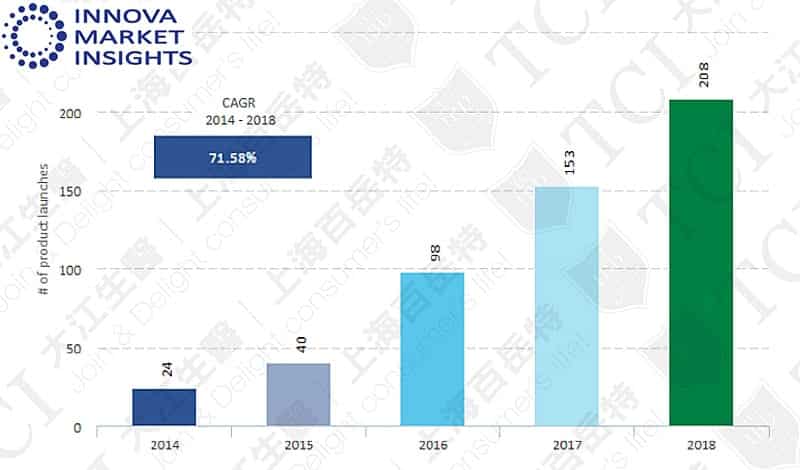 Launches of Probiotic Skincare Products (2014-2018), Data source: Innova market insights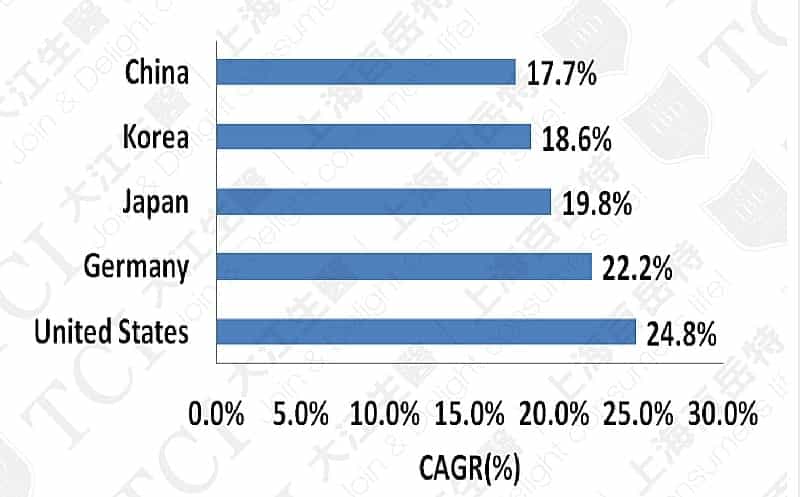 CAGRs of Probiotic Skincare Products, by Country, Data source: Verify market
In terms of skincare product types, creams account for the majority of probiotic skincare products, and an expansion in the product types is foreseen in the near future, like facial masks or lotions, which will provide more diversified options for consumers. From the consumers' perspective, although they might be new to the concept of "probiotic skincare," it can be seen from the growth of 140% in search volume of issues concerning probiotic skincare in the past year that the consumers are gradually interested in these issues; therefore, the steady growth in the market size of these products in 2020 can be expected.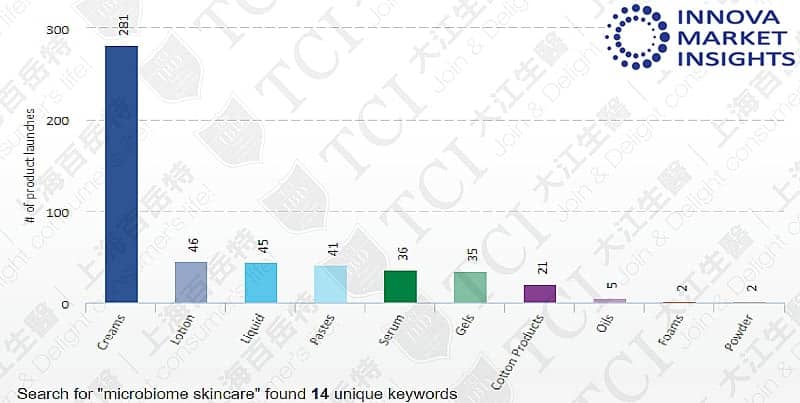 Launches of Probiotic Skincare Products, by Type (2014-2018), Data source: Innova market insights

Search Volume of "Microbiome Skincare ", Data source: Keyword tool
Sports Nutrition
Nowadays, consumers focus more and more on how to develop a healthy lifestyle; and one way to achieve it is to exercise regularly. With consumers' increasing emphasis on exercise, workout supplements, or sports nutrition products, are flourishing; this brings about good prospects for the dietary supplement market and has created a considerable market size. According to Statista, the global market size of sports nutrition products reached approximately USD 50 billion in 2018 and will soar at 9.9% CAGR to expand to USD 81.5 billion by 2023 as the number of consumers fond of exercise grows gradually and the sports nutrition products better meet the needs of consumers. In terms of product types, sports powders currently account for the highest proportion of workout supplement launches. Other types of these products include nutrition bars, sports supplements, sports drinks, and so on.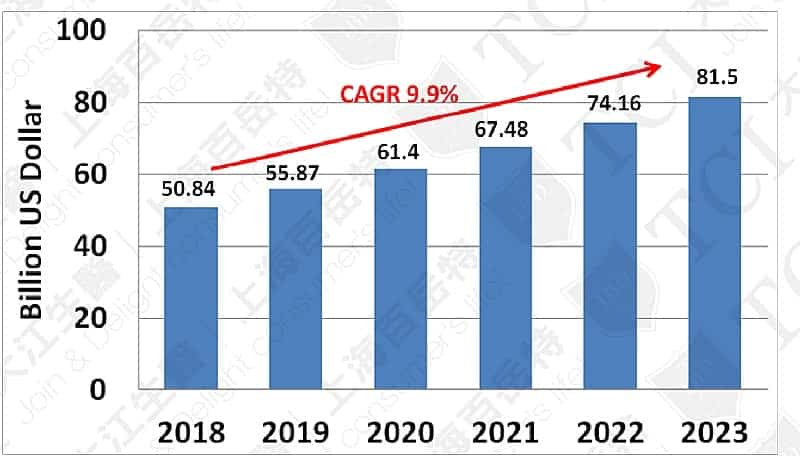 Global Market Size of Workout Supplements (2018-2023), Data source: Statista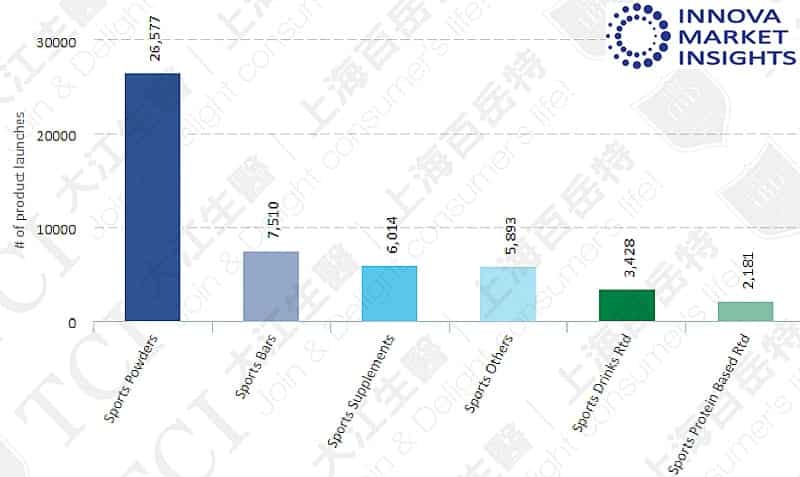 Global Launches of Workout Supplements, by Type (2014-2019), Data source: Innova market insights
When it comes to product launches in different regions, the launches in Europe constitute the highest proportion (48%) of the global launches while speaking of sales value, the North America market account for the largest market share (49%). In terms of ingredients, protein products are the most popular. For example, 92% of sports nutrition products are protein products in the China market. As for consumers, the number of consumers interested in protein powders has been rising over the past few years, according to the statistics from Baidu Index, and the fad is very likely to last in the future. Therefore, releasing a couple of sports nutrition products in the following year is surely a great start.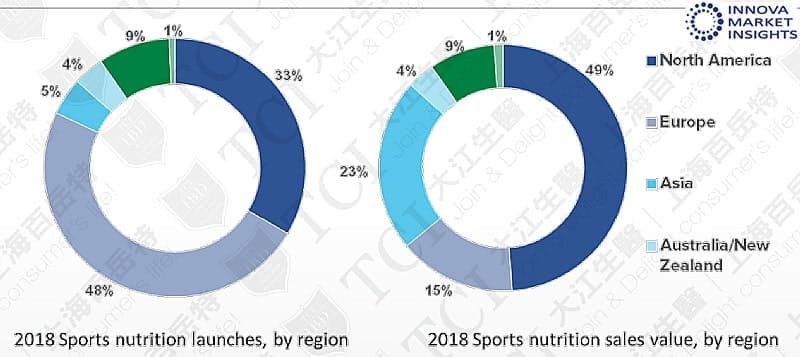 Global Sports Nutrition Launches and Sales Value, by Region, Data source: Innova market insights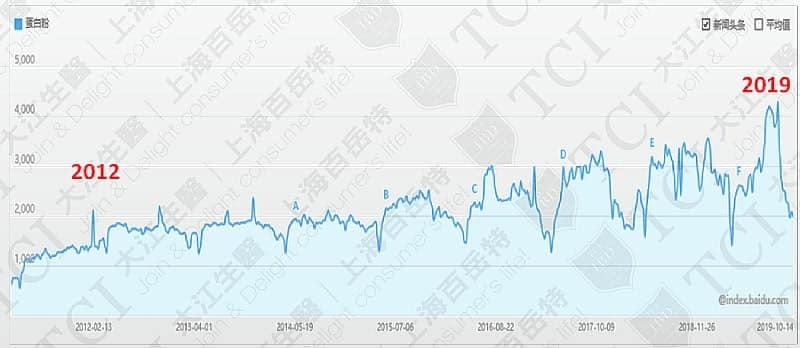 Search Volume of Protein Powder, Data source: Baidu Index
Trends of Weight Management
Highly-processed foods & drinks and unhealthy lifestyles are the main causes of the increasing obese population in modern society. The WHO statistics in 2016 pointed out the top 3 regions with the largest obese populations were Australia, the USA and Europe. Obesity may lead to many diseases, such as diabetes and cardiovascular diseases. Reaching or maintaining a healthy weight, thus, is of vital importance. With the aid of weight management products, weight can be management more efficiently. According to Grand View Research, the global market size of weight management was valued at USD 325.6 billion in 2017 and was presumed to reach USD 422.8 billion at a CGAR of 9.1% by 2020, and the North America market was expected to hold the largest market share (37%).
Proportion of Overweight Population, by Country, Data source: WHO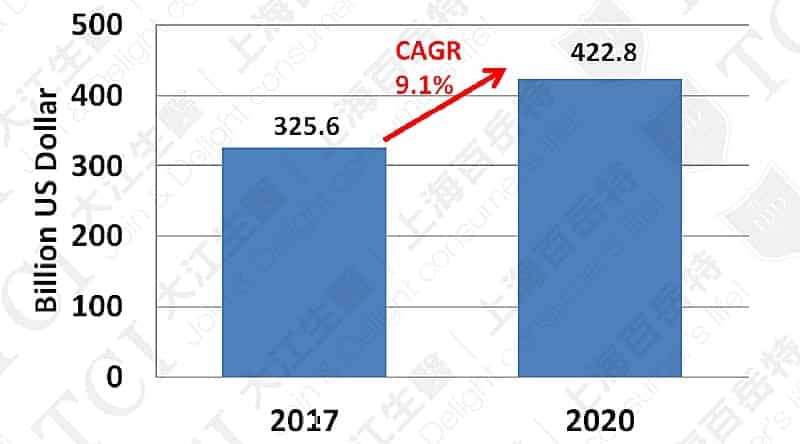 Global Market of Weight Management Products, Data source: Allied market research
Weight management supplements are also favored by consumers in China. The Tmall data shows that among supplements with various functions, the sales volume of those for weight loss is the largest. In terms of consumers, the search volume of issues concerning weight management remains high; this suggests consumers' interest and demand; it also provides a promising business opportunity in 2020.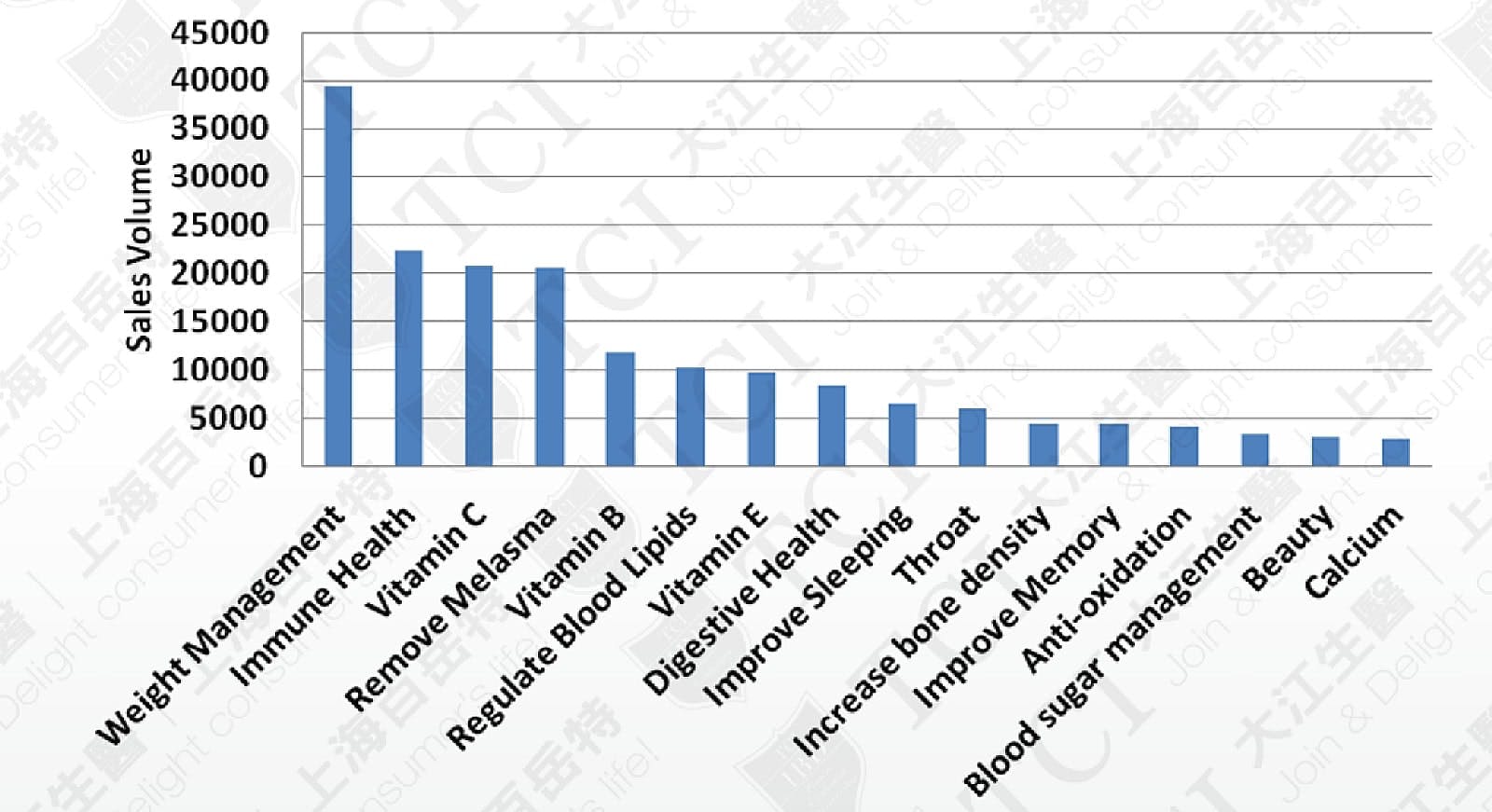 Thrive in Adversity: Foreseeing the Future Trend in China
Collagen has become a hot topic in China since 2015, and is very likely to remain the focus in the market. Exactly how did TCI see the market potential and continuously devote itself to developing collagen products?
The collagen market hit a huge bottleneck when the efficacy of collagen products was questioned in 2013, which caused the sales of these supplements to drop dramatically. As shown in the graph below, there was a drastic fall in the search volume of collagen in 2013 after a surge. Faced with this frustration, TCI did not choose to give up. Instead, TCI chose to conduct more market surveys and scientific research. With all the efforts, TCI eventually collected and organized a profusion of data that proved the efficacy of collagen and was convinced that the market would surely recover. Therefore, TCI decided to devote itself to researching and developing as well as producing collagen products; also, TCI strives to communicate with our partners and win their trust with the scientific data we provided. In 2014, the collagen market underwent an incubation period when a certain amount of collagen product exposure was maintained but new launches decreased compared to the numbers of launches in previous years, and the search volume in this period remained low. In 2015, the collagen market gradually recovered along with a steady growth in the search volume. With the continuous increase in the search volume of the efficacy and effects of collagen, it was observed that consumers' confidence and interest in collagen products were aroused as they gained deep understanding and further information. Soon afterwards, the collagen market started to grow ceaselessly; a "collagen fever" was consequently created.
TCI has always endeavored to join and delight consumers' lives by using scientific methods. We have never given up in adversity, and we will not. We insist to do the right things based on scientific facts and provide our partners with products of best quality. We sincerely hope to innovate, go forward and make glorious history with you.